Leadership, Education, Advancement and Diversity Scholars Program
Overview
The Leadership, Education, Advancement and Diversity (LEAD) Scholars Program was offered as a two years pilot program at Tufts University School of Medicine for postdoctoral trainees, residents, fellows, early and mid-career faculty to enhance their opportunities for success and impact in the fields of medicine and science.
The Program provided the unique opportunity to directly address racial disparities in health and reaching health equity through research and practice and was provided as a mechanism to build a more diverse Tufts School of Medicine healthcare and biomedical research community. The program was sponsored by the Tufts University School of Medicine Office of Multicultural Affairs.
Our Goals
The program was designed to nurture leadership and scholarship skills through mentorship, research support, and leadership training. The program also fostered participants' structural competence by introducing them to theoretical lenses and practical tools to promote changes in the systems within which they work that would enhance structural diversity, equity, and inclusion.
Program Activities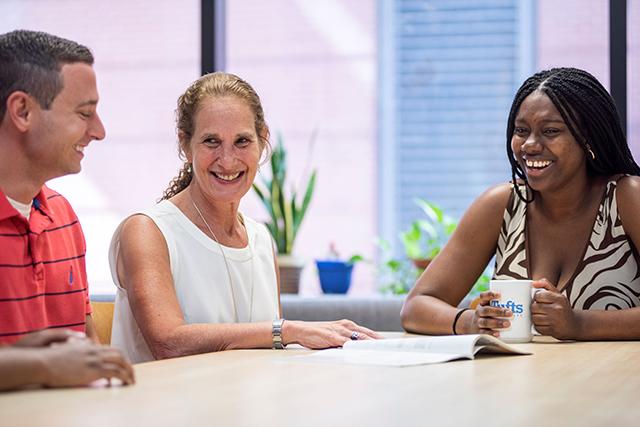 Damian Archer, MD
Assistant Dean for Multicultural Affairs
Clinical Assistant Professor of Family Medicine
Tufts University School of Medicine

Dr. Archer joined the Tufts faculty in 2012 as a clinical instructor and is currently the Assistant Dean for Multicultural Affairs and an Assistant Clinical Professor in the Department of Family Medicine, as well as Associate Director of the Tufts Student Service Scholars program. In 2016, he received the Excellence in Clinical Teaching Award for his work in the Competency-Based Apprenticeship Program (CAP). He is also the Chief Medical Officer at North Shore Community Health Center in Salem, MA, and is a board-certified Family Medicine physician.

Born and raised in the Bahamas, Damian was named the All Bahamas National Merit Scholar of 1998. He completed his undergraduate degree at The University of Western Ontario, London, Ontario, Canada, with a BSc in Chemistry with Distinction in 2001. He was a successful MBBS (MD) and BMedSci with Honors candidate at the University of the West Indies, Bahamas Clinical Campus in 2006. In June of that year, he received the Doris Johnson Prize for Excellence in Public Health and Community Medicine. He finished his family medicine training at the St. Luke's Family Practice Residency Program at Aurora St. Luke's Hospital in Milwaukee, Wisconsin, as Chief Resident of the Family Medicine program in 2011.

Dr. Archer sits on the committee on Diversity at the Massachusetts Medical Society and has a passion for developing diverse and inclusive learning and working environments.

Maria Blanco, EdD
Associate Dean for Faculty Development
and Educational Research
Associate Professor, Psychiatry
Tufts University School of Medicine

As the Associate Dean for Faculty Development at Tufts University School of Medicine, Maria Blanco is responsible for leading educational development programs for faculty, residents and students. She also supports the development of faculty as educational scholars from other professional schools in the Health Sciences campus. Maria is the principal or co- investigator on numerous research and grant projects, and her work has been presented at professional meetings and published in medical education journals. She is also an associate editor for the MedEdPORTAL journal. Maria is past-president of the Society of Directors in Medical Education Research (SDRME) and recipient of the Distinguished Educator Award from the Association of American Medical Colleges (AAMC) Northeast Regional Group on Educational Affairs (NEGEA). Maria received her Bachelor of Science in Psychopedagogy from the El Salvador University, School of Educational Psychology in Buenos Aires, Argentina. She completed Fellowship training in Neuropsychopedagogy at the Dr. Garrahan National Children's Hospital. In 2002, she was the recipient of a Fulbright/National Ministry of Education Grant and earned a Master's in Education Degree at Harvard Graduate School of Education (HGSE) followed by a Doctor of Education 2007. 

Jamie Maguire, PhD
Kenneth and JoAnn G. Wellner Professor in Neuroscience
Tufts University School of Medicine

Dr. Maguire is committed to DEIJ efforts at the Tufts University School of Medicine and in her community.  She serves as the director of the Building Diversity in Biomedical Sciences (BDBS) program, is the chair of the Neuroscience DEI committee, and oversees numerous outreach activities. Dr. Maguire's research focuses on the underlying neurobiology of affective disorders. Her research laid the foundation for the first FDA-approved treatment specifically for postpartum depression. Dr. Maguire's research explores factors increasing vulnerability to mood disorders and interventions to restore the healthy network and behavioral state.

Dr. Maguire earned her undergraduate degrees from The University of Pittsburgh and her PhD in neuroscience from The George Washington University. She completed a postdoctoral fellowship at the University of California, Los Angeles (UCLA) under the mentorship of Dr. Istvan Mody. She has been a faculty member in the Neuroscience Department at Tufts University School of Medicine since 2010 and has recently been named the Kenneth and JoAnn G. Wellner Professor in Neuroscience. Dr. Maguire serves on the Scientific Advisory Board for SAGE Therapeutics.

Jabbar Bennett, PhD
Vice-President and Chief Diversity Officer
Michigan State University

Dr. Bennett serves as Michigan State University's (MSU) vice president and chief diversity officer where he reports directly to the president and is a member of the executive leadership team. In this role, he partners with other senior leaders, deans, faculty, staff, students and alumni to advance the institution's diversity, equity and inclusion strategic priorities. Dr. Bennett is also a professor of medicine in the College of Human Medicine at MSU.

Prior to joining MSU, Dr. Bennett served as the inaugural associate provost for diversity and inclusion, and chief diversity officer at Northwestern University. Previously, he worked as associate dean of the Graduate School, and associate dean for diversity in the Division of Biology and Medicine at Brown University. In addition, Dr. Bennett held administrative appointments at Brigham and Women's Hospital, Harvard Medical School, and United Way of Massachusetts Bay and Merrimack Valley. He has also served on the faculty at Harvard, Brown, and Northwestern.

Dr. Bennett received a BS in biology and minor in Spanish from North Carolina Agricultural and Technical State University and earned a PhD in biomedical sciences from Meharry Medical College. Dr. Bennett completed postdoctoral research training in the Department of Pathology at Harvard Medical School and is an alumnus of the Harvard University Administrative Fellows Program, and Massachusetts Education Policy Fellowship Program.

Debra L. Franko, PhD
Senior Vice Provost for Academic Affairs
Northeastern University

Dr. Debra Franko, Senior Vice Provost for Academic Affairs and Professor in the Department of Applied Psychology at Northeastern University, received her B.A. in Psychology from the University of Michigan and a Doctor of Philosophy degree in Clinical Psychology from McGill University. Dr. Franko served as Associate Dean for Faculty Affairs in the Bouvé College of Health Sciences from 2011-2016 and is Director of Research at the Massachusetts General Hospital Eating Disorders Clinical and Research Program with a clinical appointment in the Department of Psychiatry. Prior to her arrival at Northeastern in 2001, Debra held academic positions at Wesleyan University, University of Massachusetts, Harvard Medical School, and Beth Israel Hospital.

Since 2016, serving in her role as Senior Vice Provost for Academic Affairs, Dr. Franko oversees faculty recruitment, retention, mentoring and development, tenure and promotion, and all policies and procedures bearing on faculty roles and responsibilities. She directs ADVANCE The Office of Faculty Development and conducts the university-wide faculty leadership program, the Research Leadership Development Initiative, and over 50 faculty professional development programs each year. Dr. Franko leads diversity and inclusion activities as related to faculty recruitment and training and serves on the Presidential Council on Diversity. In November 2019 as principal investigator Dr. Franko received funding from the Alfred P. Sloan Foundation for a seven-university consortium program to develop and implement the Northeast Faculty Leadership Program for Black and Latinx STEM faculty in the Boston area.

Her scholarly and teaching interests include women's health developing a greater understanding of racial and ethnic diversity in health issues that affect girls and women, including depression, eating disorders, and obesity. She has been principal investigator or co-investigator on multiple NIH grants and her work in eating disorder prevention spans three decades, where her focus has been on understanding risk factors for eating disorders. Her most recent research involves the design of mobile-based programs to decrease risk and improve body image in adolescent girls and young women. She is a licensed clinical psychologist and a Fellow of the Academy for Eating Disorders where she served on Board of Directors from 2012-2017. She serves on the editorial boards of the International Journal of Eating Disorders and Body Image: An International Journal of Research and on the international advisory board of the Strategic Training Initiative for the Prevention of Eating Disorders at the Harvard T.H. Chan School of Public Health. Dr. Franko was the recipient of the 2015 National Eating Disorders Association Award for Excellence in Prevention and Advocacy. She was elected to the Board of Directors of the Eating Disorder Research Society in 2018. She has authored over 200 peer-reviewed publications in eating disorders, body image, and prevention and co-authored Unlocking the Mysteries of Eating Disorders: A Practical, Life-Saving Guide to Your Child's Treatment and Recovery.

Mary Y. Lee, MD, MS, MACP
Professor of Medicine, Member of Board of Advisors
Tufts University School of Medicine

Dr. Lee, an internist and professor of medicine, was Tufts University School of Medicine's first Dean for Educational Affairs (1994-2006). She initiated major curriculum reform in ambulatory training, standardized patients, integration of technology, evaluation, community service learning, and faculty development when these were in their infancy nationally. As Tufts University's first Associate Provost (2001-2014), Dr. Lee developed training for academic leadership, and oversaw academic units across Tufts' nine schools, including global health projects in India and SE Asia. She ran countless faculty development workshops and retreats nationally and internationally for organizations and universities, including on negotiation skills, leadership and mentorship. Dr. Lee remains on the Boards of Tufts Medical Center and School, provides national accreditation and strategic planning consulting, and conducts faculty development and mentorship of rising women physician leaders.

Eric Rubin, MD, PhD
Editor-in-Chief
New England Journal of Medicine

Eric J. Rubin, MD, PhD, joined the New England Journal of Medicine (NEJM) and NEJM Group as Editor-in-Chief in September 2019, taking on the responsibility for oversight of all editorial content and policies.

Dr. Rubin is an Associate Physician specializing in infectious disease at Brigham and Women's Hospital and is a Professor in the Department of Immunology and Infectious Diseases at the Harvard T.H. Chan School of Public Health. He serves on several scientific advisory boards to groups interested in infectious disease therapeutics. Dr. Rubin has also previously served as the Associate Editor for Infectious Disease at the New England Journal of Medicine as well as an editor for several basic science journals including PLoS Pathogens, Tuberculosis, and mBio.

George Thibault, MD
President of Josiah Macy Foundation, 2008-2018

George E. Thibault, MD is the Daniel D. Federman Professor of Medicine and Medical Education, Emeritus at Harvard Medical School. From 2008 to 2018 he was the President of the Josiah Macy Jr. Foundation. In his decade leading the Foundation he envisioned and supported educational reforms to better align health professionals education with the needs of a changing patient population and health care delivery system. He helped to bring about an enhanced emphasis on Interprofessional Education nationally, and he created the Macy Faculty Scholars program for the career development of mid-career nursing and medical school faculty members who are educational innovators. Prior to his role at the Macy Foundation, Dr. Thibault spent more than four decades at Harvard Medical School and its affiliated hospitals where he played leadership roles in undergraduate and graduate education, and where he was recognized for his teaching and mentoring of students, residents, fellows and faculty. Just prior to his Macy role he was Vice President for Clinical Affairs for the Partners Healthcare System. Prior to that he had been Chief Medical Officer at Brigham and Women's Hospital, Chief of Medicine at the Brockton-West Roxbury Veterans Administration Hospital, and Associate Chief of Medicine at the Massachusetts General Hospital. At the MGH he was also Program Director in Internal Medicine, Director of the Medical Intensive Care Unit and the Founding Director of the Medical Practice Evaluation Unit. At Harvard Medical School, in addition to the Federman Professorship, he was the founding Director of the Academy which was created to recognize outstanding teachers and to promote curriculum reform. He was a leader of the New Pathway curriculum reform at HMS and of subsequent curriculum reforms.

He has been visiting professor at many medical schools nationally and internationally, and he is the recipient of many national awards for leadership and education; including the 2018 Abraham Flexner Award from the AAMC and the 2019 National Gold Humanism Award. He is the recipient of four honorary doctorates, and he is an elected member of the National Academy of Medicine.

Dr. Thibault received his BA (summa cum laude in Philosophy) from Georgetown University and MD (magna cum laude) from Harvard Medical School. He trained in internal medicine and cardiology at Massachusetts General Hospital, National Institute of Health and Guy's Hospital, London.