How Future Doctors Learn to Have End-of-Life Conversations
Death isn't an easy subject, but Tufts University School of Medicine has developed effective exercises for teaching empathy to medical students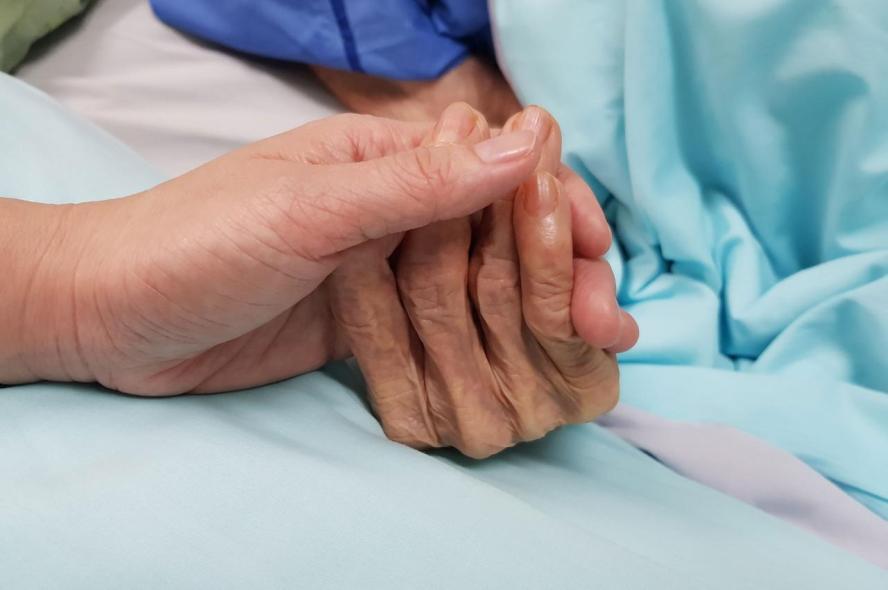 No one likes to talk about dying—not even doctors, even though confronting death is a non-negotiable requirement of the job.
"Doctors in general are not very good at talking about end-of-life issues with patients," says Amy Lee, M02, associate professor of family medicine at Tufts University School of Medicine. "Part of that is just our general cultural discomfort with talking about dying, but part of it is lack of education and training about how to do it well."
Back in 2010, to address what they considered a significant gap in medical education, the Department of Family Medicine decided to require every medical student to participate in an experiential learning exercise about end-of-life decisions as part of their six-week family medicine clerkship in their third year. Earlier this year, Lee and Deborah Erlich, M07, associate professor of family medicine and family medicine clerkship director, published a paper in the journal Family Medicine evaluating three years of student reflections on the exercise. Students reported increased empathy for patients facing end-of-life decisions, and an intention to improve the way they support patients at the end of life.
Erlich points out that most clinical education on this topic was previously "opportunistic," meaning that a student may have the chance to address end-of-life wishes with a patient as part of a hospital rotation, but not necessarily. "In the hospital there's no systematic planning of which patient a student will see," she says. "So, if they have a meaningful meeting with a dying patient in the hospital by happenstance, then maybe one student will have that experience around discussing a patient's or family's wishes at the end of life. But if they happen not to, they'll miss that part of the education. We decided all students should receive training on this topic and graduate prepared to have these conversations."
Using a booklet from the nonprofit organization Aging with Dignity called "Five Wishes," each student is asked to privately fill out an advance directive for themselves. The idea is that by going through the process of thinking about what they would want at the end of their own lives, they develop a stronger sense of empathy toward patients. The wishes address practical concerns, such as who they'd want as a healthcare proxy, as well as medical and emotional concerns. They can specify under which conditions they'd want to discontinue treatment, if they'd like someone to be with them when they die (if possible), and what they'd like their legacy to be.
"In this case, students are not roleplaying having a real conversation with a patient—which is also critically important— but they are putting themselves in the position of walking in the patient's shoes," says Erlich. "That's one of the things that defines empathy."
The "Five Wishes" exercise is now one of many components in the medical school's curriculum that address end-of-life care. Students in the preclinical years learn about caring for dying patients as part of a mandatory course called "Threads." Other courses include patient interviews where patients and their family members talk about coping with illness, death, and dying. Clerkships for students in their clinical years hope to offer more opportunities for students to address end-of-life issues.
As family medicine physicians, Lee and Erlich think primary care physicians, especially, should begin discussing a patient's end-of-life wishes long before they are known to be dying. "We're family doctors, so we take care of patients throughout their lifespan," says Lee. "We have long-term relationships with our patients and their families. It's even more important in that trusting environment to be able to have these difficult conversations."
To kick off a conversation with the students about this, Lee and Erlich informally ask the group if they think an 80-year-old should discuss this topic with their family doctor at their annual visit, to which everyone answers yes. "Then we say how about a 70-year-old, a 60-year-old, and continue down the lifespan by decade," Erlich explains. We get down to people in their 20s and 30s and almost all of the students agree that end-of-life wishes should be discussed at annual visits for all adults."
Lee says the early days of the COVID-19 pandemic made younger people more aware of how important it is to talk about end-of-life wishes, and that it is an issue that affects people of all ages.
"The pandemic resulted in the deaths of younger, relatively healthy people. I think our students recognized that it would be a good idea to at least think about a healthcare proxy, for example, who would make decisions for you if you were incapacitated," Lee says. "Family doctors always talk about preventive care, like cancer screenings, nutrition, and vaccination. There's a whole host of preventive issues we routinely bring up. And end-of-life wishes should be one of them. Unfortunately, all human beings inevitably will die, and better to have a death that is prepared for and incorporates what the patient wants."
The Student Perspective
These innovations in the School of Medicine's curriculum means that future physicians will be able to better empathize with and support patients and their families as they make end-of-life decisions.
Christianne Gonzalez Davidson, M24, is finishing up her third year in medical school and is planning to go into family medicine. She says she found the "Five Wishes" exercise initially disconcerting, but ultimately empowering.
"On the one hand, it shook me a bit to reflect on the hypothetical situations presented—such as myself in a coma without hope of recovery or being on life support. Having seen patients in these conditions with their loved ones and imagining myself and my family in their shoes was a very humbling experience. But then I realized that this exercise made me feel not only empathy for patients in this position, but also a sense of autonomy, and that's something I hope to be able to offer my future patients as well."