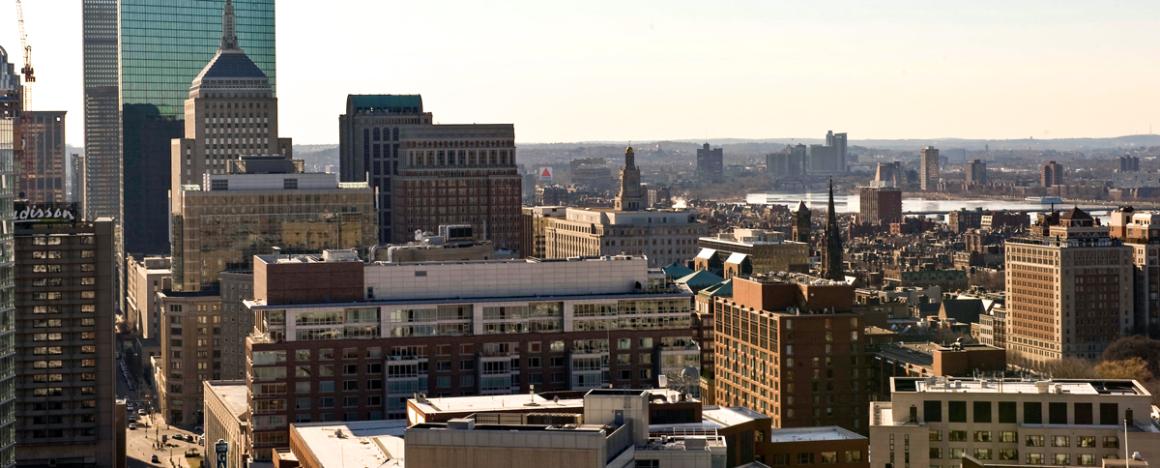 Campus Cafeterias
The Health Sciences Campus provides many opportunities to have a meal or get that needed energy-producing snack. Explore additional information about these resources below. Particular attention is paid to providing healthy food that is appetizing in appearance and tastes great!
Food 4 Thought
The Food 4 Thought Café is located on the fourth floor of the Medical Education Building in the Hirsh Health Science Library. The café offers a diverse, healthy menu, including smoothies, breakfast sandwiches, grilled paninis, sandwiches, soups, salads, and a variety of hot entrées. Pastries, yogurts, vegetables, and fruits are also featured. An assortment of beverages is available, including espresso drinks, coffee, tea, and juice. View the Food 4 Thought menu here.
Visitors can enjoy the large windowed eating area, browse through popular reading and periodicals from the library, and access computer stations. Food can also be purchased for take-out; delivery service is not provided.
The café is open Monday through Friday from 7am to 5pm; and closed on the weekend. Tufts Medical Center Hospital personnel are welcome, and cash, Mastercard, and Visa are accepted.
Soup's On
Soup's On, located on the seventh floor of the Tufts University School of Dental Medicine offers a hot special of the day, two freshly prepared soups, and sandwiches made to order. Also offers grab-and-go sandwiches, packaged salads, yogurt, snack foods, cookies, brownies, and an assortment of beverages. Food can also be purchased for take-out; delivery service is not provided.
The cafe is open from 7:30 am to 2:30 pm, and accepts cash payment only.
Housing Resources
The Office of Admissions and Office of Student Affairs for the MD program can assist MD students with general information about where students typically live and help new students get in touch with a current student to ask housing questions. General housing questions for the MD program can be directed to med-housing@tufts.edu or 617-636-0893.
Tufts Public Health Office of Student Services can assist students in the PA program, MBS program, and MPH program with housing questions.
Short-term Housing
Hostelling International's Boston hostel is located less than 5 minutes away by foot from the Tufts Boston Health Sciences Campus. For more information and for online booking, visit Hostelling International.
When making your online booking, enter the promo code, "Tufts" to receive a 10% discount. 
HI Boston Hostel
19 Stuart Street
MA 02116 Boston
Tel. 617-536-9455 
Reserve.boston@hiusa.org
On-Campus Housing
Our on-campus housing option, Posner Hall, is available to students enrolled in the MD, MBS, PA and Public Health graduate programs. Many other students live in off-campus apartments that are a short walk or Public Transit ride away. To help you in your search for housing in the Boston area, we have provided the links below with information about local neighborhoods, housing trends, and options for finding off-campus housing. Read more about Posner Hall.
Off-Campus Housing
Tufts University provides an Off-Campus Housing website for both the Boston Campus and the Medford/Somerville Campus as a free service to the Tufts community, and covers topics including rental listings, roommate searches, and Massachusetts tenant rights. Since this site is also used by students on the Medford/Somerville campus, you may want to note that you are a medical student and focus your search on the areas closest to downtown Boston.
Useful Websites
The following sites will help you see what the Boston-area apartment market is like:
tusm.jumpoffcampus.com
The JumpOffCampus map-based apartment finder allows you to find apartments and sublets near campus, academic buildings, popular hotspots, and public transit. You can save your favorite listings, email landlords directly through the site, and easily share with friends, roommates, and family. The site also have a roommate finder and a classifieds section, all limited to the "tufts.edu" community.

www.apartmentlist.com/ma/boston
This website pulls from over 100 different listing sources, so it's more of a one-stop shop for apartments. You don't have to bounce from site to site looking for an apartment. Each city is broken down into neighborhoods, highlighting pricing, noise level, nearby attractions, restaurants, shopping, etc.

www.bostonapartments.com
This site has a lot of information! You can do apartment searches as well as find general information about moving or information about Boston and its surrounding cities. There is even a way to search for pet-friendly apartments! It has great links to specific realtor sites (Listings — Agency Web Pages), as well as hotel and motel lists to help you plan your visit. Please note that many of the listings may not be available because the site is not updated often enough to suit the speed of the Boston apartment market.

www.boston.com/realestate
The Boston Globe newspaper website for apartment listings. Anything that is listed in this Boston area newspaper will be here. In addition to housing information, you can find some basic information about Boston here. Chances are your search will turn up many repeat listings, so be patient.

www.craigslist.com
Many current students have recommended this site. A great feature is that you can search by "no fee" or fee realtors. There are a lot of listings so try to narrow down your search by selecting a price range and an area you want to live. You can also search for roommates from this site. Worth a look!

www.homefind.com
The Boston Herald's online real estate listings. (This is the other major Boston newspaper — www.bostonherald.com). This site has a good search engine and listings. You can search for apartments, condos, rooms for rent, roommates, etc. very easily.

hotpads.com/MA/Boston
Hotpads is a map-based apartment and home rental search engine.

www.rent.com
This is a national search site so you may not find a lot of listings for the Boston area. The nice thing about the site is it allows you to specify exactly what you are looking for in an apartment — number of bedrooms, rent, location, amenities, etc.

www.rent.net
This is also a national website with similar capabilities to the previous site. The listings it turns up are mostly for apartment complexes that tend to be on the expensive side. It is, however, a good resource to locate listings in the suburbs and nearby cities.

www.zillow.com/boston-ma/rent
Zillow is an online real estate marketplace for finding and sharing information about homes, real estate, and mortgages.

www.trulia.com/for_rent/Boston, MA
Trulia Rooms for rent in Boston

https://www.apartmentguide.com/apartments/Massachusetts/Boston/
Apartment Guide provides consumers with a clear and simple guide to apartment living through content-rich apartment listings in a user-friendly format with internet, mobile, and social media solutions.

Other helpful websites: