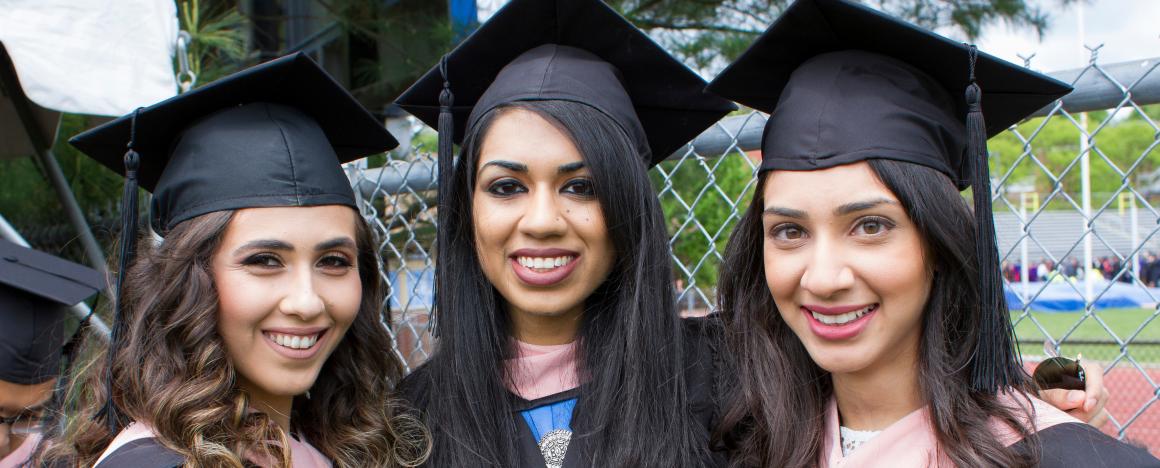 Plug into a growing and connected network
Researchers. Writers. Educators. Advocates. The Tufts Alumni community is a talented, diverse group of professionals working in a wide range of jobs and industries, united by a passion for improving the health and lives of fellow global citizens. Join our community, and you gain access to continuing education programs, networking events, and mentorship from other members of the Tufts family. As an alumnus, you'll find an active alumni board, support and resources that help you grow your career, and you'll become part of a powerful network that's making a difference.
Registrar, Grades, and Transcripts

The Registrar can manage all of your transcript needs. Read how to expedite your transcript requests.

Career Services

The Graduate Programs Career Services mission is to support students and alumni in their goal for meaningful careers through education, coaching and building career connections. As alumni, you have lifetime access to career services and resources that include the following.

Visit the Career Services Office Page

Resume/cover letter critiques
One-on-one coaching
Mock interviews
Alumni/employer connections
Access to Handshake, a leading online student/employer community.

Tufts Alumni Directory

Tufts University Alumni Association offers all alumni a suite of free internet services designed to help foster connections among old friends and new ones as well as between alumni and Tufts. Register for access to the Online Community.

Alumni Directory
Library Databases (same as when you were a student)

Tufts Networking Group on LinkedIn

Graduate Programs Alumni LinkedIn Group

Tufts Libraries
Tufts Athletic Facilities

Loan Repayment Assistance Program

Alumni from all schools who work for a nonprofit organization may apply for help repaying a portion of their annual education loan bills. Believed to be the first university-wide program of this kind in the country, the purpose of Tufts LRAP is to encourage and enable Tufts graduates to pursue careers in public service and meeting an unmet need by reducing the extent to which their educational debt is a barrier to working in comparatively low-salaried jobs in the non-profit and public sectors.

Discounted Graduate Courses

Graduate Programs Alumni are eligible to take one course a year, a maximum of 3 overall, for 25% of the tuition rate of the course. Alumni are welcome to take more than one course per year, but only one at the discounted rate.

Christopher Lee, BA '01, MD/MBA '05
President

Christopher S. Lee is a board-certified orthopaedic surgeon specializing in sports medicine, arthroscopy, joint and cartilage preservation as well as shoulder and knee replacements. He is the team physician for the USA National Indoor Volleyball Team and traveled with the team to Tokyo for the 2020 Summer Olympics.  Born and raised in Boston, Massachusetts, Dr. Lee attended Tufts University where he received awards for both academic and artistic achievements. After graduating Tufts, Dr. Lee subsequently attended the Tufts University School of Medicine where he participated in the MD/MBA program. After completing the Tufts Combined Residency in Orthopaedic Surgery, he then received his fellowship training at the San Diego Arthroscopy and Sports Medicine Fellowship where he trained with international pioneers in sports medicine, arthroscopy, and shoulder replacement surgery. He is presently practicing sports medicine and shoulder reconstruction in Los Angeles, California. He is team physician for the USA National Indoor Volleyball Team, Rock N' Roll Sports Medicine, and Crescenta Valley High School.  Dr. Lee has several research interests and has published in major orthopaedic journals and presented at national meetings. He currently has active projects in ACL reconstruction, shoulder replacement surgery, shoulder arthroscopy, overhead athletes, post-operative pain management, MRI, meniscus repair and biceps pathology.

 

Nkemdiri Wheatley, MPH'05
Vice President

Nkemdiri Iruka Wheatley is a global public health researcher and evaluator with experience spanning the US, UK and international development contexts. Much of her experience has centered on researching and evaluating community-based health promotion and systems-level interventions aimed at promoting access to and uptake of health services, information, and resources for communities that have been historically disadvantaged by structures and systems. Nkemdiri has worked in the areas of health equity, sexual and reproductive health, STI surveillance, cancer prevention and control, and healthcare quality improvement, among others. Nkemdiri currently works at Mathematica, where she contributes to the advancement and quality of health equity research and thought leadership across Mathematica's portfolio of work by bringing expertise in health equity, social and structural determinants of health, and equitable and culturally responsive approaches to conducting research and evaluation. Nkemdiri's experience as a first-generation immigrant from Nigeria drives her passion for and dedication to advancing equity both locally and globally. She would like to contribute to building the capacity of current and future public health and healthcare professionals in centering equity in their work.

Nkemdiri has had a long tenure at Tufts and considers it her academic home. She is a graduate of the Tufts BA/MPH program, receiving her BS in psychology and community health (2004) and her MPH in health services management and policy (2005). Starting as a high school senior and during most of her undergrad studies, she worked as an intern in the Nutrition/Infection Unit at the School of Medicine. During her MPH studies, she worked as the Program Assistant for the Public Health and Professional Degrees Program. She also holds a PhD in social and behavioral sciences from the Johns Hopkins Bloomberg School of Public Health (2012). She is a proud mother of 9-year-old twin boys and resides in Silver Spring, MD.
 

Alison Kole, MD/MPH '04, FCCP, FAASM
MPH Program Representative

Alison is based out of New Jersey and works at Summit Medical Group as Director, Outpatient Sleep Services where she specializes in sleep disorders. Alison's research interests are primarily devoted to the relationship between sleep apnea syndromes and cardiovascular disease as well as insomnia and sleep disordered breathing. She is the author and coauthor of articles and abstracts on these and related topics, which are published in prestigious, peer-reviewed scientific journals, including Advances in Pulmonary Hypertension and has delivered local, regional, and national invited presentations in her field. She is a fellow of the American College of Chest Physicians and a member of the American Academy of Sleep Medicine, and American Thoracic Society. Alison also volunteers for Stand UP 2 Cancer in Los Angeles, Helps International in Guatemala, and the Handle with Care HIV Program in Los Angeles. When she is not working with her patients, she enjoys traveling, Crossfit, hiking, yoga, and playing classical guitar.
 

Brenna Miller, MPH'21
MPH Program Representative

Brenna Miller graduated from Tufts University School of Medicine in 2021 with her MPH. During her time at graduate school, she was contracted as a Public Health Advisor with the CDC on the COVID-19 response at the Boston Quarantine Station. She was also a founding member and served as Co-Chair of the Marketing and Communications of MOTHER Lab, now housed within the Center for Black Maternal Health and Reproductive Justice at Tufts. She now works as a Health Communications Specialist at the Lown Institute, a think tank focused on socially responsible healthcare. In addition to her MPH, she holds a BS in Psychology from Clemson University. Brenna is based in Somerville, MA and spends her free time volunteering as an abortion doula, doing yoga, and exploring the city on her e-bike. She loves working in public health and is excited to serve on the Alumni Board.
 

Siobhan Prasad, MBS'20
MBS Program Representative

During her time at Tufts, Siobhan served as Nutrition Coordinator for The Sharewood Project, Research Assistant in the Department of Public Health and Community Medicine, and Committee Member for the 2019 TUSM MedStart Conference. Her experience as a Tufts student enhanced her foundation in the medical sciences, while additionally allowing her to engage meaningfully with the Boston community. As a proud graduate of the MBS Class of 2020, Siobhan is currently a rising 4th year medical student at the Royal College of Surgeons in Ireland. As a United States native completing her medical training in Ireland, Siobhan has had the unique opportunity to experience healthcare education and delivery from an international point of view. As human health is becoming increasingly recognized as a subject which requires widespread collaboration, Siobhan hopes to use the perspective she has gained to promote Tufts University as a leading force in global health. A strong and diverse alumni network creates fertile ground for innovation, which will aid in TUSM's mission to foster the development of its graduates as leaders in humanistic and equitable healthcare. Joining the dedicated team of Board Officers will allow her to give back to the program which has carried her further in her professional and personal development.
 

Pat McTiernan, MS-HCOM'02
MS-HCOM Program Representative

Patricia is a writer, editor, and communications professional with 20 years of experience in the nonprofit health care sector. Pat's experience includes leading the development and ongoing management of web and print communications; managing media relations, social media, and external communications; and providing editorial oversight. She has worked at Lahey Clinic Medical Center, the National Patient Safety Foundation, and the Institute for Healthcare Improvement and has collaborated with researchers, physicians, patients, and partnering organizations to share stories of developments in clinical care as well as challenges and progress in patient safety, workforce safety, and process improvement. In addition to an MS in HealthComm, Pat holds a bachelor's degree in journalism from Boston University. She lives in Arlington, Massachusetts.
 

Emily Hanson, PA'15
PA Program Representative

Emily Hanson received her AB from the University of Chicago in history and worked in public relations before making the transition to medicine. She was part of the first class of PAs trained at Tufts University School of Medicine, graduating in 2015. Emily spent six years at Cambridge Health Alliance, where she worked in a community health clinic co-managing two panels of adult patients. While at this clinic, she led a grant-funded project to improve the care of patients on opioids for chronic non-cancer pain. This year, she made the switch to Internal Medicine at Atrius Health-Harvard Vanguard in Kenmore Square, where she continues to work in team-based primary care. She has maintained a connection to Tufts as an interviewer for the PA program, and she looks forward to serving on the board.
 

Mazhar Kadwalwala, MD/MBA'20
MD/MBA Program Representative

Mazhar is a 2020 graduate from the Tufts University School of Medicine MD/MBA program and is currently a third-year internal medicine resident at Tufts Medical Center with a clinical interest in cardiology and quality improvement. He was awarded the 2020 MD/MBA Best Consulting Project for his capstone, which focused on improving diabetic eye screening rates within the ophthalmology department at Beth Israel Lahey Clinic. Mazhar is interested in macro-scale healthcare solutions, patient-centered technologies, and facilitating innovation and entrepreneurship within the healthcare industry. At TUSM he led Tufts Medstart, a pitch competition and conference aimed at bringing together venture capitalists, clinicians, and various individuals from the healthcare industry with the goal of promoting dialogue in the health technology and policy arena. Mazhar aims to foster ties between current students and MD/MBA alumni to build a strong community based on mentorship, leadership, and cooperation. 
 

Ian West, PREP'20
MS-PREP Representative

I am a psychiatric nurse working in New York City and finishing up my Doctor in Nursing Practice Degree with a specialization in psychiatric mental health at Columbia University. I graduated from Tufts in 2020. I have pursued research and clinical practice in the intersection of pain management and psychiatry. My degree at Tufts gave the skills and training to pursue this work and had provided me with numerous opportunities. I have been grateful to have held positions at Mayo Clinic and the New York State Office of Mental Health. I continue to be involved in the fields of nursing, psychiatry, research, and education. I absolutely loved my time at Tufts and the city of Boston. I love hearing the great news about the University and the continued growth and direction this outstanding University is headed in. I am humbled to serve on the Alumni Board.
 

Hillary Connolly, MPH'23
OMPH Representative

Hillary currently works as a Research Science Project Manager at the Massey Cancer Center. She received the Academic Achievement Award for the 2023 graduating class and was inducted into the Delta Omega Honor Society for Public Health. 

 

 



 

Lauren Moroch, DPT'22
DPT-Boston Representative

Lauren was part of the inaugural graduating class of the Tufts DPT program in Boston, where she served as the assistant cohort leader in her first year, and the cohort leader in her final year. Lauren was a DPT student ambassador and a peer tutor where she aimed to guide and help incoming prospective students as well as current first-year students. Lauren participated in the program's journal club and was an active member of the Tufts University Physical Therapy Student Society. In her final year, Lauren, along with her co-leader, worked to establish the DPT program's very first Student Special Interest Groups (SSIGs) in orthopedics, neurology, and for students underrepresented in medicine. At graduation, Lauren was awarded the Tufts DPT Core Value Award for Leadership. Outside of school, Lauren was also the secretary for the APTA New Jersey Student Assembly Board. Lauren now works as a pediatric orthopedic physical therapist at Dayton Children's Hospital in Dayton, OH.