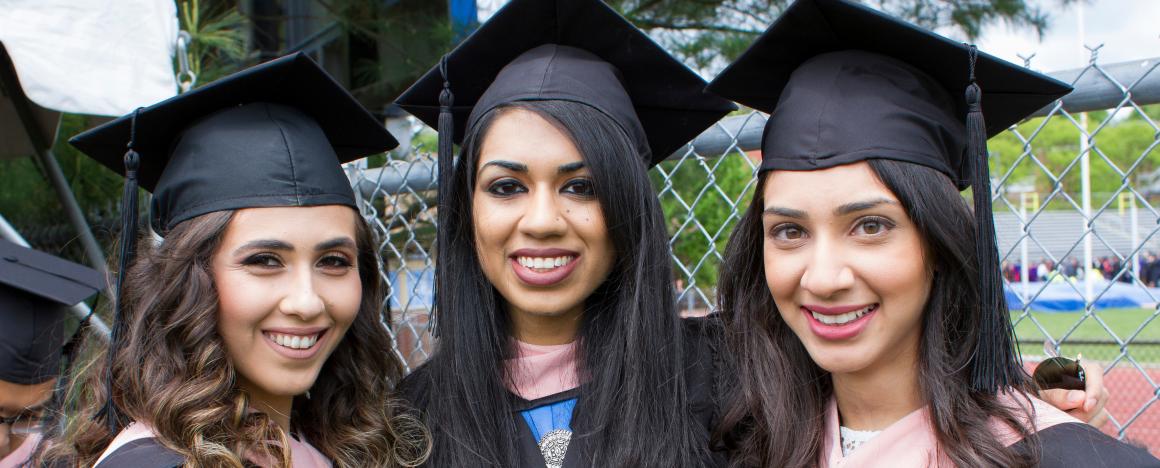 Plug into a growing and connected network
Researchers. Writers. Educators. Advocates. The Tufts Alumni community is a talented, diverse group of professionals working in a wide range of jobs and industries, united by a passion for improving the health and lives of fellow global citizens. Join our community, and you gain access to continuing education programs, networking events, and mentorship from other members of the Tufts family. As an alumnus, you'll find an active alumni board, support and resources that help you grow your career, and you'll become part of a powerful network that's making a difference.
Registrar, Grades, and Transcripts

The Registrar can manage all of your transcript needs. Read how to expedite your transcript requests.

Career Services

The Graduate Programs Career Services mission is to support students and alumni in their goal for meaningful careers through education, coaching and building career connections. As alumni, you have lifetime access to career services and resources that include the following.

Visit the Career Services Office Page

Resume/cover letter critiques
One-on-one coaching
Mock interviews
Alumni/employer connections
Access to Handshake, a leading online student/employer community.

Tufts Alumni Directory

Tufts University Alumni Association offers all alumni a suite of free internet services designed to help foster connections among old friends and new ones as well as between alumni and Tufts. Register for access to the Online Community.

Alumni Directory
Library Databases (same as when you were a student)

Tufts Networking Group on LinkedIn

Graduate Programs Alumni LinkedIn Group

Tufts Libraries
Tufts Athletic Facilities

Loan Repayment Assistance Program

Alumni from all schools who work for a nonprofit organization may apply for help repaying a portion of their annual education loan bills. Believed to be the first university-wide program of this kind in the country, the purpose of Tufts LRAP is to encourage and enable Tufts graduates to pursue careers in public service and meeting an unmet need by reducing the extent to which their educational debt is a barrier to working in comparatively low-salaried jobs in the non-profit and public sectors.

Discounted Graduate Courses

Graduate Programs Alumni are eligible to take one course a year, a maximum of 3 overall, for 25% of the tuition rate of the course. Alumni are welcome to take more than one course per year, but only one at the discounted rate.

Greetings to the Tufts Graduate Programs Alumni Community,

As I write this, it's hard to imagine that we are still living in a world with a pandemic that refuses to end. All of all of us are trying to find ways to return to "normal," whatever that means. We are balancing the need to stay safe, and protect those most vulnerable, yet still do our jobs, live our lives, and find ways to connect. Despite the challenges that navigating this environment entails, one of the more positive aspects of living in a semi-post pandemic world, is that many of us have been able to engage with alumni, faculty, and others from our alma maters. Given that I live in New York, I've been invigorated by the ability to leverage virtual platforms to participate in many more alumni functions, as most alumni functions for any program are usually located within that institution's home city. For Tufts, this means the wonderful city of Boston and its suburbs.  

What I have learned is that once we all leave Boston as graduates of our programs, we scatter far and wide across the country and the globe. As alumni, I believe it is our duty to give back to the schools and programs that gave us so many opportunities. For some of us, that may mean hosting students for internships, for others it may be by mentoring or teaching, or even serving on an alumni board! For some, it is simply making sure that our contact information is up to date. We can use information from our alumni to ensure that they stay connected and can draw on that network when needed. It also allows us to get a better sense of what our alumni go on to do post-graduation, which can help us tailor programs for the next generation of students, the same students that will help us continue to fight future public health crises and more. It's vital that we connect with our current students early on in their programs, to give them the most opportunities to network with alumni and explore the diverse opportunities available in the field of public health and health sciences.

I'd like to continue what Imtiyaz Hossain started last year, by connecting our alumni, students, faculty, and administration, and leveraging the expertise of our alumni, wherever they are located. We have an exceptionally talented Alumni Board of Directors who will strive to provide meaningful networking and educational experiences for our alumni and find ways to link them with current students. 

Please connect with us through Facebook, Instagram, Twitter, and LinkedIn, or your program representative and make sure to join the Tufts Online Community to stay informed about opportunities to network, attend events, and access our resources. We encourage feedback to ensure that we are meeting the needs of alumni to maintain a robust association and support our programs.

I'm honored to serve as your President and look forward to working with all of you to continue to engage our current students and strengthen our interconnected network of alumni centered in Boston but reaching well beyond. 

Sincerely,

Allison Roditi, FACHE, MPH '02
President
Graduate Programs Alumni Association Board

Allison Roditi, MPH '02, FACHE
President

Allison is a graduate of the Tufts MPH program and holds a Masters in Philosophy from NYU's Graduate School of Public Service.  She is currently Chief Administrator for the Sports Medicine Institute at Hospital for Special Surgery. Prior to this, she was Senior Director for Sports Medicine at HSS.  Prior to HSS, she was Service Line Administrator for South Nassau Hospital's Surgery & OB/GYN as well as adjunct professor at New York University. Allison has served as President, President Elect, Vice President and Board Member at Large, Long Island for Healthcare Leaders of NY, the local chapter of the American College of Healthcare Executives and has been a member of HLNY and ACHE since 2006. She is a FACHE and board certified in healthcare management. In her spare time, Allison serves as Corresponding Secretary for the Executive Board of Port Jewish Center in Port Washington, NY. She is a runner, cyclist, softball player, and enjoys tennis, golf, and paddle boarding.  Allison has two sons, Connor and Ryan, two dogs, two cats, and two rabbits. 

Christopher Lee, BA '01, MD/MBA '05
President-Elect
Christopher Lee is a board-certified orthopedic surgeon specializing in sports medicine, arthroscopy, joint and cartilage preservation as well as shoulder and knee replacements. He is the team physician for the USA National Indoor Volleyball Team and traveled with the team to Tokyo for the 2020 Summer Olympics. Born and raised in Boston, Lee attended Tufts where he received awards for both academic and artistic achievements. While in college, he had the unique opportunity of studying abroad in China where he studied Mandarin Chinese and Chinese Literature at Peking University. After graduating, Dr. Lee subsequently attended the Tufts University School of Medicine where he participated in the MD/MBA program. After completing the Tufts Combined Residency in Orthopedic Surgery, he then received his fellowship training at the San Diego Arthroscopy and Sports Medicine Fellowship where he trained with international pioneers in sports medicine, arthroscopy, and shoulder replacement surgery. Dr. Lee has several research interests and has published in major orthopedic journals and presented at national meetings. He currently has active projects in ACL reconstruction, shoulder replacement surgery, shoulder arthroscopy, overhead athletes, post-operative pain management, MRI, meniscus repair and biceps pathology.

Celina Rogers, JD/MPH '18
MPH Program Representative

Celina graduated from Tufts University School of Medicine in 2018 after completing a JD/MPH dual degree program through Northeastern University School of Law.

Currently, she practices law as a litigation associate in New York City where she primarily works on medical malpractice defense and healthcare law cases. She is excited for the opportunity to be an active alumni leader and help TUSM continue to grow and excel! 
 

Alison Kole, MD/MPH '04, FCCP, FAASM
MPH Program Representative

Alison is based out of New Jersey and works at Summit Medical Group as Director, Outpatient Sleep Services where she specializes in sleep disorders. Alison's research interests are primarily devoted to the relationship between sleep apnea syndromes and cardiovascular disease as well as insomnia and sleep disordered breathing. She is the author and coauthor of articles and abstracts on these and related topics, which are published in prestigious, peer-reviewed scientific journals, including Advances in Pulmonary Hypertension and has delivered local, regional, and national invited presentations in her field. She is a fellow of the American College of Chest Physicians and a member of the American Academy of Sleep Medicine, and American Thoracic Society. Alison also volunteers for Stand UP 2 Cancer in Los Angeles, Helps International in Guatemala, and the Handle with Care HIV Program in Los Angeles. When she is not working with her patients, she enjoys traveling, Crossfit, hiking, yoga, and playing classical guitar.
 

Pat McTiernan, MS-HCOM '02
MS-HCOM Program Representative

Patricia is a writer, editor, and communications professional with 20 years of experience in the nonprofit health care sector. Pat's experience includes leading the development and ongoing management of web and print communications; managing media relations, social media, and external communications; and providing editorial oversight. She has worked at Lahey Clinic Medical Center, the National Patient Safety Foundation, and the Institute for Healthcare Improvement and has collaborated with researchers, physicians, patients, and partnering organizations to share stories of developments in clinical care as well as challenges and progress in patient safety, workforce safety, and process improvement. In addition to an MS in HealthComm, Pat holds a bachelor's degree in journalism from Boston University. She lives in Arlington, Massachusetts.
 

Emily Hanson, PA '15
PA Program Representative

Emily Hanson received her AB from the University of Chicago in history and worked in public relations before making the transition to medicine. She was part of the first class of PAs trained at Tufts University School of Medicine, graduating in 2015. Emily spent six years at Cambridge Health Alliance, where she worked in a community health clinic co-managing two panels of adult patients. While at this clinic, she led a grant-funded project to improve the care of patients on opioids for chronic non-cancer pain. This year, she made the switch to Internal Medicine at Atrius Health-Harvard Vanguard in Kenmore Square, where she continues to work in team-based primary care. She has maintained a connection to Tufts as an interviewer for the PA program, and she looks forward to serving on the board.
 

Mazhar Kadwalwala, MD/MBA '20
MD/MBA Program Representative

Mazhar is a 2020 graduate from the Tufts University School of Medicine MD/MBA program and is currently a third-year internal medicine resident at Tufts Medical Center with a clinical interest in cardiology and quality improvement. He was awarded the 2020 MD/MBA Best Consulting Project for his capstone, which focused on improving diabetic eye screening rates within the ophthalmology department at Beth Israel Lahey Clinic. Mazhar is interested in macro-scale healthcare solutions, patient-centered technologies, and facilitating innovation and entrepreneurship within the healthcare industry. At TUSM he led Tufts Medstart, a pitch competition and conference aimed at bringing together venture capitalists, clinicians, and various individuals from the healthcare industry with the goal of promoting dialogue in the health technology and policy arena. Mazhar aims to foster ties between current students and MD/MBA alumni to build a strong community based on mentorship, leadership, and cooperation. 
 

Ali Sasani, MBS '20
MBS Program Representative

Ali is a Southern California native who moved to Boston in 2018 to obtain his Masters in Biomedical Sciences. He is now a second-year medical student at the Tufts University School of Medicine and is passionate about mentorship, specifically mentoring students who are first generation or underrepresented in medicine. He also maintains an interest in academic research, focusing on machine learning based clinical decision support tools. In his free time, Ali enjoys rock climbing, running, and cooking. Ali looks forward to serving on the Graduate Programs Alumni Board and hopes to strengthen MBS alumni relationships, both locally and nationally. 
 

Rohan Shah, MBS '20
MBS Program Representative

Rohan graduated from Tufts MBS program in 2020. He is currently a Management Consultant at Deloitte LLP and work within their Cloud Engineering practice focused on Application Modernization and Migration. Attending Tufts MBS program gave him a unique perspective on the integration between administrative healthcare and medicine and he hopes to help further bridge these fields by serving our Alumni Board as their MBS representative! 

 

Dorosella Green, MS-PREP '15
MS-PREP Program Representative

Dora completed her BS in Biology at Pine Manor College and her MS in Pain, Research, Education, and Policy at Tufts. At Takeda she is a part of many groups focused on DE&I, as well as Racial Equity, internally and externally for patients. Her role at Takeda is a manager in Rare Diseases, providing patient support for those living with Hereditary Angioedema. Throughout Dora's career, she has worked on multiple projects to provide a voice to patients that increases health literacy and access. Dora is the founder of BEYOND Patient Health Equity a nonprofit that is dedicated to continuing that same work as a purveyor of cultivating equitable patient experiences and optimal patient health outcomes for marginalized communities. Outside of work, Dora is an Explorer! Whenever she can, she goes on adventures to new places with her son, husband, and dog.
 

Irina Angel, MS-HIA '21, MD
MS-HIA Program Representative

Irina graduated from the Tufts with an MS in Health Informatics and Analytics. She received her MD in pediatrics at the Russian National Research Medical University and completed a psychiatry residency at the University of Pennsylvania and a child and adolescent psychiatry fellowship at Boston Children's Hospital, Harvard Medical School. She works as a psychiatric consultant at Nightware and as a research psychiatrist at 4YouandMe, aiming to address behavioral health symptoms that might lead to suicide or other devastating outcomes among study participants. Irina was recognized for her commitment to patients and received a Press-Ganey Exemplary Performance | patient survey award at Harvard Vanguard Medical Associates in 2014.  Her clinical informatics studies at Tufts mark a major change in her career path, full of exciting opportunities to lead in raising standards in healthcare in America. She is thrilled to serve as an Alumni Board Member.