Alumni Spotlight: Omar Yaghi
Omar Yaghi, MPH'17, was inspired to pursue an MPH after witnessing a near fatal accident at a hospital in Bahrain. Now he's part of the Quality and Patient Safety team at Tufts Medical Center and investigates patient safety issues.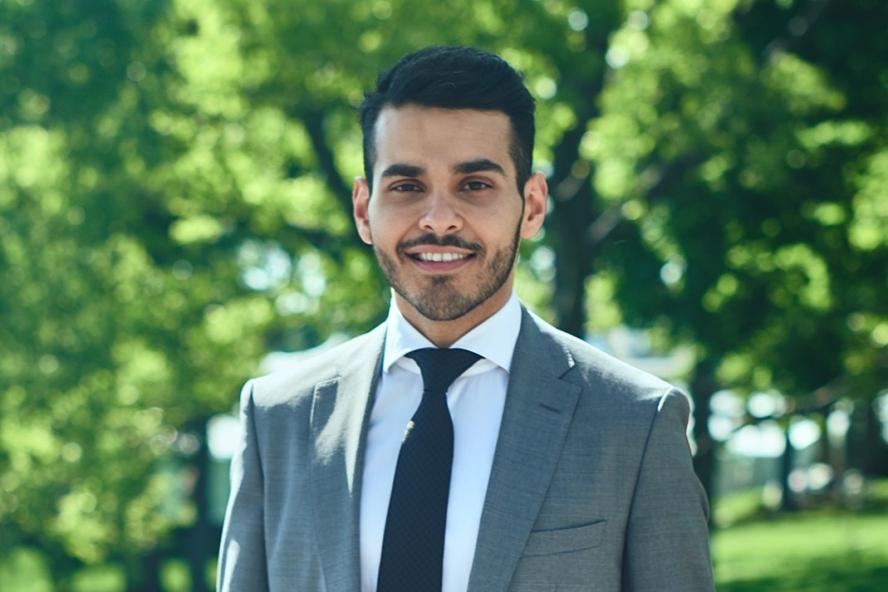 By A. Finn McFarland, MS-HCOM Candidate '19
Omar Yaghi knows what it means to be frustrated with a healthcare system. Before moving to Boston, Yaghi grew up in Abu Dhabi and attended medical school at the Royal College of Surgeons in Ireland – Bahrain. While working as an intern, Yaghi remembers watching a young boy fall an entire story down an escalator in the hospital, a near tragedy for which he blames the lack of hospital infrastructure and safety standards. "Bahrain has a universal healthcare system, but people were not getting good quality care," he commented. "There are a lot of issues with patient safety."  
Yaghi wanted to bridge the gap between hospital infrastructure and patient health but couldn't find answers from hospital staff. "It's not that they don't have highly qualified and well-trained doctors. It's that the system needs a better structure." Deciding to take matters into his own hands, he enrolled in the Master of Public Health (MPH) program at Tufts School of Medicine where he could learn about public health alongside medical students in a hospital setting. What he found most valuable about the program was the flexibility he had to explore different areas of public health and tailor the curriculum to his interests. After taking a health policy course with Dr. Paul Hattis, Yaghi remembers being shocked about the complexity of the healthcare system. He learned that the system is a three-legged stool that balances on quality, access, and cost. In Bahrain, people had access to low-cost healthcare, but the system lacked quality. 
Fascinated by this complex balancing act, Yaghi decided to complete his Applied Learning Experience (ALE) at Tufts Medical Center where he worked with a team to develop a tool to observe how medical teams work together. He wanted to know how this related to patient outcomes, quality of care, and patient satisfaction scores. 
Yaghi and the team published their tool in Academic Medicine and their observations in the Journal of Patient Safety. He then joined the Quality and Patient Safety team at Tufts Medical Center full time. As part of his job, Yaghi investigates patient safety issues to determine what went wrong and how physicians and the hospital system can best link current research with practice to improve quality of care. 
Ultimately, Yaghi hopes to return to Bahrain equipped with the knowledge and experience he has gained at Tufts. But thinks there is more to learn before he can do that. "I want to finish my residency training before I go back. I want to be able to show my colleagues in Bahrain how they can incorporate patient safety into their practice."
His advice to current students is to be an opportunist. "Find a great mentor who cares about your success and you will have amazing opportunities."