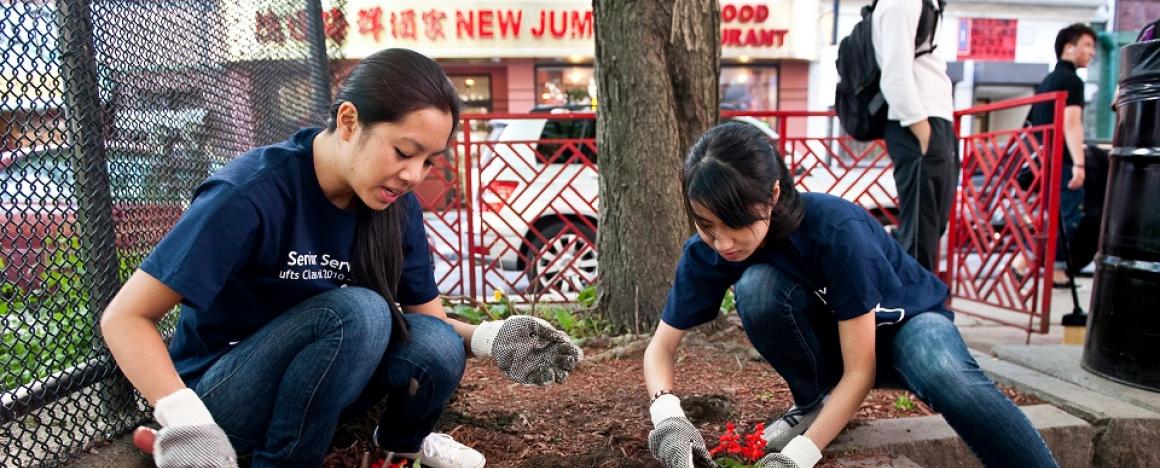 Volunteering
Medical and graduate students have many opportunities to volunteer while completing their programs at Tufts School of Medicine. There are a variety of volunteer opportunities right in Chinatown, the Health Science host campus. Our students serve as mentors at local schools and after-school programs, teach ESL/ESOL, lead health workshops, escort elders to appointments, and volunteer at community events and festivals. Beyond our immediate neighborhood, students also volunteer across Greater Boston in shelters, nursing homes, youth organizations, and more.
Through our university-wide platform Tufts Civic Impact, Health Science graduate students have access to a database and calendar of volunteer opportunities for every interest and schedule!
All medical students are involved in the local community through the Community Service Learning (CSL) Program that is a unique part of their curriculum, and many health sciences students volunteer with those organizations as well. Public Health students are all involved in their community through their Applied Learning Experiences (ALE). MBS students have the opportunity to participate in TuftsCARES. Through TUPASS, Physician Assistant (PA) students volunteer in a variety of settings during their first year.
Sharewood Project
Located in Malden, the Sharewood Project is a free health care organization serving the medically underserved populations of the greater Boston area. Sharewood is led by volunteer medical and public health students and physicians affiliated with Tufts University School of Medicine and Cambridge Health Alliance, with help from other health professional students and translators from Tufts University. It is an opportunity to build clinical and interpersonal skills while giving back to this diverse patient population.
Working While in School
Information for graduate students about working while in school is available from the Public Health & Professional Degree Program's Office of Career Services. 
Tufts' Student Employment Office is a resource for students seeking on– and off-campus work/study and non-work/study positions within other schools at Tufts, mainly on the Medford campus. The University's main Tufts Employment Recruitment Site posts all University jobs (full and part-time benefits eligible positions) across Tufts' three campuses.