Physician Assistant Program
The Tufts University School of Medicine Physician Assistant (PA) Program trains you to practice as a PA in a broad range of clinical settings.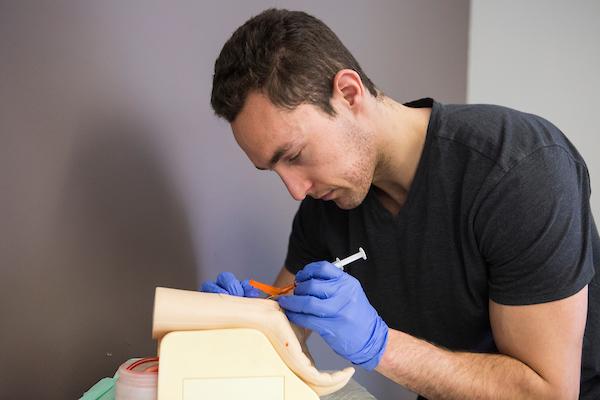 Clinical-Focused Environment
PA students complete their pre-clinical coursework at Tufts University's Health Sciences campus in downtown Boston, one of the world's most dynamic cities for medicine and health care. You'll network with clinicians, interact with medical and dental students, and participate in Grand Rounds at the world-class Tufts Medical Center. As a second-year student, you'll further hone your skills by completing clinical rotations at different practice sites in and around Boston.
View Rotation Descriptions
Job Placement Excellence
While a student, you'll build relationships with practicing clinicians that give you a leg up in today's competitive job market. And our Career Services office provides resume-building support, mock interviews, employment fairs, and other tools to assist you in your job search. It's no wonder that since our inception, the PA program has enjoyed a near-100 percent job placement rate within six months of graduation, and a PANCE pass rate that is well above the national average.
Learn More about Career Outcomes
Earn a PA/MPH Dual Degree
With an optional combined PA/MPH dual degree, you'll complement your clinical-based PA training with a deep understanding of public health topics like epidemiology, community health needs, and health education.
You'll graduate with two degrees, and be able to work in a wide range of different disciplines.
Learn More about PA/MPH Dual Degree
Support Tufts PA Students!
Your donation can help to support the education of Tufts PA students. Please consider making a contribution today.
Tufts PA Scholarship Fund: Due to the continued growth of our program we are looking to build this scholarship fund in order to provide financial assistance for future applicants.
Tufts PA Program Advancement: Contributions to this fund will be used to strengthen areas of programmatic need, such as the growth of simulation education, providing housing for clinical rotations in high-need areas, and student conference and travel funds.
Donate Today
Program Details
Our Mission

The mission of the Tufts University School of Medicine Physician Assistant Program is to educate a diverse body of students who will learn to participate in all aspects of the health care continuum, including disease prevention and management, health promotion and maintenance, and end of life care. As patient advocates, they will be integral members of the health care team, improving access to care for all populations and across all communities they serve.

The Program fulfills this mission with a commitment to the following values:

Competence: Use medical knowledge and technical skills to provide patient-centered care that is safe, equitable, and evidence-based, all while working cohesively on interdisciplinary health care team
Humanism: Enhance compassion in caring for patients and demonstrate responsibility and accountability through active community engagement and volunteerism
Cultural humility: Engage in self-reflection and lifelong learning involving self-awareness of personal and cultural biases as well as awareness and sensitivity to significant cultural differences of others
Professionalism: Act in accordance with the highest standards of integrity through the demonstration of respect, honesty, compassion, personal accountability, collegiality, and teamwork.
Social responsibility: Serve and advocate for all people in diverse communities and clinical settings, recognizing the impact social determinants of health have on the health of our patients.

Program Goals

1. Recruit and retain a qualified diverse group of students that reflects different race, ethnicity, age, gender, geographic background, socioeconomic status, patient care experience, first generation and veteran status

Outcome measure: Diversity of our student body in regard to race, ethnicity, age, gender, geographic background, socioeconomic status, patient care experience, 1st generation and veteran status
Rationale: We recognize that building a cohort with a diverse background will help to create a learning environment that promotes diversity, inclusion, and cultural sensitivity not just in the classroom, but beyond, as future healthcare professionals working with all populations and across all communities they serve

2. Prepare graduates with the necessary medical knowledge and clinical skills to graduate from the PA program and be competent entry-level PAs in clinical practice

Medical Knowledge:

Outcome measure: Five-year first-time PANCE pass rate that meets or exceeds the national average
Rationale: As a successful program, we continually seek to improve our curriculum to prepare students with the requisite knowledge to pass the PANCE and enter clinical practice
Clinical Skills:

Outcome measure: All graduates meet competency for clinical and technical skills assessed through evaluation in Procedures Class, Clinical year preceptor evaluations, and completion of their doc cards
Rationale: The program has documented clinical and technical skills that are required to meet competency prior to graduation. The skills identified are based on common skills and procedures that a general practice PA would be expected to perform as an entry-level PA

3. Prepare PA students for team-based care through interprofessional education

Outcome measure: All graduates meet competency assessment for Interprofessional Education events
Rationale: PAs are members of the health care team and need to demonstrate they can work effectively with other members of the team in providing patient-centered care

4. Prepare graduates to be active in community engagement and volunteerism

Outcome measure: All graduates will have met or exceeded 40 hours of community service during the PA program
Rationale:  Community engagement and volunteerism assists the students in building a commitment to humanism as well as professional development

5.  Assist new graduates in securing employment in a variety of clinical settings to meet workforce needs

Outcome measure: 95% of program graduates will secure employment as a PA within six months of graduation
Rationale: We provide supportive processes within the program and University to help facilitate graduate employment recognizing that not all graduates seek employment immediately, and some may face challenges of varied regional job markets that could influence position availability

Accreditation Reporting

View the NCCPA PANCE Pass Rate Summary Report 2022

Tufts University School of Medicine Physician Assistant Program Attrition Table

The Tufts University School of Medicine Physician Assistant Program is an accredited program through the Accreditation Review Commission on Education for the Physician Assistant, Inc. (ARC-PA). The program's accreditation history can be viewed on the ARC-PA website.

The Accreditation Review Commission on Education for the Physician Assistant (ARC-PA) has granted Accreditation-Continued status to the Tufts University School of Medicine Physician Assistant Program sponsored by Tufts University. Accreditation-Continued is an accreditation status granted when a currently accredited program is in compliance with the ARC-PA Standards.

Accreditation remains in effect until the program closes or withdraws from the accreditation process or until accreditation is withdrawn for failure to comply with the Standards. The approximate date for the next validation review of the program by the ARC-PA will be 2026 March. The review date is contingent upon continued compliance with the Accreditation Standards and ARC-PA policy.

For further information, visit the ARC-PA website.

The Master of Science – Physician Assistant Program is designed to meet the educational requirements for the State of Massachusetts. The Program meets the educational requirements for professional licensure as a Physician Assistant in all 50 states.