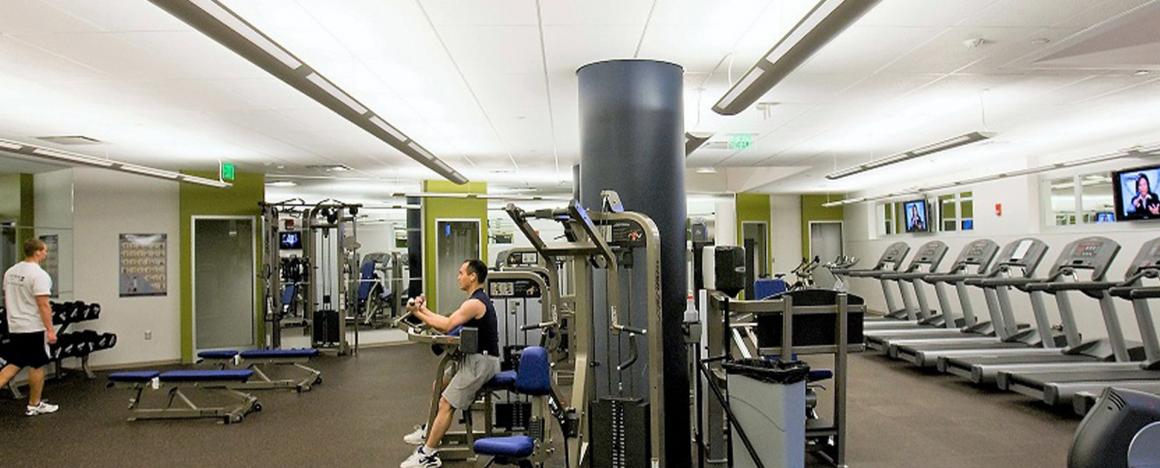 About Our Fitness Center
The Tauber Fitness Center has three areas: a 2,500 square foot room with aerobic and strength training equipment; a small exercise studio; and locker rooms and showers. All registered Boston Campus students are eligible to use the fitness center; no fee is required.
The fitness center is located on the lower level of the Medical Education Building and can be accessed by elevator or stairs. You must have a valid Boston Campus student ID with you in order to access the facility and will be asked to use the card swipe at the front desk to confirm eligibility. Should you run into an issue with your ID access, please contact the Public Safety Department at TuftsID@tufts.edu.
PLEASE NOTE
Proper workout attire is required.
Lockers are for DAILY use - do not leave locks or clothes overnight.
Bring your own towel and toiletries.
Guests are NOT allowed in the facility - only current Boston Campus students and faculty and staff with an active membership have access.
The fitness center is moderately sized. The main area contains 17 pieces of cardio-equipment, a 9-piece selectorized strength training circuit and a free weight area. To supplement greater fitness needs, we will continue to subsidize membership to the Wang YMCA, where students can take advantage of a full array of amenities, including a pool, basketball courts and a much larger variety of equipment. For questions about subsidized rates, contact your school's Student Affairs office. If you are not familiar with the YMCA, we encourage you to take a look at the Wang YMCA website or visit them at 8 Oak St, Boston, MA.
We are pleased to be able to offer the opportunity for faculty and staff on the Boston campus to use the student fitness center located in the Medical Education building.

The Tauber Center was built with donor funds specifically for use by students. However, monitoring usage, we believe that we can accommodate a small number of faculty and staff during hours in which students are generally in class.

Because the center is small - total capacity of 35, 17 cardio machines, locker rooms with three showers apiece - we are offering gym membership for 75 faculty and staff through a lottery. Only faculty and staff who are Boston Campus employees who are benefits eligible, per our HR department, will be eligible for gym memberships.

The membership fee is $25.00 per month and will be pre-billed quarterly: January 1, April 1, July 1 and October 1. Any individuals wishing to cancel may do so after any quarter and their space will be filled by the next person on the lottery waitlist. The membership fee is non-refundable.

Hours for faculty and staff usage will be 6am-3pm daily and 12pm-7pm on weekends. During holidays/vacations, full access, and summer (mid-May to Labor Day) as follows: Monday 7am-7pm, Tuesday-Thursday 7am-8:30pm, Friday 7am-7pm, Saturday and Sunday 12-7pm. Note that during certain holidays and vacations, the Center may close.

If you are interested in joining the Tauber Fitness Center, please email the Fitness Center Coordinator Jackie Desmarais at jackie.desmarais@tufts.edu to submit an application. Please include your full name, UTLN, email address and School Affiliation. Please note that only benefits-eligible employees may enter the lottery. You will be notified via email if there is room for you to join the Fitness Center Membership.

The Tauber Fitness Center employs a number of student workers who are work study eligible. Students who are interested in part-time employment at the fitness center should review the following job description: Student Supervisor.

If you are interested in applying or have questions regarding the fitness center, please email Jackie Desmairis, fitness center coordinator, at jackie.desmarais@tufts.edu. If you are inquiring about employment, you should include your Name, School, related experience, if any, and your expected hours of availability. Applications will be reviewed by the applicant's Student Affairs office and the Tufts Athletic Department.

Students who are selected to work at the Fitness Center must participate in a full training session prior to commencing employment.