Mentoring & Learning Communities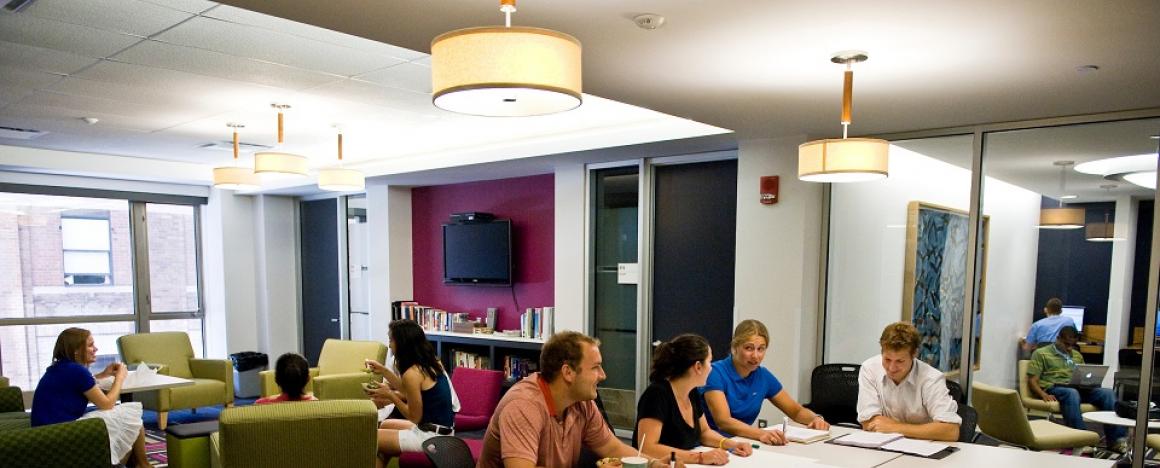 A home base away from home
Located on the second and third floors of the medical education building are the School of Medicine's four Learning Communities. Functioning as a physical "home base" for MD students, the communities contain a living room, kitchen facilities, satellite TV, small group classrooms, and study spaces. Designed to encourage interaction and community building among students and faculty, the Learning Communities are a vibrant place to learn, study, and relax.
Consistent and persistent faculty mentoring
Beginning with the class of 2023, each Learning Community will be anchored by small groups of students and a faculty coach. The coach will be the main faculty member responsible for the student's professional identity development and will also assist in teaching clinical skills and in facilitating self-reflection in a longitudinal fashion during all four years. The coaches are all physician faculty members chosen for their exemplary personal and professional attributes and their proven dedication to students. Coaches will meet regularly with students both individually and in small groups.
Human-centered relationships with your teachers, fellow students, and your patients
The Learning Communities have been designed to provide a structure for assisting in the acquisition of and role modeling of professional and humanistic behavior that is essential for the practice of medicine. They are a place to build peer relationships and accomplish curricular objectives, particularly in the important areas of professional development (including resilience, ethical practice, self-regulated lifelong learning, and navigating uncertainty), clinical skills, and ethical practice.