School of Medicine Class Notes*
Calling all Jumbos! Have you recently gotten married? Welcomed a new baby? Celebrated a professional achievement? Find out what your classmates have been up to and share your own news as well!
*This page will be updated on a monthly basis.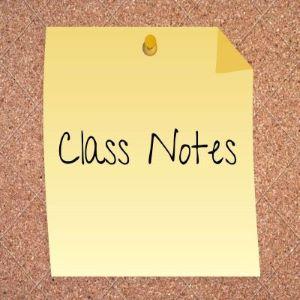 May
April
Rev. Nicholas Sannella, M71 will receive an honorary degree from Boston College during their commencement ceremony in May

Alysa Zalma, M.D., J89, M97 is a co-host and creator of the podcast and documentary project "Pulled from the Root", which is devoted to the interface of mental health and issues surrounding adoption. Alysa has also co-authored a manuscript by the same name.

Robert A. Harrington, M.D., M86 has been appointed to the board of directors for Cytokinetics, a late-stage biopharmaceutical company developing small molecule drug candidates to impact muscle function and contractility.
Jonathan Rogg, M.D., M09, was a guest on The Emergency Mind Podcast talking about the pressure of being an ED physician during these challenging times.  
Barbara Coffey, M.D., M75 was selected as Chairman of the Department of Psychiatry and Behavioral Sciences at the University of Miami Miller School of Medicine in February 2020
March
Betsy Busch, M.D., M75 has been awarded the 2021 Tufts Alumni Distinguished Service Award

Scott Epstein, M.D., M84 has been awarded the 2021 Tufts Alumni Distinguished Service Award

Nicholas B. Gordon, D12, MG14 has been awarded the 2021 Tufts Young Alumni Achievement Award

Alexandra Beling, M.D., M20, has been appointed chief resident at Spaulding Rehabilitation Hospital

Karen M. Puopolo, M.D., Ph.D, M93, GBS93, has received the prestigious Pennsylvania Pediatrician of the Year Award from the American Academy of Pediatrics (AAP) after a unanimous selection by the Pennsylvania AAP Governance Committee and Board of Directors. This award is granted to a Pennsylvania pediatrician who exemplifies the ideals of the pediatric profession and participates in activities that reflect the foundation of the chapter.

Steven Pascal, M.D., M86, is surviving the pandemic. His ophthalmology practice is flourishing albeit could use more employees, and he decompresses boating and crabbing on the San Francisco Bay. Dr. Pascal's daughter Emily, A15, M20 is a PGY-2 ENT-Head and Neck Surgery Resident, and his son, Daniel, A21, is a first year PhD-MBA (biomedical engineering) student at MIT. Steven and his wife, Danna, celebrate their 38th anniversary, this June. They are cautious travelers and allowed themselves a few weeks in Tulum, Mexico with family but mostly stay within the U.S. borders, trying to avoid COVID.

Robert Allen, M.D., M85 has joined MMS Holdings as Principal Medical Director to its Global Drug Safety and Pharmacovigilance team. Dr. Allen has over 20 years of drug development, safety, and regulatory experience in the pharma and clinical research industry
Alaina Geary, M.D., M16, and Steven Young, M.D., M17 of Jamacia Plain, Massachusetts, recently welcomed their daughter, Emy.
Margarita E. McDonald, M.D., M05 was recognized by Continental Who's Who as a Trusted Bariatric Medicine Specialist for her remarkable contributions in medicine and her outstanding leadership as the Founder of The Bariatric Medicine Institute
Michael Stanley, M.D., M18 was profiled in Harvard Magazine in "Notes on Doctoring: Michael Stanley and the covenant of medicine."
Jennifer Havens, M.D., M86 has been named the Arnold Simon Professor of Child and Adolescent Psychiatry and chair of the Department of Child and Adolescent Psychiatry at NYU Grossman School of Medicine
Sandra Koch, M.D., M83 and her husband Tim McFarren, M.D, established an endowed fund at Western Nevada Collegethat will provide a scholarship for half of the cost of the two-year education for two nursing students each year to help address the critical shortage in nursing care
Nana Ampomah, M.P.H, MG21 is currently working as a biostatistician for the Boston Children's Hospital.
Oliver Glen Ancheta, M.D., MBS, M.P.H., MG12 currently serves as the Director of Geriatric Consultation and Co-Management at University Hospitals- Cleveland Medical Center in Cleveland, Ohio, where he also holds an Assistant Professor faculty position at Case Western Reserve University School of Medicine
Alia Bucciarelli, MG05 joined Vertex Pharmaceuticals as Director of Communication Innovation and Research.
Hadassah Charles, M.P.H., MG20 is working as an associate within Massachusetts Health Policy Commission's Health Care Transformation and Innovation department
Allison Christie, M.D., M.P.H., M04, MG04 is still living up in lovely and very rural Craftsbury Vermont.  Two years ago, she opened a small group practice along with some colleagues, Tamarack Family Medicine, in Morrisville, VT.  Allison is expecting a baby at the end of June after many years of trying for that outcome, so this is an exciting new adventure.  She regularly in touch with a few med school and combined degree program friends, but always happy to hear from anyone who wants to reconnect, especially if you're going to be in Northern Vermont.
Stephen Gayle, MBS, MG21 recently started as a Clinical Trial Assistant Project Manager at the Clinical Trials Network and Institute within the Department of Psychiatry at MGH
Alice Kim, MBS, MG21 has been accepted to Tufts School of Medicine class of 2026
Lisa Levine, M.D., M.B.A., M05 is the Chief Operating Officer of EasyCV.
Caitlin Pohl, M.P.H., A15, MG16 married Nick Hill, A15 in Chicago, IL on May 1, 2021. They currently reside in Long Beach, CA where Caitlin works as a Project Coordinator at the Los Angeles County Department of Public Health.
Kacey Sabourin, M.P.H., MG21 since graduation, life has been busy! The week of graduation Kacey used one of the most practical applications of her degree, literature review, and diagnosed one of her siblings with a rare brain tumor. After emergency brain surgery and they have completely recovered! The last few months since graduation Kacey has expanded her volunteering while slowly entering back into the workforce. She helps clean and assist in grant writing at a no-kill cat shelter, performs as-needed data analysis for the teen center I worked with on my graduate project at Tufts, volunteers as a "Big Sister," donates some time as a Notary Public, and been offered more than half dozen jobs since graduating from Tufts PHPD.  Kacey recently accepted a remote position as a Health Science Specialist through Boston's Department of Veteran Affairs (C-DACS) and ended 2021 by moving from rural Maine to a great apartment closer to the city in Westbrook, Maine. It has been a busy year, but she could not have done it without Tufts and the wonderful PHPD program!
Jennifer Towers, MG13 is developing Gonzaga University's first health communication course which will deal with risk communication and social marketing.  She is also newly engaged with the University of Washington School of Medicine in helping to develop and deliver health leadership content to their students in Spokane.  Additionally, Jennifer is helping to establish a health leadership certificate program at Gonzaga.
Margaret Wasilewski, M.D., M87 has joined Pulmatrix, Inc. as the company's Chief Medical Officer.
January
Julie Baumam, MD, MPH, M99, MG99 has been appointed director of the GW Cancer Center. She will also join the faculty as professor of medicine in the School of Medicine and Health Sciences.
Michael Stanley, MD, M18 has been nominated as a member at large for the board of the American Osler Society.
Ari Levy, A11, MG11 has been selected as part of the Class 6 of the Wexner Field Fellowship
David Leader, MPH, MG13 is a new member of the Medical and Scientific Advisory Board of the Scleroderma Foundation which was founded in 1998 to advance medical research, promote disease awareness, and provide support and education to people with scleroderma.
Rozanne Puleo, MS-HCOM, MG02 transitioned away from full time clinical care in 2019 and joined the biotech industry in medical affairs. She is currently working for Ascendis Pharma, which develops extended-release treatments for growth hormone deficiency and other endocrine disorders. She lives in Somerville MA and has two kids, age 6 & 8.
Johannes Kahwadi, MPH, MG19 spend five months after graduation working for a joint study between the Ministry of Health, I-TECH Namibia, Namibia Institute of Pathology, and Ministry of Gender and Welfare as an HIV Testing Coordinator for the violence Against Children and Adolescents (VACS). He now coordinates Differentiated HIV Service Delivery (DSD) at the HIV/STI program in Namibia aimed at supporting the efforts of the ministry to ensure continuity of care for people living with HIV and viral load suppression in the end.
Queentela Benjamin, MBS/MPH, MG20 got married in September 2020 and will be moving to the DC area. Since graduation, she been leading some cancer disparities work at a biotech company and looking forward to further growth.
Jocelyn Tourtellotte, MPH 2018 married Kevin Tourtellotte in October 2021, which she is happy to announce includes expanding her family to include his three children. She recently became an EMT and is working part time for her town while a PhD candidate in WPI / UMassMed Joint Program studying bioinformatics.
Sarah Markus, MD, MG13 has joined the Emergency Department of Cheshire Medical Center.
Christopher Woolley, MD, MG11 who specializes in interventional pain management has joined Sierra Neurosurgery Group.
Rick Malley, MD, M90, has been appointed Chief Scientific Officer by Affinivax.
Steven Cha, MD, M00 has been appointed Chief Medical Officer and a member of the executive management team by Imugene Ltd.
October
Wendie Trubow, MD, MBA, M00 co-authored a new book which serves as a practical guide for avoiding and removing toxins in every part of your life.
Eric Rubin, MD, Phd, M90, GBS90 has been elected to National Academy of Medicine
Rachel Kowalsky, MD, MPH, M03 won the inaugural New England Journal of Medicine fiction award for her short story, The Billboard
Jennifer Carter, MD, M05 has joined Freedom Family Medicine
Betty Shum, MD, M15 has joined Adventist Health Medical Office specializing in pediatric endocrinology
Joseph Pepe, MD, M87 was one of three lifetime achievement award winners by the Business and Industry Association for his contributions to New Hampshire
Amit Rakhit, MD, M95 has been appointed as Chief Executive Officer of Sporos Bioventures
Margarita McDonald, MD, M05 has been recognized by Continental Who's Who
Mason Marks, MD, M11 has been appointed as Assistant Professor of Law at Franklin Pierce School of Law
September
David Aronoff, MD, FIDSA, FAAM, M95 will begin his new position as chair of the Department of Medicine at Indiana University School of Medicine this January.
Talia Baker, MD, M93 has been recognized by Continental Who's Who as a Top Hepatobiliary and Liver Transplant Surgeon
Sarah Markus, MD, MG13 has joined Emergency Department of Cheshire Medical Center

Christopher Woolley, MD, MG11 who specializes in interventional pain management has joined Sierra Neurosurgery Group
August
Ryan Lena, MD, E10, M18 and his wife, Emily Follo, MD, M18, welcomed their son, Miles Thomas Follo Lena, in July. Emily finished her family medicine residency in June and is working locally while Ryan completes his chief year in OB/Gyn residency at the Reading Hospital in Reading, PA. They plan to return to New England next year to start their medical careers and raise their family. 
Nate Bankoff, MD, M17 and Lauren Boehm, MD, M19, will be getting married this October.
Andrew Plaut, M62, A92P, recently published a book, Know Your Gut: Straight talk on Digestive Problems from a Gastrointestinal Physician.
July
Emily Pascal, MD, A15, M20 has started PGY-2 of her ENT-Head and Neck residency. She has won successive I-Care awards for her compassion with patients and became a homeowner, last May.
Chandrasekh Basu, MD, MPH, M99, MG99 has been named one of America's top plastic surgeons 2021 by Newsweek.
H Barry Baker, MD, M73 retired this July after 43 years of private practice in Infectious Diseases in Miami Florida.
Wendy Barr MD, MPH, MSCE, M99, MG99 was elected President of the Association of Family Medicine Residency Directors. She is the Vice President of Clinical Education, ACGME Designated Institutional Officer, and Residency Program Director at the Greater Lawrence Family Health Center in Lawrence, MA.
Sahar Chavez, MD, M04 joined True Health New Mexico as Lead Medical Director to the physician-led health insurance company. In her new role, she will provide leadership across all areas of Medical Management and drive programmatic approaches to member care with regard to quality improvement, utilization management, case management, and disease management.
Anthony Whitney, MD, M90 has joined CHI Memorial Primary Care Associates in Chattanooga, TN
Gerald F. DiBona, MD, M64 was honored by The Department of Internal Medicine, University of Iowa College of Medicine with the establishment of The Gerald F. DiBona Award for Academics in Service of veteran patients at the Iowa City Veterans Administration Medical Center.
May
Cassandra Scott, MD, M20, and her husband, Gregor, welcomed their daughter, Mallory, in March. Cassandra and baby Mallory are doing well, and Cassandra will return to finish her intern year in the Pediatrics, Psychiatry, and Child/Adolescent Psychiatry residency program at Tufts Medical Center in May.
Christopher Lathan, MD, MS, MPH, M98, has been appointed Chief Clinical Access and Equity Officer at Dana-Farber Cancer Institute, a new institutional leadership position that also adds him to Dana-Farber's Executive Leadership Team.
Alexis Pappas, MD, M09 has joined the Steward Digestive Disease Center with Morton Hospital and Steward Medical Group as a gastroenterology specialist.
Barbara Spivak, MD, M71 has been awarded the 2021 Special Award for Excellence in Medicine by the Massachusetts Medical Society.
Ronald Dunlap, MD, M73, A06P has been awarded the 2021 Award for Distinguished Service by the Massachusetts Medical Society.
Michael Moskowitz, MD, M68, with three of his colleagues, has been awarded The Brain Prize 2021. Dr. Moskowitz and his colleagues were selected by The Lundbeck Foundation for their groundbreaking work related to the causes and treatment of migraines.
Matthew Levitsky, MD, M17 and Deborah Reich were married on May 16 in Cortlandt Manor, NY.<
Jean Chin, MD, M82 was the recipient of the American College Health Association's Lifetime Achievement Award for 2020-2021, recognizing individuals who have provided outstanding service to ACHA and whose professional lives have been dedicated to improving the health of college students.
April
Gina Sam, MD, M03, MG03 has been recognized as one of New York City's leading gastroenterologists and is the Founder of The Institute of Gastrointestinal Motility Disorders and Integrative Health in New York City, New York.

Gevvie Stone, MD, M12 is headed to her third Olympic Games, but this time in a different event: the women's double sculls. The 2016 Olympic silver medalist and seventh-place London Games finisher in the single sculls qualified Thursday in the double at the third day of U.S. Olympic Rowing Trials No. 2 in East Windsor, New Jersey. She'll represent the United States in Tokyo alongside partner Kristi Wagner.
Steven Cha, MD, M00 has been appointed Chief Medical Officer for NKGen Biotech, a biotechnology company harnessing the power of the body's immune system through the development of Natural Killer (NK) cell therapies. Dr. Cha will oversee the clinical development of NKGen Biotech's lead product SNK01 as well as its pipeline of other novel NK cell therapies.
Ron Harris, MD, M67 and his wife Kathy are volunteering at UCSD vaccine program. At the drive through superstation 5000 people were vaccinated per day. Now located at the UCSD gymnasium there are 3000 vaccines provided per day. The days are long, but the patients are grateful and the work extremely gratifying.
Jaimie Yung, MD, M16 has joined Samaritan Health Services as a practicing psychiatrist.
March
Rebecca Yanovsky, MD, M20 married her partner of 6 years Adam Dufner after some COVID-related postponements, in a memorable, spirited re-imagined ceremony in her parents' backyard in California this past September. Though it was "mini" in size, it was huge in spirit, and they are enjoying the next chapter as they continue residency and work in Boston.

Tyler Tetreault, MD, M16 married Kate Googins, a third year law student at the University of Denver on February 15 in Maui. They chose a ceremony in Hawaii without any guests or family members in attendance after they were forced to change three other sets of arrangements.

Gerald Marsocci, MD, M67 retired from his general surgery practice in January after 45 years, but he continues to serve as the chief of the Division of General Surgery at Our Lady of Fatima Hospital in North Providence, a role he's held since 2007. He also works at the hospital's Comprehensive Wound Care Center two days a week.

Barry Dashefsky, MD, M73 was awarded fellowship status by the Pediatric Infectious Diseases Society. Dr. Dashefsky has specialized in pediatric infectious diseases for 40 years and his clinical interests range from common ambulatory infections to infections in patients with compromised immune systems.

Sarah Ming, MD, M07 has joined Androscoggin Valley Hospital as a new emergency medicine physician.

Amy Simon, MD, M90 has been appointed Chief Medical Officer for Beam Therapeutics.

Andy Huang, MD, MBA, M01 has been Khloe Kardashian's go-to consultant during her fertility journey.

Rachel Kowalsky, MD, MPH, M03, MG03 and her two fellow authors have published a paper, Exclusion of SARS-CoV-2 from Two Maine Overnight Camps July-August 2020, researching the exclusion strategies of two summer camps in Maine which allowed them to remain open during the summer of 2020.
February
January
Carl Canzanelli, MD, FACS, M59 has retired after a career spanning thirty-three years as a board-certified general surgeon at Mt. Auburn Hospital in Cambridge, MA, where he served as the Assistant Chief of Surgery for many years in addition to Acting Chair of Surgery. Carl and his wife Linda Temte, MD, M74, retired as the Acting Chair of Medicine at Mt. Auburn Hospital, feel fortunate at ages 86 and 81 to remain healthy and capable of maintaining an active retirement life splitting their time between their home in Maine and Spring Island in South Carolina for their winter escape.

Samantha Rai, MD, M97 has joined the leadership team for the Family Medicine Residency Program as the newly appointed Associate Program Director. Samantha has been a member of the Phelps Family Medicine Residency Program faculty since 2014.
December
Ronald S. Weinstein, MD, M65, director of the University of Arizona College of Medicine – Tucson's national award-winning Arizona Telemedicine Program and a professor of pathology, has been recognized with a Health Care Heroes lifetime achievement award by the Phoenix Business Journal.