Ndidiamaka Amutah-Onukagha Appointed Assistant Dean for Diversity, Equity and Inclusion
Amutah-Onukagha, PhD, MPH, CHES, associate professor, has been appointed the Assistant Dean for Diversity, Equity and Inclusion for the Graduate Programs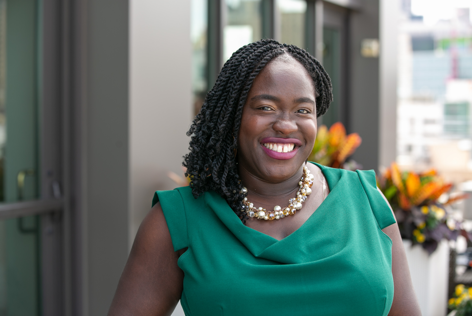 We are pleased to announce that Ndidiamaka Amutah-Onukagha, PhD, MPH, CHES has been appointed the Assistant Dean for Diversity, Equity and Inclusion for the Department of Public Health & Community Medicine (PHCM) and the graduate programs in the School of Medicine. Amutah-Onukagha began her new role on, April 1, 2021, and will work in close collaboration with Deans Sackey and Archer in the Office of Multicultural Affairs.
Ndidiamaka co-chairs the Diversity, Equity, and Anti-Racism (DEAR) Council which was re-established in Fall 2020 to serve students, faculty and staff of the graduate programs. She joined the Tufts School of Medicine faculty in July 2017 and was promoted to associate professor in 2018. Ndidiamaka is the founder and director of the Maternal Outcomes for Translational Health Equity Research (MOTHER) Lab in the School of Medicine and is currently one of only six principal investigators awarded R01 level funding from the National Institutes of Health (NIH) to study racial disparities in pregnancy-related complications and deaths. The recipient of numerous professional honors, she currently serves on the U.S. Department of Health & Human Service Secretary's Advisory Committee on Infant Mortality and was invited to give written testimony on maternal health to the United States Commission on Civil Rights in November. Last month, Ndidiamaka was named to the Commonwealth's Racial Inequities in Maternal Health Commission where she will serve as a commissioner championing issues of maternal health disparities as it pertains to Black women.
A proud Trenton, New Jersey native, Ndidiamaka earned her MPH in Maternal and Child Health at George Washington University School of Public Health and Health Services, and her PhD in Maternal and Child Health at the University of Maryland School of Public Health. She also completed the prestigious Kellogg Foundation Fellowship in their Community Health Scholars Program for Community Based Participatory Research and Health Disparities.
In addition to her leadership of the DEAR Council, Ndidiamaka will also serve on the Tufts University Cabinet on Diversity, Equity, and Inclusion (TUCDEI) and TUSM's Multicultural Fellows Council.
Please join us in congratulating Ndidiamaka Amutah-Onukagha on her new role!