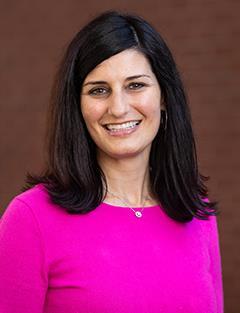 Research/Areas of Interest: Behavioral intervention development; Substance use and addiction; Adolescent risk prevention
Education
Doctor of Science, Harvard University, Cambridge, United States
Master of Public Health, Boston University, Boston, United States
Master of Social Work, Boston University, Boston, United States
Bachelor of Arts, Rutgers University, New Brunswick, United States
Biography
Dr. Skeer's research currently focuses on family engagement and the role that family meals play in adolescent risk prevention. She has been the Principal Investigator on multiple studies to develop and test interventions related to adolescent substance misuse prevention. These include a substance use preventive intervention geared toward parents of 5th-7th grade students in Boston Public Schools, funded through the National Institute on Drug Abuse and a study in rural Idaho to develop a methamphetamine use prevention communication intervention for teens, funded by the DentaQuest Foundation. She has also been funded to conduct qualitative research with parents/guardians and children on perspectives around marijuana as the recreational law takes effect in Massachusetts. In her role as faculty, Dr. Skeer takes the opportunity to include students as Research Assistants in her projects, many of whom have had the opportunity to publish with her.


Dr. Skeer is engaged in community substance use prevention. She is an active member in a local substance abuse prevention coalition, where she gives talks in her town and serves as a subject matter expert to the Coalition steering committee.


Media coverage
Chronicle, a Boston local news program, interviewed Dr. Skeer about adolescent opioid use. On Pediapod, the podcast of Pediatric Research, Dr. Skeer was interviewed about her article "Everything is connected: social determinants of pediatric health and disease." She was also featured in Tufts University's Ever Wonder video series with her answer to the question- Why do we get addicted to drugs?