The 2023 Earle P. Charlton Poster Competition
Research competition, celebrating the dedication and excellence of Tufts University's graduate students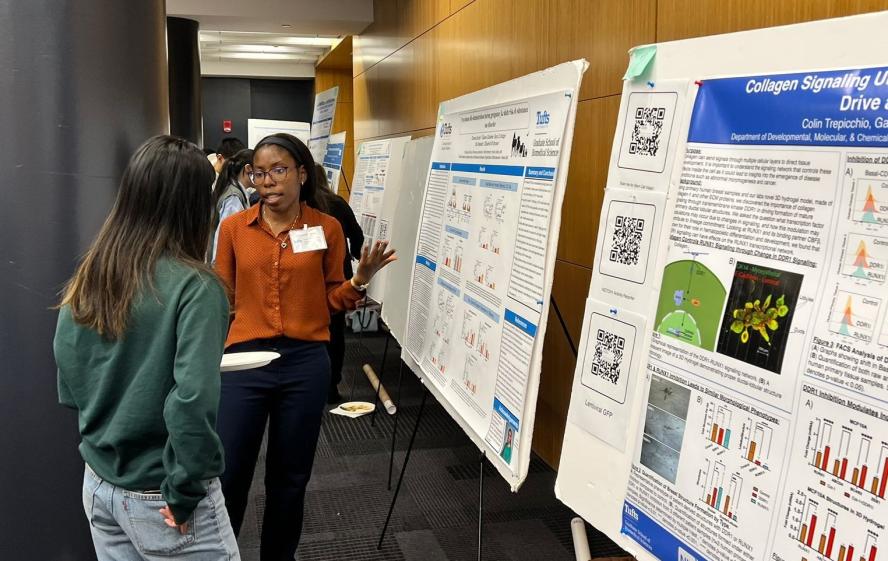 Tufts University hosted the 2023 Earle P. Charlton Poster Competition on October 23, 2023, from 2 to 4 pm at the Medical Education Building on the Boston Campus. This event showcased an impressive array of research work and served as a platform for students from diverse disciplines to exchange ideas with the Tufts scientific community, all the while fine-tuning their presentation skills.
This year, the competition was open to all Medical School, Dental School, GSBS, and Veterinary School students pursuing MS, MPH, DPT, MD, PhD, DMD, and DVM degrees. To qualify, participants were required to present research that was exclusively their own and conducted during their graduate enrollment at Tufts University. The competition was divided into three categories: GSBS Junior, GSBS Senior, and Clinical. The GSBS Junior category is for GSBS PhD students in years 1-3, MD/PhD students in GSBS years 1-2, and GSBS MS students. The GSBS Senior category is for GSBS PhD students in years 4 and above, MD/PhD students in GSBS years 3 and above, and GSBS CTS PhD students. The Clinical category is for all MD, DMD, DVM, and graduate students, as well as MD/PhD students in TUSM years 1-2.
Entrants were asked to submit their 300-word abstracts and entry forms by the deadline of Sunday, October 1. These abstracts were evaluated based on rigorous criteria, which included the justification of research objectives, the clarity of research methods, readiness of results for presentation, and the level of engagement in the research. Subsequently, the chosen participants presented their research via posters to a panel of judges.
The judging criteria for the Charlton Poster Competition were comprehensive, taking into account research design and data analysis, the significance of the work, the degree of involvement in the project, and the quality of poster presentation. The competition was fierce, with 8 GSBS Juniors, 21 GSBS Seniors, and 8 Clinical presenters vying for the top honors. A total of 21 awards were conferred across the categories, reflecting the meticulous grading that ensured precision in determining the winners.
2023 Charlton Award Winners
Jainith Patel, M25

Frank Zamudio

, PhD Student in Neuroscience

Natalia Quirk

, PhD Student in Molecular Microbiology

Niels Vizgan, M26

Chantal Aaron

, PhD Student in Neuroscience

Kimberly Carroll

, PhD Student in Immunology

Rachel A. Brandes, M26

Regina (Xinru) Chen

, PhD Student in Genetics, Molecular & Cellular Biology

Colin Trepicchio

, PhD Student in Genetics, Molecular & Cellular Biology

Raissa Li, M26

Maria Brouard

, MD/PhD Student in Genetics, Molecular & Cellular Biology

Samantha Moores

, PhD Student in Genetics, Molecular & Cellular Biology

Tara Gallagher, M26

Jamie Leiriao

, PhD Student in Immunology

Hanan Bloomer

, MD/PhD Student in Genetics, Molecular & Cellular Biology

Meadow Parrish

, MD/PhD Student in Genetics, Molecular & Cellular Biology

Mei-An Nolan

, PhD Student in Immunology

Jacqueline Garcia,

PhD Student in Genetics, Molecular & Cellular Biology

Jinglin Ji

, PhD Student in Neuroscience

Nicole Traugh

, PhD Student in Genetics, Molecular & Cellular Biology

Samantha Bottom-Tanzer

, MD/PhD Student in Neuroscience