Embracing the Small Moments in Medical School
Lara Thibodeau's connections with patients solidified her choice to study psychiatry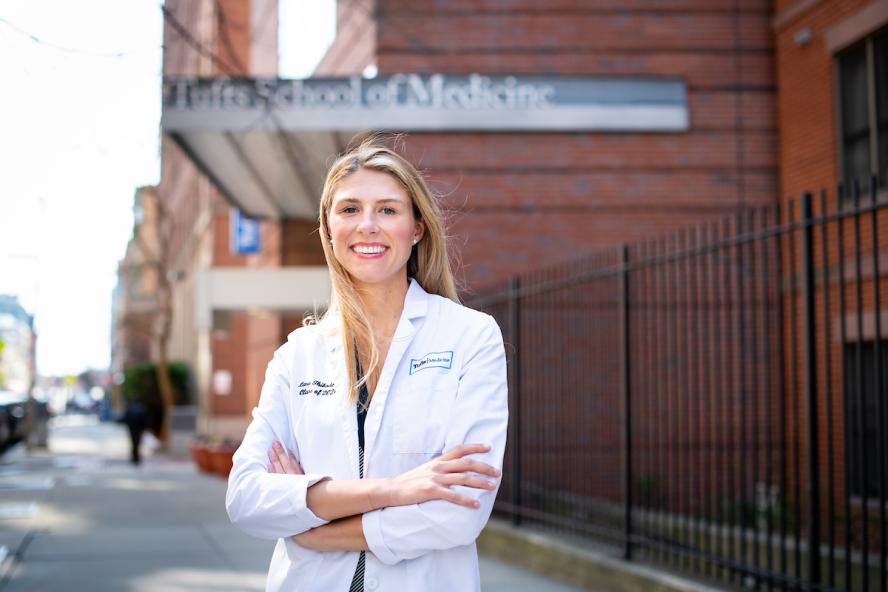 Don't forget to enjoy your medical school journey.
That's one piece of advice Lara Thibodeau, A14, M21, would offer as she graduates from Tufts University School of Medicine. The soon-to-be psychiatry resident at Duke University acknowledged that yes, there are major milestones during medical school, such as first clinical rotations and graduation, but it's also important to take time to appreciate the day-to-day impacts doctors can have on patients.
Thibodeau said it's these personal connections that helped her continue to develop an interest in child and adolescent psychiatry over her four years at Tufts.
There is fulfillment in "the trust that patients are willing to put in me. Being open with me and sharing an important moment of their life are the biggest things," said Thibodeau. "A lot of special moments happen with patients and colleagues and all of those things add up. You change slowly, a little bit at a time, but when you look back, the progress is significant."
For Thibodeau, the COVID-19 pandemic was a blessing in disguise because she said having a couple forced weeks off from rotations gave her time to think more about psychiatry and reaffirm her passion for it. Having an impact on someone's life, she said, goes deeper than treating disease with medications.
"There are factors that influence a person's health beyond the basic science of the disease and a particular medication," said Thibodeau. "There are factors in society, personal relationships, community, and family that impacted them, who they are, and how they reached this point on their health care journey."
Thibodeau, who received an undergraduate degree in international relations from Tufts, came to medical school after working as an eighth-grade math teacher in rural Louisiana for two years. There, she saw firsthand how the health care and education systems overlapped.
The result? "They did not serve students as best they could," she said. For instance, there was no child psychiatrist in the county where she worked and access to mental health care was limited.
Thibodeau's decision to go to medical school was propelled by a desire to change that. To that end, she was a Sam Ho Health Justice Scholar, taking part in a four-year program that prepares students to work with patients from underserved populations. She said the mentorship through the program, run by physician Keith Nokes, and interactions with the 12 other scholars in her cohort were important to her time at Tufts.
"In some of the early years of medical school, you get bogged down in the science courses. It's critical to see that physicians are living, working, and doing what you envisioned to keep that spark alive," she said.
As part of the Health Justice Scholars program, Thibodeau's project focused on improving access to mental health care for children and teens in low-income schools. She presented her findings on the overlap between autism and potentially challenging student behavior to a group of Massachusetts educators.
Other mentors Thibodeau credits include Associate Professor Laura Snydman, who "works super-hard to make sure we have the best learning experience possible," and Professor Albert John Sargent, whom she called "a really fierce advocate" for children and patients.
Sargent is "someone who works tirelessly to try and have the best outcomes for kids and for their families," she said. "That's really inspiring to watch as a med student."