School of Medicine 2022 Commencement Ceremonies
Friends and family gathered to celebrate this year's graduates of the MD, Public Health and Professional Degree programs.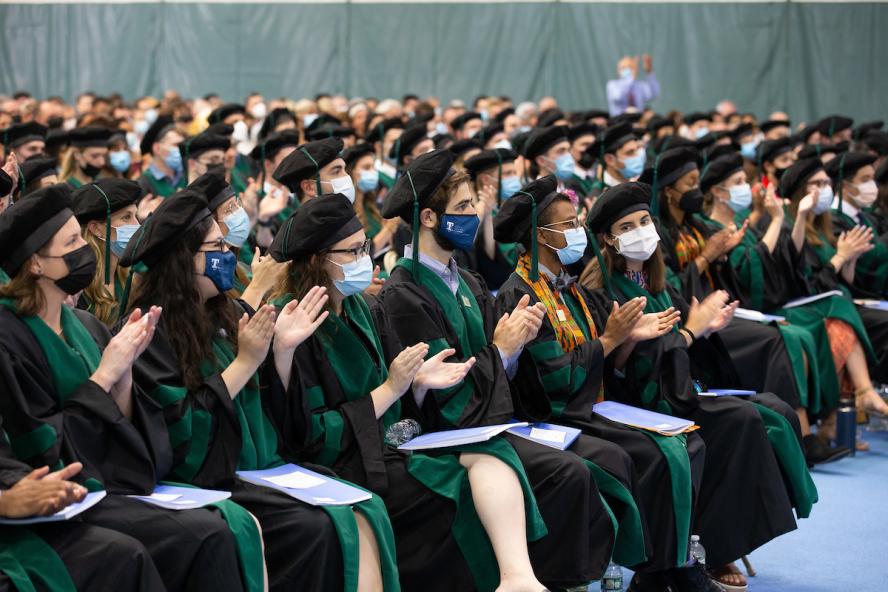 Family and friends gathered for the School of Medicine and Graduate School of Biomedical Sciences commencement ceremony at the Gantcher Center on May 22, applauding, cheering, whistling, and even roaring as students in black robes with blue or green striped sleeves walked across the stage, smiling behind their masks. 
"I hope you use what you have learned to think critically, to continue to be socially responsible, and to care for each other more humanely and effectively," said Helen Boucher, School of Medicine dean ad interim. "My wish for you is to give of your time and develop meaningful relationships with your patients." 
Daniel Jay, GSBS dean, praised many students by name for starting initiatives to improve their peers' stress levels and to help bring more underrepresented students into graduate biomedical sciences. "You are working to improve the lives of so many, and I cannot wait to see what you accomplish," he said. "I encourage you to follow your passions, driven by the confidence and compassionate spirit that are our core values." 
School of Medicine class president Antonio Laracuente pointed out that his classmates include athletes, home chefs, dancers, metalworkers, and more. That variety has made them better doctors and a stronger community, he said. "At Tufts School of Medicine, we are so much more than simply medical students. . . I believe that's what really makes Tufts special," he said. "I hope you build amazing communities and pursue what truly makes you happy in both medicine and in life." 
GSBS student speaker Judith Miriam Hollander challenged her classmates to carry forward the larger perspective and better work habits they have developed. "It's easy to lose yourself in the pursuit of a question," she said. "Take what you have learned from the pandemic, and use it to improve the workforce you're entering." —Monica Jimenez 
Graduates of the School of Medicine's Public Health and Professional Degree Programs celebrated in their own ceremony on Alumni Field. 
Pritesh Gandhi, A04, M11, MG11 (MPH), chief medical officer at the Department of Homeland Security, delivered the commencement keynote. Gandhi urged the graduates to prioritize self-care and their own health, and to have courage.  
"You have earned the right to shape public health and medical policy and improve the health and wellbeing of the towns and cities you live in," Gandhi said. "And if you ever have any doubts, or you find yourself alone or backed into a corner—take a moment and look around this room, look at your colleagues, they will support you now and for decades to come."  
Attendees also heard from student speaker Alexander A. Bonano, who received a master's in public health and concentrated in health services management and policy. Through his work, Bonano plans to address racial and ethnic health disparities at the national level.  
"It is my hope that we continue to think about the privilege and power we hold in our positions," Bonano said. "It is my challenge to myself and to everyone here under this tent, that we continue to discern and think critically about how we can empower others and plan for our unintended consequences. Our journey ahead isn't going to be all sunshine and roses; however, I do believe wholeheartedly that it will be fulfilling." —Emily Wright Brognano