Tufts' Doctor of Physical Therapy Boston Program Graduates its First Class
Eighty students received their diploma from the CAPTE-accredited program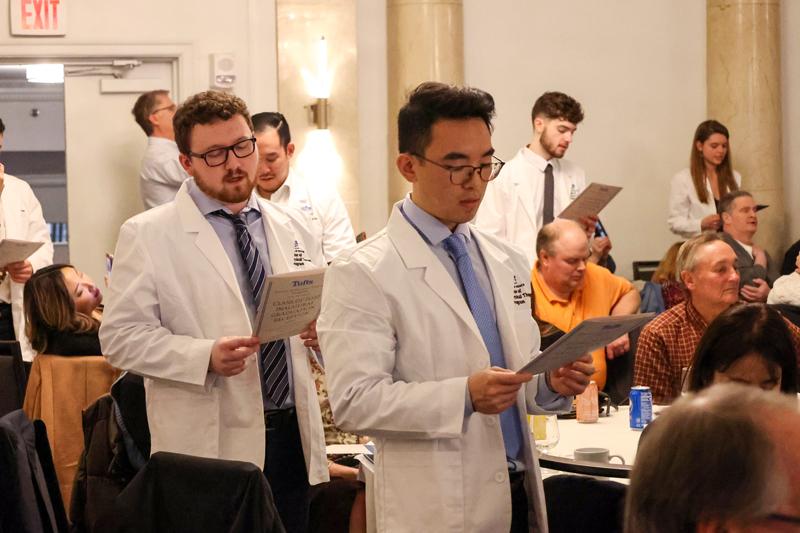 The first-floor ballroom at the Courtyard by Marriott in downtown Boston was filled with joyful faculty, staff, students, and their loved ones as they celebrated the first graduating class of the Tufts University Doctor of Physical Therapy (DPT) Boston program.
The momentous occasion came on the heels of news that the DPT Boston program received accreditation, which will allow its graduating students to sit for the licensing exam.
The celebration on Saturday, December 10, was symbolically hosted in the ballroom where the program's first year of clinical skills labs took place while its Medford space finished construction. The event concluded with students receiving their white coats.
"The DPT-Boston graduation reception is a final milestone symbolizing the completion of the rigorous two-year program and celebrating the students' accomplishments," said Megan Donaldson, founding program director. "Our white coat ceremony was conducted at this event to recognize our students' entry into the profession as doctors of physical therapy. We do not take this final moment for granted—it truly is a special moment for the Boston DPT program and all our graduating students."
"It was so exciting to be able to celebrate with my classmates, faculty, family, and friends," said Lauren Moroch, DPT22. "These are the people who have supported us, guided us, inspired us, and helped us get through these past two rigorous years. We are now ready to take on the profession as new clinicians, represent Tufts, and carry out what it means to be a healthcare professional. The white coat signifies a commitment to humanism and professionalism, and that mission is something that Tufts has prepared us well for."