Sharewood is a free health education program that also provides limited health care services to the medically underserved populations of the Malden and Greater Boston areas. Medical services are managed by volunteer physicians and faculty from Tufts University School of Medicine, under the direction of Clinton Pong, MD, medical director/advisor. Dr. Pong is also an assistant professor of family medicine at Tufts School of Medicine and course director of Tufts' final pre-clerkship clinical course, Competency-Based Apprenticeship in Primary Care. The administrative responsibilities for Sharewood is held by a board of 27 volunteer medical students from Tufts. Dental students and faculty volunteers from Tufts University School of Dental Medicine also contribute, as do physician assistant, nutrition, public health, and undergraduate students from Tufts University.
The name "Sharewood" is based on the Robin Hood/Sherwood Forest idea of giving to the poor. The reason "Sherwood" became "Sharewood" is that the Sharewood Project is not about robbery and simple handouts. It is a mutual give and take where those receiving health services provide a learning opportunity for the students of Tufts University School of Medicine. The experience is shared rather than given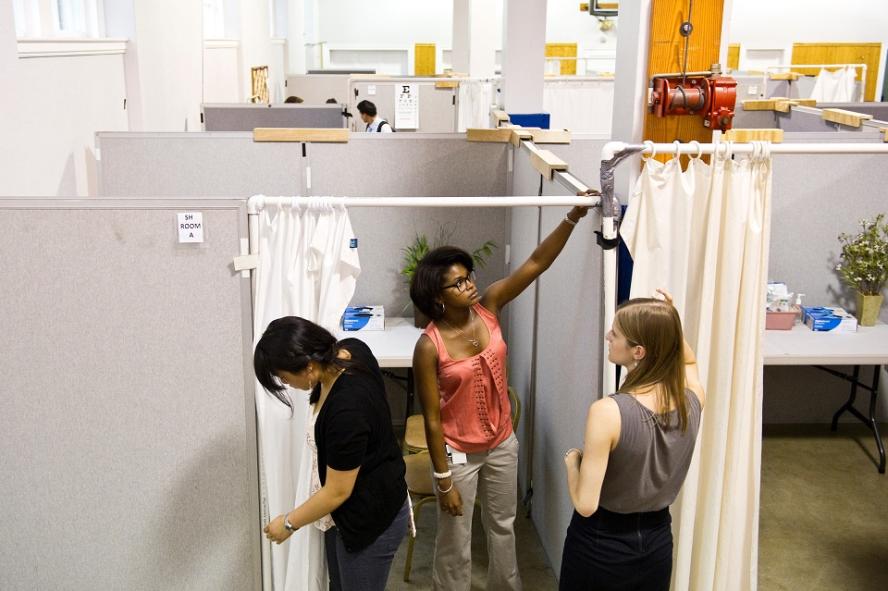 Our Mission
As a free health education program that also provides limited health care services, the Sharewood Project's mission is to enhance the health of the Boston area community by providing services for the medically underserved. To this end, we engage with a strong network of community organizations, educational institutions, and local resources to contribute to the care of clients and their families. The Sharewood Project also strives to orient medical students to the process of health care delivery, providing them with an opportunity to build interpersonal skills through clinical engagements, and to expose them to a diverse client population.
Compassion
We are always conscious of the different backgrounds and disadvantaged situations from which our clients come. We recognize and seek to alleviate the distress of our clients and esteem sympathy in every interaction with them.
Sensitivity
We will be respectful of client dignity and aware of client physical, mental, and emotional needs. We treat our staff and volunteers with respect, always providing each other with support and camaraderie.
Leadership
The Sharewood Project is recognized as the sole institution in the Boston area that provides free health education and limited health care services to those in need. To this end, we are a leader in our community and strive to guide other student organizations and non-profit entities down this path. The Sharewood Project is administratively run by medical students at Tufts University School of Medicine and we enable every student the opportunity to take ownership in the various operations of the organization.
Education
We recognize the need to prepare the next generation of doctors in providing clinical training in both the art and science of medicine. Students learn to understand and interact with a client population hailing from a vast array of socioeconomic and cultural backgrounds. We also seek to inform and educate our clients about health resources within the community. Providing case-management and referral services allow us to teach both client and caregiver the current system of health care delivery.
Excellence
We will continue striving to deliver the highest quality of care possible. Our clients deserve the best we have to offer in general medical services, disease prevention, and case management. We will meet and exceed expectations of all stakeholders in our organization through superior service and conduct in everything that we do.
The Board
Executive Board

Medical Program Director: Raissa Li
PA Program Directors: Diana Edwards and Alexandra Johnson
MBS Program Director: Benjamin Greenfield
Undergraduate Program Director: Sam Truong
Advancement Director: Aaron Shiinoki
Civic Advocacy Director: Jasmin Kamruddin
General Clinic Director: Jainith Patel
Community Partnerships Director: Sumedha Sahay
Patient Navigation Director: Sam Wilk
SRH Director: Jessica Ding

General Clinic Team

Clinic Coordinators: Maricka Bennett and Rahul Rodrigues
Clinic Managers / IT Coordinators: Cassandra Cu and Ashwin Verghese
Volunteer Coordinators: Zahra Rizvi and Isaac Baek

Advancement

Grant Writer: Gayathri Sundaram
Fundraising Coordinator: Reena Olsen

Patient Navigation

Certified Application Counselors: 
Corey Bryton
Joseph Tingen
Darsiya Krishnathansan
Ariella Wagner
Sam Wilk

Community Partnerships 

GMAACC Coordinator: Nathan Barger

Special Services

Ophthalmology Coordinator: Chloe Bogen
Dermatology Coordinator: Corey Bryton

SRH

SRH Counselors: Emma Patterson and Jaeden McKenzie

 

General inquiries about undergraduate involvement in The Sharewood Project should be sent to the general board email: tuftssharewood@gmail.com.

Undergraduate volunteer involvement in The Sharewood Project should be sent to the volunteer coordinator email: sharewood.md.volunteer@gmail.com.

2023 Undergraduate Sharewood Board

Sarah Pillone(President)

Samantha Truong (Head Project Coordinators)

Chau An Tran (Treasurer)

Aatiqah Aziz (Social Chair)

Rachel Huynh and Azita Shirinzadeh (Public Health Committee Coordinators)

Sophia Chung and Jason Tang (Health Outreach Committee Coordinators)

Emily Afriyie and Kataleeya Powers (Fundraising Committee Coordinators)

Arjun Ahilan, Nicole Chen, and Nikki Yip (Project Coordinators)

 

 

 

 
The Sharewood Project Today
Sharewood serves approximately 1,000 clients annually, many of whom do not have health insurance or do not know how to access healthcare services. Sharewood's goal is to educate its clients about common diseases, screen for some of those diseases, and most importantly, connect them with healthcare resources in their local communities. Clients speak a variety of languages, including English, Mandarin, Spanish, Cantonese, Haitian-Creole, and Portuguese. In 2012-2013, Sharewood established a collaboration with the nonprofit Found in Translation, which provides medical interpreter services to clients who need them.
Over the past few years, many progressive changes have taken place. The project has fully-electronic medical records, easily accessible by any of several computers attached to the Sharewood network. Most recently, we have brought women's health services, nutrition counseling, dental and vision care on scheduled evenings in order to better care for the full breadth of client needs.
These examples of progressive changes demonstrate that Sharewood is ultimately as dynamic as its client population and volunteers. As a gateway into the American health care system, it is ever-changing to meet community needs and accomplishes this through the enthusiasm and dedication of its volunteers.
History
The Sharewood Project was started by students of the Tufts School of Medicine class of '99, who during their first year of medical school began working to establish a free program to serve underserved communities in 1994. They made contacts within Tufts, NEMC, the local government, various social groups and community physicians. They also began the laborious process of writing grants and raising funds. The United Methodist Church of All Nations graciously donated space on its third floor to be used as the project site, and many Tufts alumni and area physicians donated necessary equipment such as exam tables and medical supplies. Finally, after a year and a half of planning and hard work, Sharewood opened its doors on February 18, 1997 under the guidance of Dr. Brian Lisse (Medical Director/Advisor, 1997-2001). Throughout the spring and summer of 1997, Sharewood worked on tailoring its services to the needs of its expanding client population. By August 1998, Sharewood had seen 244 clients with a total of 465 client visits!
In the winter of 2001, the Church of All Nations had fallen into financial difficulty, and could not continue to host Sharewood's location. After an extensive search, and assistance from Dr. Joseph Gravel (Medical Director/Advisor, 2001-2009), it was decided to move the project to the Center United Methodist Church in Malden. On January 15, 2002, with help from the church and the Malden Tri-City Community Action Program, Sharewood successfully completed its move and reopened its doors.
In the fall of 2005, the United Methodist Church in Malden closed, requiring Sharewood to relocate. With a commitment to the Malden community, an important criteria was to stay in Malden. Following another search for a suitable location, the Board of Directors decided to move into St Paul's Parish in Malden, MA. We are grateful to the church and its parishioners who allow us to use the space that we now call home.