Youth Science and Health Education Programs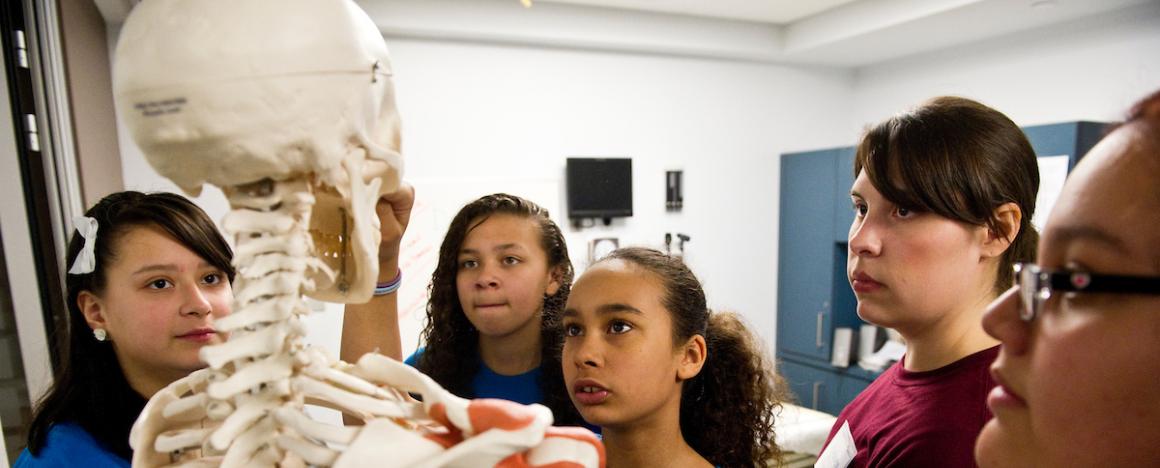 Many of our programs work with young people to promote health, stimulate enthusiasm for science, and encourage their interest in health sciences careers. These include school-based programs focused on science enrichment as well as health-focused programs managed by pediatricians.
IDEAS in Medicine is a science education program that integrates medicine and public health into the 7th grade science curriculum at the Wright Science and Technology Academy in Chelsea, MA. The program aims to increase diversity in medicine by encouraging students to achieve academic excellence and engaging them in youth-led public health advocacy. Medical students lead science experiments, provide math tutoring, and lead medical problem-based learning sessions. The program culminates with a year-end symposium and field trip to Tufts School of Medicine to explore health science careers. Read more about IDEAS in Medicine here.

In partnership with Friedman School of Nutrition Science and Policy, medical students run weekly cooking lessons on Friday afternoons at Boston Chinatown Neighborhood Center's Red Oak After School Program.

Medical students lead a weekly chess club on Friday afternoons at the Boston Chinatown Neighborhood Center's Red Oak After School Program.

Medical students, dental students, and other health sciences students provide afterschool tutoring at the local Chinatown middle and high schools, providing essential expertise in science and math to students who are directed to the center for additional support.

In partnership with Tufts Medical Center's Department of Pediatrics and a Community Health Worker, students lead health workshops on topics such as asthma management, nutrition, stress management, and tobacco and alcohol prevention.

The goal of the Passamaquoddy - Tufts Partnership is to establish a long-term relationship with the Pleasant Point Reservation in Maine to support the health and education needs identified by the tribe while also promoting a health careers pipeline for children at the Beatrice Rafferty School. This includes visits to Pleasant Point to participate in Health Fairs and provide educational programming at the school, a long-distance mentoring program with the kids, and an annual school field trip to the School of Medicine.  

Under the direction of pediatrician Dr. Rhonda Fogle, medical students in this program teach swimming to children and young adults with intellectual and developmental disabilities at the YMCA in Reading, MA.  

Sun Protection Outreach Teaching by Students (SPOTS) is modeled after a program founded by Washington University School of Medicine to bridge the gap in sun protection education and knowledge within the community. SPOTS educates adolescents about the benefits of sun protection and prevention of skin cancer and empowers them to practice melanoma self-detection via an interactive presentation, fun games, handouts, UV skin analysis, and teen skin cancer video testimonials.

Teach Me to Help offers CPR training and engaging medical lessons to students enrolled in under-resourced high schools in the Boston area with a goal of promoting medicine as a potential career for high school students. The course teaches students how to check for pulses, how to differentiate between a heart attack and cardiac arrest, and how to help. 

The Team Cathedral Project engages medical students and Orthopedic residents in a partnership with Cathedral High School in the South End of Boston. This partnership includes free school physicals so that students are eligible to play school sports, a medical presence at athletic events to assist with injuries, a final Sports Medicine field trip to Tufts School of Medicine and Tufts Medical Center, and ongoing mentoring with the teens.

Under the direction of pediatrician Dr. Shirley Gonzalez, students in the Teens, Empowerment, Education, Exercise, and Nutrition (TEEEN®) program develop and lead fitness and nutrition workouts with kids, teens, and their families.