On Match Day, It's Ready, Set, Match for Medical Students
Four graduating Tufts University School of Medicine students reflect on their paths and reveal where they will soon serve as residents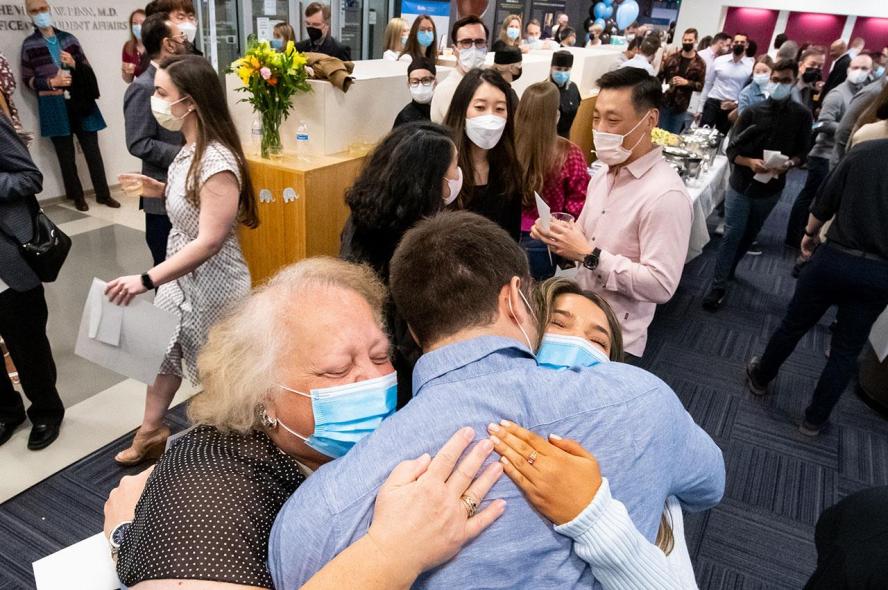 On Match Day, fourth-year medical students nationwide are notified of one of the most important placements of their careers: where they will spend their residencies, or their first three to seven years as physicians. At Tufts University School of Medicine, amidst the anxiety and excitement of waiting for and learning this news, four future MDs shared a look back on their experiences, as well as ahead at what is to come.
Melisa Granoff, M22, aspiring psychiatric researcher and educator
After graduating from Harvard with a bachelor's in neurobiology, Melisa Granoff joined Teach for America and taught sixth-grade science in Dorchester, Massachusetts. It was during this time that Granoff, who grew up just outside Baltimore, decided on medical school. She spoke candidly as to why.
"While I was teaching, I was struck by how students have a difficult time accessing their educational opportunities in meaningful ways when there are unaddressed health needs," Granoff said. "For instance, I had one student who had totally out of control Type 1 diabetes, where he would get blurry vision during class and not be able to see the board."
In her first years at Tufts, Granoff kept an open mind. A mentor in lymphatic surgery inspired her to specialize, initially, in lymphatic disease. That changed when she began her final rotation, in psychiatry. "I realized that what I liked about working with patients with lymphedema was true across the board in psychiatry. Many patients suffer for a long time before they find treatment, in the same way that patients with lymphedema do," Granoff said. "And honestly, it was the everyday, the bread and butter of psychiatry that appealed to me. Just hearing patients' stories and trying to use those stories to understand them fully and to help them."
A mother of two, Granoff hopes to work in an academic medical center as a resident, where she will focus on psychiatric research. "There are so many opportunities for advocacy in psychiatry, and I think research is a really effective way to do that. Also, I still like teaching, and I think teaching in the medical education space is something I'd like to have a hand in in the future." She is prepared to balance medicine with motherhood. "I'll be entering residency with two kids under two, and although it's a lot, my husband and I are ready for this step and feel very blessed that both our babies are here and healthy."
Her match: Cambridge Health Alliance. "There's so much I'm looking forward to! Cambridge is a city I love and am really looking forward to moving back to. I'm also really excited to meet my co-residents."
Abdimajid Mohamed, M22, aspiring pediatric surgeon
Raised in Biddeford, Maine, Abdimajid Mohamed saw the perfect opportunity to both learn and serve his home state when he joined Tufts University School of Medicine's Maine Track program, which trains future physicians in rural medicine. Working with the surgical residents in Maine, Mohamed said, is what affirmed his goal to become a surgeon.
"It's a lot of hard work, but I felt like they did it the right way," said Mohamed, who spent his third and fourth years engaging with patients and mentors at Maine Medical Center in Portland. "You could tell they cared. They thought about the whole patient. And the way they treated medical students and their fellow colleagues, it just felt like something I wanted to be a part of."
In training, Mohamed, who played college basketball at Western New England University, discovered parallels between surgery and his former sport. "It's very technically oriented, so just thinking about your movements and being coached on your hand placement, I experienced that same spark and thought, 'This is something I can really sink my teeth into.'"
Prior to his curriculum in Maine, Mohamed was Executive Director of the Sharewood Project, a free healthcare program in Malden, Massachusetts. "What I liked about it was that it was totally student run. The first- and second-year medical students are not only seeing the patients day-of, they're also doing a lot of the background work. I just jumped at the opportunity to be involved," Mohamed said. "Being Executive Director, you had to have a full picture of all the different parts, of what's working and what isn't. That experience really taught me what it meant to be involved as a physician in a leadership role."
Newly engaged, Mohamed is looking to couples match with his fiancée, Danielle Davis, a medical student at the University of Colorado. "We're excited to finally be together, have a home. Other than that, I think we both want to be at a place where we can pursue our career aspirations according to the values that are important to us."
His match: Boston University Medical Center (couples matched!). "We're both so incredibly excited to be at an institution that does so much for the community of Boston. The values at BMC match up really well with what we're both looking for within our careers moving forward. We could not be happier!"
Ilana Goldberg, M22, aspiring internist and writer
Having spent her undergraduate and postgraduate years at Tufts, Ilana Goldberg is what is known as a Double Jumbo. The New Jersey native applied to the School of Medicine through the Early Assurance Program and earned a guaranteed spot during her sophomore year. "Since I did that, I was able to do other things in undergrad, things I never even knew I liked. So I did an English minor, I wrote for The Tufts Daily," Goldberg said, referring to Tufts University's independent student newspaper, where she worked as an assistant editor and feature writer.
The break was refreshing for Goldberg, who attended a health-sciences-oriented high school and knew early on that she would study medicine. "I got to go to the operating room and see surgeries, and I just loved it after that. It was never a question in my mind about going to medical school."
With prospects in internal medicine, Goldberg intends to explore a variety of pathologies as a resident. "I'm interested in autoimmune diseases, either rheumatology or GI. The physiology of autoimmune disease is really interesting to me, how the body attacks itself," Goldberg said. "A lot of times, just getting someone on the right regimen can give them a full, fulfilling life. They can live normally day to day with a disease that would otherwise be debilitating."
As a participant in the Sharewood Project, Goldberg felt gratified at being able to apply her growing skill set directly with patients. "It was a very under-resourced group that we were treating, and to see that as I learned more in medical school, I could do more and help them in more ways, was really impactful for me. It's why I'm excited to become a resident, because you have more ownership of patients."
Goldberg has kept writing throughout her time at the School of Medicine, publishing pieces about her experiences in healthcare. She hopes to continue doing so as a resident and attending physician. "Eventually, I want to write a book," Goldberg said. "A novel based in a hospital, based on medical drama. I just like creative writing. I think it's fun and a good outlet."
Her match: Thomas Jefferson University Hospital. "I am beyond thrilled to have matched to my top choice program! I had a great feeling about it from my interview day, and I will be proud to serve the Philadelphia community. The most exciting part is that my twin sister, Risa, matched to Jefferson as well. I'm so excited to start my career with her."
Michael Mastroianni, MBS18, M22, aspiring educator and global nonprofit leader
For fourth-year medical student Michael Mastroianni of Burnt Hills, New York, it was the loss of a great uncle to lung cancer that prompted his dream of becoming a doctor. "I remember holding my uncle's hand and just promising him then that I was going to find the cure for cancer. I mean, I didn't really know what that meant back in the eighth grade. But eventually, in my last three years of high school, I was able to do cancer research at Albany Medical Center. In a way, that felt like I was keeping the spirit of the promise I made."
As an undergraduate at the College of the Holy Cross, Mastroianni took part in a medical mission trip to Honduras. There, he met Jorge Encalada, who informed him of the local community's pressing need for a public school. Upon returning to the States, Mastroianni was able to raise the full $15,000 required to build one. Today, the school serves grades K-9 in the city of San Pedro Sula.
To sustain the school, Mastroianni co-founded the nonprofit organization Action for Education. "Originally, it was just me and a couple of college friends, but now we've grown to over 25 people, and that school is now teaching 350 kids." The group has since raised over $400,000 and expanded into another region in Honduras, establishing the tuition-free Trinidad School of Nursing in 2018.
Part of what inspired Mastroianni to enter his chosen field of orthopedics is the number of cases he saw related to musculoskeletal pain during his travels. "It's already the number one cause of disability in the world, but especially so in communities that really depend on manual labor," he said. "All the major male figures in my life worked with their hands as well, so going into orthopedics feels appropriate, like I'm carrying on a family tradition."
In the future, Mastroianni plans to maintain his commitment to global health and extend his work in education by pursuing an academic career. "I really enjoy the process of mentoring people, being someone they can turn to for advice. And I absolutely love research. I really think it's how you can advance the field. I never want to stop doing the work we do with Action for Education. I really believe in our mission. But I know, no doubt, I want to go into academics for the first decade of my attending life. We'll see."
His match: Columbia University/NewYork-Presbyterian Hospital. "It was my number one choice. I'm a die-hard Yankees fan, and they have the Yankees team doctors there. It's also a program that's really focused on academics, with unbelievable mentors. So it's a dream come true! Not just for myself, but for my whole family."