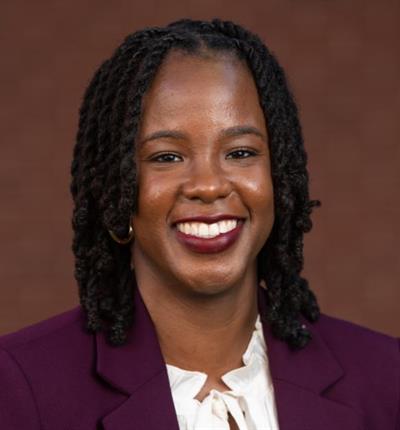 Research/Areas of Interest: Maternal health Health inequity Health literacy Reproductive health & sexual wellness Nutrition and food injustice assessment Health policy
Education
Master of Public Health, Jackson State University, 2012
DrPH, University of Texas Health Science Center at Houston, Houston, United States, 2017
Biography
Dr. Vanessa Nicholson is a health equity research scientist with over 15 years of public health experience. Dr. Nicholson is currently serving as an Assistant Professor at Tufts University's School of Medicine, Department of Public Health and Community Medicine.

Dr. Nicholson has extensive experience in using evidence-based frameworks to create infrastructures that center on health equity, support health policy initiatives, and use data science that is culturally reflective and responsive to the experiences of historically underserved communities.

She investigates, designs, and apply evidence-based methodologies that address the complexities and intersectionality of racism, gender bias, and gaps in policy to elevate the quality of life to those most vulnerable communities. In both her teaching and her research, she centers the use and establishment of equity initiatives to optimize sexual and reproductive health and nutritional health justice.

She has applied her expertise by contributing to the early stages of infrastructure development for the M.O.T.H.E.R. Lab via her former positions as coordinator and being the first manager of the Lab. The Lab is now one of the nation's largest dedicated to optimizing maternal health outcomes for Black women and has expanded to Tufts University's Center for Black Maternal Health and Reproductive Justice led by Director Dr. Ndidiamaka Amutah-Onukagha. Dr. Nicholson is credited with writing the original unit lead positions of the Center. In her position as the first person to occupy the MOTHER Lab Unit Lead, she has laid the infrastructure for aligning the professional development needs of students with the expertise of unit leads to inform on priority projects and deliverables of the Center along with setting community agendas.

Dr. Nicholson is also the Chief Report Editor and Lead Technical Writer of the Report of the Special Commission on Racial Inequities in Maternal Health via her on-going partnership with colleagues at the Massachusetts legislature.

In alignment with her research agenda of advocating for health equity science, she is also a Co-Investigator of an NIH-approved Food Is Medicine Initiative, where she addresses nutritional justice for residents of the Mississippi Delta. Study leadership includes Co-PI's: Dean Chris Economos of Tufts University's Friedman School of Nutrition and Julian Miller, Senior Supervising Attorney at Southern Poverty Law Center.

Prior to her work at Tufts, Dr. Nicholson has worked in fields of government, private industry, research institutes, and academia including the University of Texas, her alma mater.