Faculty Spotlight: Kirsten Potter
"From a research perspective, I'm very proud of the work I've done to synthesize the literature on outcome measures. I've led efforts to conduct both a systematic review and develop a Clinical Practice Guideline."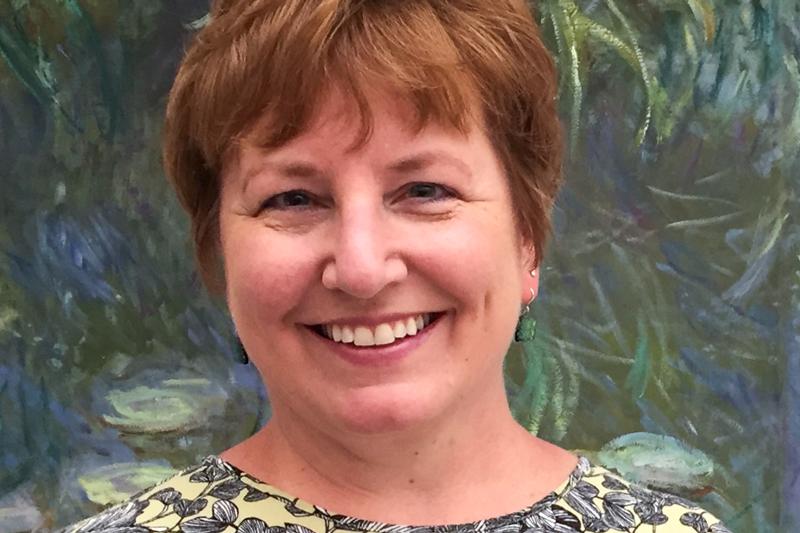 Meet Kirsten Potter, PT, DPT, MS, professor and director of curriculum and assessment for the Tufts DPT Seattle program. Her rich expertise and notable contributions in the field of physical therapy exemplify the caliber of the Tufts DPT faculty. Discover the insights into her journey that led her to an impactful role in teaching at Tufts.
What courses do you teach? 
"My area of expertise is in adult neurology, so I teach in Neuromuscular Practice Management I and II and Management Across the Lifespan: Geriatrics. I'm also teaching in Patient Centered Care which I'm excited about because developing effective relationships with our patients, and having excellent interpersonal and communication skills, are key to success when working with all patients."
Why did you choose to become a Doctor of Physical Therapy? 
"I decided to become a PT at age 15 because I was interested in recovery from illness and injury through exercise and activity. My entry-level degree is a bachelor's degree in physical therapy. I went on to get my master's degree, specializing in neurology, and DPT as I wanted to advance my knowledge and skills. Although I initially set out to become an orthopedic and sports PT, I quickly discovered that I was fascinated by adult neurology, so I changed direction with my career. Patients with conditions of the nervous system are so variable and motivated to get better, and I love the critical thinking involved with working with this population."
What are your areas of research and why did you pick them?
"My area of research is in outcome measurement, which is the use of standardized measures to assess a patient's baseline abilities and progress in PT. I developed an interest in this when I worked on my master's thesis and, since that time, I've conducted a couple of studies to determine the reliability and validity of balance and gait measures. I've also been involved in research through the APTA Academy of Neurologic Physical Therapy to synthesize the literature and make evidence-based recommendations on measures for people with neurologic conditions."
What accomplishments are you most proud of? 
"From a research perspective, I'm very proud of the work I've done to synthesize the literature on outcome measures. I've led efforts to conduct both a systematic review and develop a Clinical Practice Guideline. These types of studies are immensely helpful in directing clinicians to the measures with the most evidence to support their use, so I'm proud of my contributions to these studies. Also, these projects really pushed me out of my comfort zone which gave me confidence in my research knowledge and skills. I'm also very proud of my work with my students. I've taught for 30 years, and I've enjoyed helping students develop their clinical reasoning skills related to neurology. It's been fun and very rewarding to see their growth!"
Why did you choose to teach at Tufts? 
"I am honored to be the Director of Curriculum and Assessment (DCA) at Tufts DPT-Seattle. Like many faculty, I gained a lot of knowledge and skills in online teaching during the pandemic. I also learned that hybrid models of DPT education are not only feasible, but there are many benefits to students and faculty. In my role as DCA on the Seattle team, I am responsible for developing the curriculum, which suits my interests and strengths as I love developing courses and thinking about the best ways teach course content. I'm so excited to work with my faculty colleagues to deliver our curriculum and teach our students beginning Fall 2024!"
What is a piece of advice you would like to share with Tufts DPT students? 
"Expect to be challenged but supported during your journey to becoming physical therapists. DPT programs are rigorous, and the hybrid accelerated model requires that you take ownership over your studies and keep up with the material. Talk to your peers about what is working for them, as their ideas and study habits may help you as well. Also, know that the faculty care deeply about your success and we are here to help you become the PT you want to be! Finally, be open to all areas of PT practice and all of your courses, as this will make your learning more fun and successful."