Remembering Andrew Bohm, School of Medicine Associate Professor
At Tufts for 25 years, Bohm was known for his open mind, generous heart, and genuine dedication to the university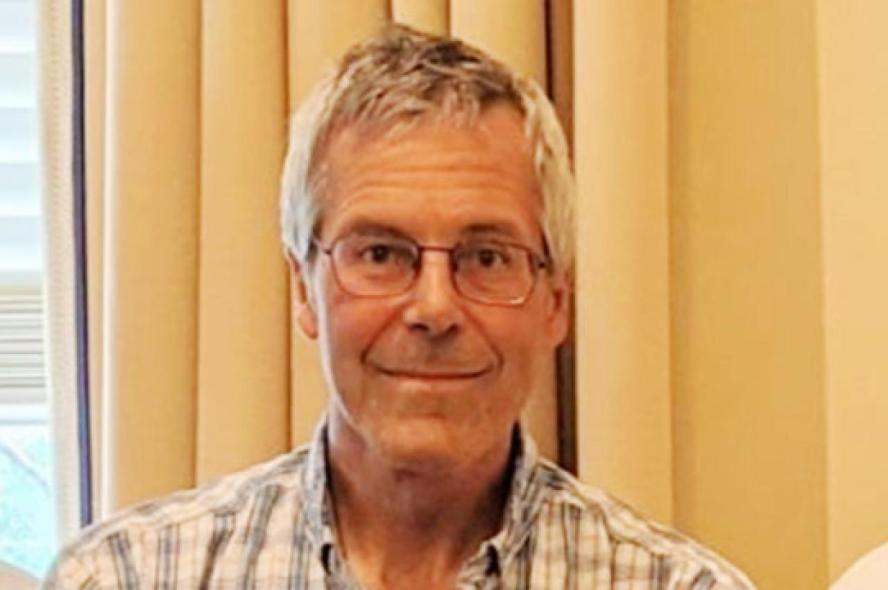 Alex Andrew Bohm, associate professor of developmental, molecular and chemical biology at Tufts University School of Medicine and the Graduate School of Biomedical Sciences (GSBS), died August 28. He was 57 years old.
Bohm, who went by Andrew, was a beloved member of the Tufts community not only for his decades of teaching and research, but also for his service to the larger postdoctoral community as Tufts' postdoctoral officer. From hosting coffee hours to kayaking on the Charles River, he built a community where postdoctoral scholars felt valued, supported, and empowered to thrive both academically and personally.
His family recalled him as "avid reader, cyclist, and sailor, and he loved to build and fix things himself whenever he could." As news of his unexpected passing spread around Tufts, remembrances were posted to the School of Medicine website from students, colleagues, and other people across Tufts whose lives were positively impacted by Bohm.
"He was a beacon of guidance and support for the postdoctoral community, and he was known for his dedication to his role," said Bernard Arulanandam, vice provost for research at Tufts. "Through his leadership, he provided a career development platform for so many early career scholars. He served our scholarly community with generosity and dedication."
"When I asked him to be my thesis mentor, he didn't hesitate to help. He immediately shared his wealth of knowledge with me and always made me feel supported. His passion for research and his genuine nature to help others always shined through," wrote Arjun Saravanan, MG22 (MBS).
"My mind fills with many images of Andrew as a colleague and friend. He was always helpful and positive and enthusiastic. What a loss for our community," wrote David Stollar, professor emeritus at Tufts University School of Medicine.
Bohm began his 25-year career at Tufts in 1998. He received his bachelor of science at SUNY at Binghamton and a doctor of philosophy from the University of California Berkeley. His research focus was on crystallography and studying the structure and function of a variety of proteins and their nucleic acid complexes.
Some of the remembrances credited Bohm with helping to solve scientific puzzles. Michael Chin, interim dean of GSBS, recalled Bohm as an "exemplary faculty member and outstanding human being" and one of the first faculty members he met when he arrived at Tufts. "I approached him about crystallization of tafazzin, a mitochondrial membrane protein that I study, and he immediately helped me set up crystallization screens. Andrew became my go-to structural biologist."
Gastroenterologist Andrew Plaut, a professor of medicine at Tufts University School of Medicine, recalled seeking Bohm's help with an enzyme question in 2009 and coming away not only with an answer, but becoming permanently "hooked into the beauties of protein structure." Bohm possessed the "unbeatable combination of knowledge, availability, and teaching generosity," Plaut added.
Brent Cochran, professor of developmental, molecular, and chemical biology at the School of Medicine and GSBS, also lauded Bohm's "major contributions" to science and understanding protein structure. "He was always pushing the cutting edge, from using CRISPR to treat HIV to using artificial intelligence to solve complex structures. I always enjoyed my conversations with him. He was a real tinkerer and loved showing people his homemade automated crystal-finding microscope system. He was the kind of teacher who would spend hours writing a makeup exam for a single struggling student. He will be sorely missed by all of us at Tufts."
On August 29, members of the Tufts community gathered on the Boston Health Science Campus with university chaplain Rev. Elyse Nelson Winger and School of Medicine Dean Helen Boucher. The overwhelming attendance from students and faculty across Tufts campuses made it clear how much Bohm was revered and known throughout the university. "The outpouring of love has been tremendous," said Boucher. "We're grateful to gather physically and virtually to celebrate the life and impact of Dr. Bohm. He meant so much to our Tufts family."
Andrew Shiotani, director of Tufts International Center, called Bohm "the epitome of warmth, collegiality, professionalism, and support. His dedication to the postdoctoral community at Tufts was evident, and we often relied on him for his advice and insight."
Bohm was known to welcome Ph.D. students and postdoctoral scholars to join him on his sailboat, and multiple photos show him smiling on such excursions. Remembrances from current and former students, including Ramesh Govindan, M22, GSBS22, and Ph.D. student Rebecca Condruti, fondly recalled these outings with Bohm and their structural biology journal club.
"It's a painful moment for the Tufts postdoctoral community to hear about the passing away of Andrew Bohm. He was a pillar of support. We will miss his passion to work for the postdoc benefits and his enthusiasm to organize events throughout the year," said Arjak Bhattacharjee, president of Tufts Postdoctoral Association.
Bohm was born in 1965 in New York City to parents Susan and Alex Bohm. He leaves his wife, Celia, whom he married in 1996, and his grown children Remy and Gil Bohm. A memorial service will be held on September 2 from 4-7 p.m. at Henry J. Burke and Sons Funeral Home in Wellesley Hills, Massachusetts.
To submit a remembrance of Dr. Bohm, please email TUSMcommunications@tufts.edu.