Celebrating a Decade of Health Justice Scholars at the School of Medicine
The Sam W. Ho Health Justice Scholars Program is committed to health equity and helps medical students maintain that priority on their professional journey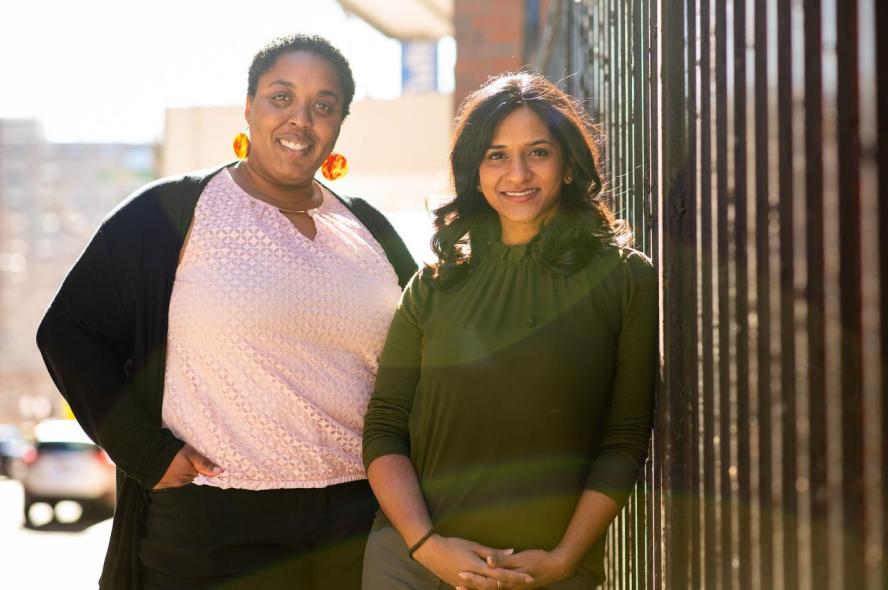 Anita Mathews, M17, recalls her excitement a decade ago when, as an incoming MD/MPH student at Tufts University School of Medicine, she learned of a new program to develop physician leaders dedicated to providing healthcare to marginalized groups and transforming care in partnership with those communities. "I was immediately energized, because this was why I chose medicine and why I came to Tufts School of Medicine," says Mathews, who became one of 10 inaugural Tufts Student Service Scholars.
Today, Mathews has come full circle as a mentor in what is now the Sam W. Ho Health Justice Scholars Program (HJSP), a primary care doctor at Cambridge Health Alliance (CHA), the community health system where she did many of her own clinical rotations, and assistant clinical professor at the School of Medicine. She credits HJSP with reinforcing the priorities she brought to medical school, priorities that could be "easily lost" during medical training. Mentorship is a huge part of the program, she says, because it enables students to see themselves and pathways dedicated to the kind of work they want to do.
A desire to help underserved groups motivates many people who decide to become doctors. But while national data show that about 34 percent of students entering medical school want to work with such communities, that number falls to 17 percent by the time students graduate, according to Keith Nokes, H. Jack Geiger, MD, Director in Health Justice and assistant professor of family medicine, who has directed the scholars program from its start. "Traditional ways of training doctors and setting medical priorities essentially quash many students' desire to work where they're needed the most," says Nokes, who also directs medical student programs at Greater Lawrence Family Health Center.
Ten years after enrolling its first cohort, HJSP is demonstrating that thoughtful innovation in education and training can help physicians maintain their commitment to health equity from the grueling years of medical school to inspiring the next generation.
"When you're just starting medical school, you don't fully understand what you're getting into. There's a tendency to idealize," says Ryan Walker, M18, who was among the second class of scholars and recently became an HJSP mentor. "The scholars program makes medicine real in a way that is also aspirational," adds Walker, clinical assistant professor at the School of Medicine and family medicine physician at the Lynn Community Health Center.
Running Into the Fire
Each fall 25 to 50 first-year medical students with a strong interest in health justice apply for what are typically 15 HJSP openings. The program supplements rather than replaces any of the core degree curriculum, so scholars must "go way above and beyond" the already demanding M.D. requirements, says HJSP Associate Director Damian Archer, assistant dean for multicultural affairs, chief medical officer at North Shore Community Health, and clinical assistant professor.
A pillar of the program is creating a supportive community for the scholars. "Not everyone sees medicine in the same light," says Walker. "HJSP creates a safe place to learn and explore. You know you're with your people."
Equally vital is a thoughtful, "deliberately academic approach" that equips students with specific skills and essential knowledge so they can "hit the ground running when they leave the scholars bubble and do very hard work in a very hard profession for 30 years," says Archer.
Monthly sessions taught by a handful of core faculty, helped by specialists, mentors, and other supporters, build scholars' expertise in cultural competency, health disparities, specialized clinical skills, interprofessional collaboration, patient empowerment, and physician self-care. A researcher may talk about their experiences and lessons learned developing community-engaged research programs in Boston's Chinatown; a peer- recovery counselor may share advice on providing trauma-informed care that addresses the powerful effects of trauma on patients. Scholars immerse themselves in the unique financial structures of safety-net hospitals and community health centers serving low-income patients and the state-specific complexities of Medicaid. Learning how to partner with patients and communities rather than dictate to them is essential.
Reflecting the School of Medicine's focus on integrating classroom and clinic, clerkships and other on-site experiences in underserved communities offer scholars an array of real-life learning opportunities and long-term role models. Mathews, who's now assistant director of family medicine clerkships at Tufts, notes that the doctor who guided her during her primary care clerkship at CHA is now a valued colleague in that same system.
Each scholar also conducts a longitudinal project in a medically underserved setting that advances research, intervention, or advocacy. Mathews investigated patient preferences in receiving health care and the impact of variables such as provider distance and language; Walker spearheaded development of an evidence-based hospital policy for pre-natal substance use screening.
Scholars continually learn how to be effective advocates for their patients, for themselves, and for systemic improvements, often bringing a health justice lens to conversations outside the HJSP. In January, the program launched a pilot module to provide a subset of scholars with 40 hours of additional leadership training. "We want to prepare scholars to be in the vanguard when it comes to addressing societal issues in medicine and medical training," says Nokes.
Mentors—a role that is flexible by design—support scholars in multiple ways. They engage at HJSP events, participate in learning sessions, and offer insight and guidance in clinical settings. Mathews recently spoke with scholars about her work in immigrant health and asylum medicine, and heard from students about their own experiences watching immigrant family members struggle to navigate barriers in the complex health system. Walker is often asked for perspective on the National Health Service Corps, and a scholar interested in community medicine asked if Walker would mentor her one-on-one. "I can't always answer all the questions, but I'll find someone who can," she says. The HJSP also has a growing national network of alumni and friends who, Archer says, can "lift others as they themselves climb" professionally.
So far, scholars have "almost universally" chosen residencies in under-resourced settings or other opportunities with a health justice focus, says Nokes. He hopes that commitment will continue when a significant number of HJSP alumni complete their residencies and advance to leadership positions as attending physicians, a milestone that is still a few years away.
"Scholars give me life and hope and energy," says Archer, who encourages more faculty to become involved with the program. "Nothing manages burnout like a student who says 'I know it's hard, I know people are burning out, but I still want to run into that fire because that's why I'm here.'"