"Not only did I gain confidence in my ability to succeed in a medical curriculum, this program furthered my excitement for the medical profession opening my eyes to the endless opportunities within the medical field."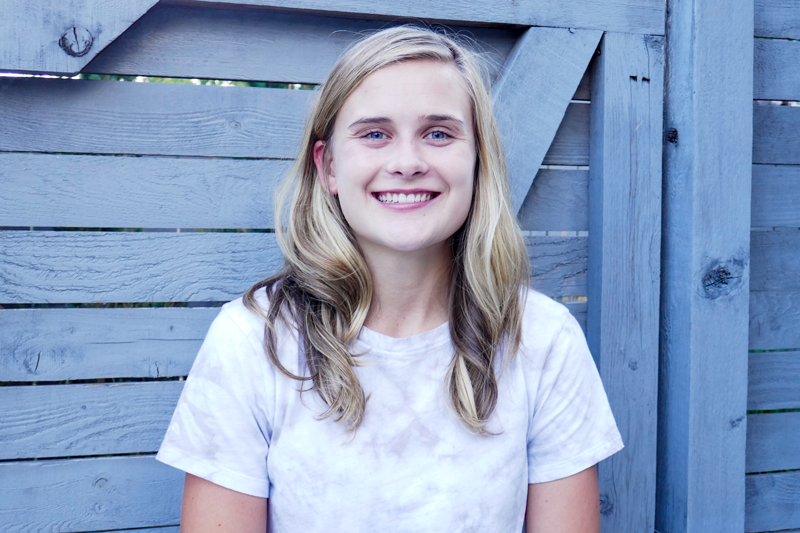 Finding a program that is the right fit for you, means finding the right community. Find out why the Tufts MBS program was the right choice for Emma Patterson, MBS22.
Why did you choose to pursue this degree?
"From my undergrad work and professional jobs, I knew I was interested in science, most likely medicine. I was drawn to pursue my Master of Science in Biomedical Sciences (MBS) degree to expand on my previous academic work and job experiences, confirm that I wanted to pursue a career in medicine, and give me the confidence that I would be able to succeed in a medical school curriculum. Through the opportunities this degree provides, you are at the forefront of medical advancement where you learn about rapidly changing clinical knowledge, their mechanisms, and actions within the human body, and how they are utilized in real world patient care. For example, in our Immunology course we had a front row seat into how various vaccines are created and mechanistically work during the COVID-19 global pandemic. One element that appealed to me was the independent thesis project in year two where you self-curate a project and work directly with medical professionals in a field that you are interested in."
What has your experience been like for far in the MBS program?
"I am very grateful for my experience despite all the chaos of adapting to an online learning platform due to the COVID-19 pandemic. The community at Tufts is unbelievably welcoming and the professors, who are faculty of the medical school, are very passionate and inspiring educators. Not only did I gain confidence in my ability to succeed in a medical curriculum, this program furthered my excitement for the medical profession opening my eyes to the endless opportunities within the medical field."
What is your favorite aspect about the program?
"I think my favorite aspect of this program would have to be the community of individuals that I met throughout my time in the Tufts MBS program, both students and faculty. Although at first, I felt isolated from both my peers and community because of the remote learning environment due to COVID-19, through the opportunity to be involved in the school through my position as my class's Student Wellness Representative and current Student Wellness President and the inclusive environment the staff at Tufts attracts, I felt both connected to my class and supported by my school. This support is ultimately what I believe allowed me to succeed academically in this program's rigorous curriculum and has allowed me to meet peers that will be lifelong friends."
What is your proudest personal accomplishment while at Tufts?
"One of my proudest personal accomplishments while I have been at Tufts was taking the initiative during my first year of the Tufts MBS program to seek out ways to feel more connected to my school while learning to navigate the remote learning environment. I ran for and was elected as the Student Wellness Organization (SWO) Representative of the Tufts MBS class. Collaborating with the Student Wellness Board, we created virtual events to help students feel connected to the school and support both mental and physical health. I facilitated multiple virtual advice panels with second year master's students on topics including study strategies, medical school application advice, and master's thesis plans. I also helped students create peer groups determined by their location and interests, organized meditation classes and stress relieving activities, and implemented a new series called Doctor Talks, where physicians from various specialties interacted with small groups to share their experiences in medicine. I was nominated to be the President of SWO for my second year of the program, which is what I have been doing this year alongside writing my thesis and have continued to prioritize the importance of human connection that was lacking during the COVID-19 virtual year. This opportunity has led to unexpected places, and I now serve as a student member on the Tufts Mental Health Steering Committee, which is a university wide committee that works to coordinate a community health approach in supporting student mental health."
What do you wish to accomplish upon graduation?
"I am positive I want to pursue a career in medicine especially after completing my first year of the Tufts MBS program and am excited to say that I will be attending medical school this upcoming year. I will continue to center both mental and physical health in my personal life and medical career. I was the Immunology TA this past year and really enjoyed it. Based on this experience, along with the work on my clinical thesis project and having worked previously in clinical research, I am very interested in pursuing academic medicine and possibly teaching one day."
What do you want a prospective student to know about Tufts?
"When attempting to decide what school you want to go to and pursue a Master of Science degree there are many things to consider, but I know an important one for me was feeling like I fit at the school and would be supported as a student. The Tufts community is one of the most supportive and inclusive learning environments I have been in, and I think that is something that is unique to Tufts and sets it apart. If you choose to join the Tufts community, you will be supported as a whole person both academically and emotionally. There are endless opportunities to be involved within the community and in academics areas that interest you."
View MBS Admissions Information