Helping Chinatown Residents Take Ownership of Their Wellness
Student volunteers see health literacy as one antidote to Asian American health disparities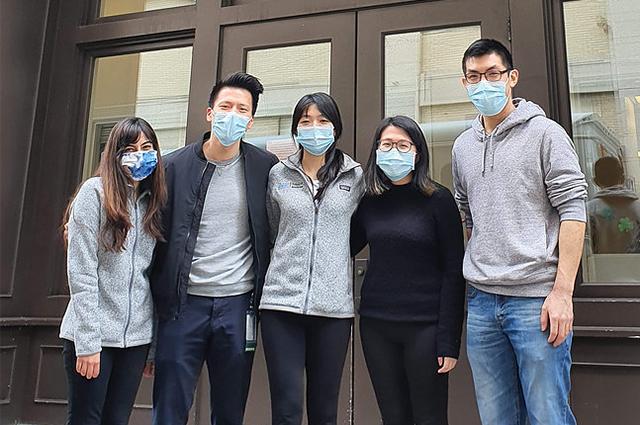 Early in the pandemic, as researchers and medical professionals scrambled to learn more about the new virus, non-scientists had trouble finding clear, concise information. For many of the older adults in Boston's Chinatown community, that difficulty was compounded by a language barrier.
But student volunteers in the Tufts Chinatown Wellness Initiative (TCWI) were ready to lend a hand. Already familiar to the senior citizens from the health seminars they offered regularly in Mandarin, Cantonese and English, the students quickly became a trusted source of COVID knowledge as they moved their presentations online and shifted focus to the most pressing health issue of the day.
"I never would have thought that part of our mission would be to try to dispel disinformation, or try to explain some of these unprecedented clinical trials that were going on," says Joshua Man, M23, one of the group's founders. "But it was obviously very important, especially since it's really hard to find the information in their native languages here."
For Man, an MD/PhD student at Tufts University School of Medicine and the Graduate School of Biomedical Sciences, the pandemic has only reinforced his belief that helping people get a hold of health guidance that is relevant to them can mitigate health disparities, including those that Asian Americans face. Asian Americans have the highest rates of liver and stomach cancers of any race or ethnic group in the U.S. and are twice as likely to die from these cancers as non-Hispanic white people. Some of these disparities can be linked to a lack of screening for cancers or other illnesses. For example, Asian Americans have a higher prevalence of diabetes at lower body mass indexes compared to other ethnic groups. A 2015 study from the National Institutes of Health found that although diabetes is common in this group, affecting one in five Asian Americans, an estimated half of those cases go undiagnosed and untreated.
Man started TCWI in 2015 with Thomas Huang, MG17, then a student in the MS in Biological Sciences Program. Man was inspired by one of his first classes in medical school, where he learned that people who can find and understand basic health information are more likely to recognize and report symptoms, seek out health services, and successfully manage prescription medications.
After attending the Asian Health Symposium hosted by the Tufts Clinical and Translational Science Institute, which brought together community leaders, researchers, students and neighborhood residents to present research conducted in partnership with Boston's Asian community and to brainstorm future collaborations, Man wanted to take action.
"Poor health literacy is a driver for a lot of health disparities in the South End and Chinatown neighborhoods," Man says. "Educational disparities, compounded by language and culture barriers that might alienate the neighborhood immigrant population, prevent people from really understanding and taking ownership of their medical care."
Man and Huang decided to launch a seminar series for elderly people living in low income housing in Chinatown. They worked with the Asian Community Development Corporation, a nonprofit that manages affordable housing in the area, to get the word out.
The first seminar had about 20 attendees packed into a multipurpose room to discuss diabetes and diet. Although Man speaks some Mandarin and Taishanese, a common dialect in Chinatown that is somewhat similar to Cantonese, he presented in English with an interpreter to ensure participants understood and could ask questions in whatever language they were most comfortable with. His slides had information in both English and written Chinese.
A grant from the Tisch College of Civic Life helped the students expand their efforts in the second year; they offered the initiative as a community service learning opportunity for medical students and reached out to other students across the health science campuses.
"Diet and nutrition are central to the Asian perspective on health, and we happen to have a fantastic nutrition school right across the street," Man says of the Friedman School of Nutrition Science and Policy. Students from Tufts University School of Dental Medicine also volunteered their time. "Since 2016, student volunteers from all three schools have been working together, putting together presentations about every month or two on topics that particularly affect this population."
The students work with community partners to determine what topics they should focus on. When the pandemic hit, the subject became obvious. In their first COVID-19 talk, the students tried to cover all the emerging information researchers had discovered about the virus, how it spread, and what precautions to take. They pre-recorded their presentation and then answered questions over Zoom for nearly an hour with assistance from an interpreter.
"At that time, there was a lot of uncertainty, there was a lot of misinformation, there was a lot of confusion," says Jocelyn Vuong, M24, who co-leads the group with Harleen Saini, M24. "And so we knew that we were providing the information that the seniors needed to help with their daily lives."
Vuong grew up learning Cantonese at home. When COVID-19 hit, she saw TCWI as a way to both connect with her culture and raise awareness about the virus and other health issues relevant to the community in Chinatown.
"As medical students, we believe that everyone deserves equal healthcare access, and it starts with getting people the information they need about their health," Vuong says. "Being a part of TCWI really connected us with the Chinatown community during times when there was a lack of connection."
In February, when seniors in Massachusetts were becoming eligible to receive a COVID-19 vaccine, the Greater Boston Chinese Golden Age Center asked for a seminar about vaccine development and what the seniors should expect when getting their shots.
"We were really grateful to be able to play that role, since we already had that relationship with this community and their trust," Man says.
More recently, after several community members passed away from heart disease, the students delivered a presentation on heart health.
"They're really flexible about topics—we go back and forth on what would be a good theme," says Natalie Ng, the virtual senior center activity coordinator at Golden Age. "That's one of the most valuable things about this partnership."
As more people receive the COVID-19 vaccines and the pandemic seems to be slowing in the Boston area, the group will turn their focus to other important health issues. They may continue to present some of the seminars over Zoom, however, as the platform allows them to reach a larger audience and take more time to answer questions. The group is also discussing ways to reach a younger audience to talk about preventive health measures. But their central mission of ensuring that health information is accessible and approachable for Boston's Asian community remains the same.
"What we do—teaching and taking time to make these sessions—really does seem to have an impact," Saini says. "We go to the Q&A sessions and see so many seniors and so many community members show up and ask questions and take notes. It feels like everything that we're learning in school, what our goals are in becoming physicians, we actually see it playing out right now. And I think that's a beautiful thing in itself."