"One thing I am most proud of is a skill I developed at Tufts: the ability to attempt new things even when I'm not sure that I can do them."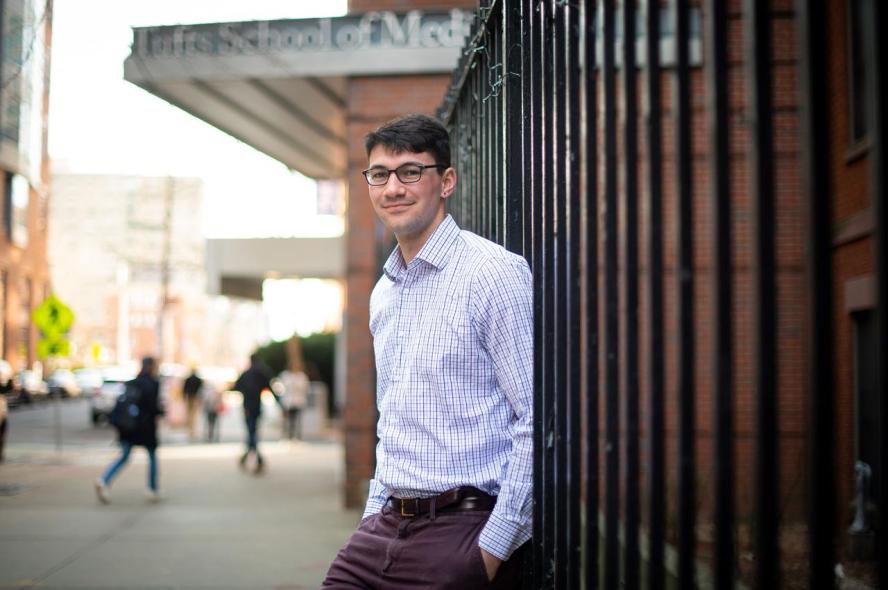 School: Tufts University School of Medicine
Degree: Doctor of Medicine
Home: Boston—which breaks my heart, because I'll be leaving soon
Why was TUSM the right school for you?
I attended Tufts as an undergrad, and initially I was a physics major. During undergrad, I was looking for work, and I landed a job as an emergency room tech at Tufts Medical Center. I came to see medicine as a path for me. When it came time to apply for medical school, I felt like I knew the hospital, I knew the nurses, I knew the doctors—and I knew the patients. That last part was and continues to be extremely important to me. I don't think you can practice medicine effectively if you don't know your patient population. So, when it came to applying to med schools, I very much wanted to stay at Tufts.
You're a double Jumbo. Looking back over all your time at Tufts, what's one thing that you will carry into your future career?
One thing I am most proud of is a skill I developed at Tufts: the ability to attempt new things even when I'm not sure that I can do them. On the Hill, I learned how to take risks despite being worried that I didn't have the skills, the time, or the talent to pull something off. If you try something, and then you ask for support, and you talk to people who know more than you, you get help, and you learn and grow—and that's amazing.
What's next for you?
I'm thrilled for what's next—I can't wait for residency. I matched into internal medicine and pediatrics at Detroit Medical Center. I'll be dual-certified, and my goal is to take care of adolescents and young adults with chronic illnesses.
I think it's such a crucial moment, that period of time where a young person goes from being 8, 9, 10 years old—with their parents doing all their insulin, taking care of their asthma, or whatever it might be—to all of a sudden being 17, 18, 19 years old, in college, and wholly responsible for managing an illness that will never go away.
That's a type of maturing that not every adolescent has to do, but it's so significant: if you're a teenager, and you get your diabetes under control when you're 15, that's a completely different life from the one you'll have if you spend your 20s and 30s with blood sugar levels out of control. I want to help young people learn how they can take control.
How did you land on that?
Teenagers rock! They're the best. I'm continually struck by how much more mature they are than I was at their age, how much more established and committed. They have an idea of themselves and the world and their values, and that makes me so hopeful for the world.