A New Doctor Finds His Calling
A recent graduate from the Tufts School of Medicine talks about his path from Albania to matching to a residency in neurosurgery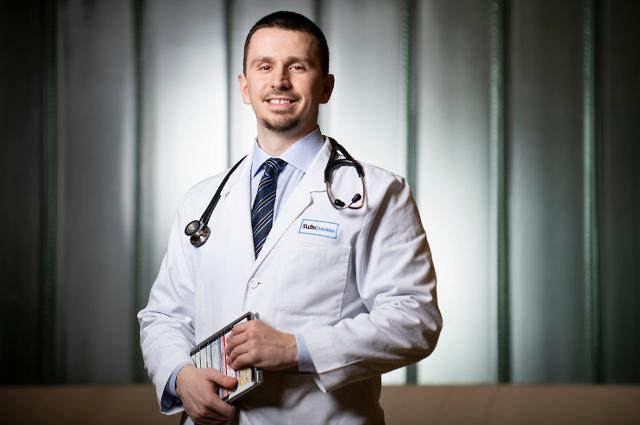 By Alyssa DiLeo
Growing up in Albania, a small country in the southern Balkans, Emal Lesha had a dream of one day becoming a doctor. His dream became true last month, after he graduated from Tufts University School of Medicine (TUSM), and found out he will continue his medical training in neurosurgery at one of his top choice residency programs.
After a year in medical school in Albania, he moved with his family to Boston. He started studying at University of Massachusetts Boston, all the while working odd jobs to help support his family during the transition. At UMass Boston, he stumbled on a program that changed his life.
The three-week collaborative TUSM/UMass Boston Enrichment Program exposes  undergraduates to medical school life and to research careers, focusing on team-based problem solving.
The students visit medical research and clinical environments, establish mentoring relationships with faculty and medical students, and attend seminars about both financing higher education and career options in medicine or research. "It was very motivating for me and helpful to gain insight into how things work as a medical student and physician," Lesha said.
While a medical student at Tufts, Lesha conducted research in a Tufts Medical Center lab focused on mechanisms of aneurysm formation and endovascular neurosurgery; it inspired him to seek a neurosurgery residency. Tufts Now spoke with Lesha about his path to medical school, his work at the lab bench, and what he sees as his future in medicine.
Tufts Now: When did you become interested in becoming a physician?
Emal Lesha: It really started as a child. I had a knack for science and always envisioned myself as a doctor. Right after high school, I started a six-year medical school program in Albania, but had to leave after one year when my family had the opportunity to move to the States.
Is there a specialty you're interested in?
Yes, I love neurosurgery, and have matched in neurosurgery at the University of Tennessee in Memphis. At UMass Boston, I majored in biology, but was always interested in the physiology of the brain. At that time, there was no neuroscience major, so I minored in psychology and took all the neuropsychology classes the college offered.
Did you pursue other opportunities to learn about neuroscience?
I shadowed a neurosurgeon at Brigham and Women's Hospital for one year during college, and really enjoyed the experience, then worked in Adel Malek's neurosurgical lab at Tufts Medical Center during medical school. Additionally, I spent a lot of time working in research labs at Brigham and Women's Hospital and Harvard Medical School. My projects were not focused on neuroscience, but I still enjoyed the experience and learned a ton, especially in biomaterial and genetic engineering.
I took a year off between undergraduate and medical school, during which I worked in George Church's lab studying pig to human organ transplantation using the CRISPR-Cas9 technology.
Did the TUSM/UMass Boston program influence your medical school choice?
Absolutely—the experience really integrated us into the medical team at Tufts, and I had my eyes set on Tufts afterwards. It gave me the motivation and confidence to continue to pursue my goal to become a doctor.
Did anything surprise you about medical school?
I knew it was going to be hard, but I definitely underestimated how hard anatomy would be.
I was also really impressed by the integration of all the information being taught here. We started learning about patient interaction pretty early on, which helped develop our critical thinking skills. 
What is your favorite part of Tufts School of Medicine?
The people. The students, staff, physicians, residents—they are all very friendly and genuine. It's also been amazing to see how all I've learned over the years has come together and to see how my friends and I have all progressed.
Are you involved in anything outside of the School of Medicine?
I'm very interested in health policy and organized medicine, as well as health media. I have worked closely with the American Medical Association, where I chaired the medical student section's Committee of Scientific Issues, and the Massachusetts Medical Society, where I have served as a student representative, delegate, and member of physician-led committees. I have had the opportunity to work as a research scholar for TEDMED, and currently act as a medical student liaison for the New England Journal of Medicine.
Where do you see your MD taking you?
Neurosurgery is my goal and my passion. I'm fascinated by the enigma of the brain, and I really enjoy basic science research, so I hope to continue my involvement with that in the future. I will also definitely continue to be involved with the American Medical Association and neurosurgical societies.
Alyssa DiLeo is a graduate student in neuroscience at the Graduate School of Biomedical Sciences.