Student Researcher Spotlight
Abigail Lebovitz, M24 and Steven Schwab, M24, presented their research at the American Assembly of Hospice and Palliative Medicine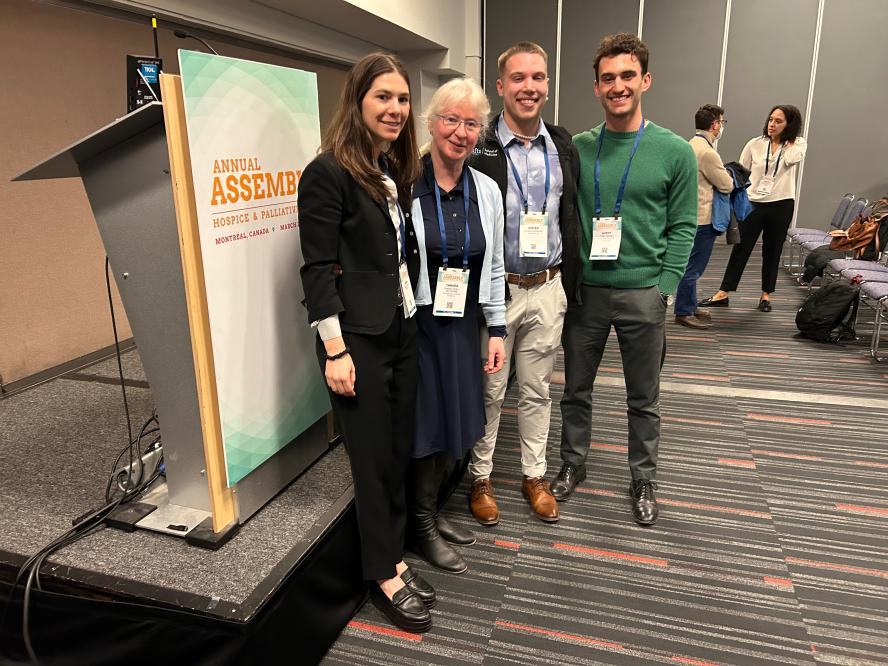 Tufts MD students Abigail Lebovitz and Steven Schwab presented their research as an oral podium talk at the annual American Assembly of Hospice and Palliative Medicine (AAHPM) on Thursday, March 23, 2023, in Montreal, QC. Since their first year of medical school, the two have worked with Dr. Tamara Vesel on a retrospective chart review analyzing the decision-making process to initiate dialysis in ethnically Chinese patients at Tufts Medical Center. The study is part of additional work being conducted by the research group to illuminate potential differences across ethnicities in the decision to initiate dialysis with a broader aim to guide healthcare providers in improved communication with patients about end-of-life decision-making. They thoroughly enjoyed presenting their research, receiving feedback from experts and stakeholders, and networking. They look forward to continuing to disseminate their work at Tufts and beyond.
Abigail Lebovitz (she/her) is a third-year MD/MPH student. She holds a B.A. in Human Biology with a concentration in global public health from Stanford University. Her research interests include exploring differences and inequities in end-of-life care and improving patient and family experiences with goals of care and end-of-life discussions. She is planning on applying into pediatrics next year with a specific interest in pediatric palliative care.
Steven Schwab (he/they) is a third-year medical student and a member of the Sam W. Ho Health Justice Scholars Program. He holds a B.S. in biochemistry from Tufts University. His research interests include examining differences and inequities in end-of-life care and participatory research. He is planning on taking a research year after completion of his third year and is planning on applying into emergency medicine with an interest in palliative care. He is deeply interested in serving underserved communities and working to improve health inequities.