Wellness Student Spotlight: Christine Ganser, M23
"My main way to de-stress is by exercising. I was an athlete in college so this has always been my go-to, though now instead of basketball my main form of exercise is yoga."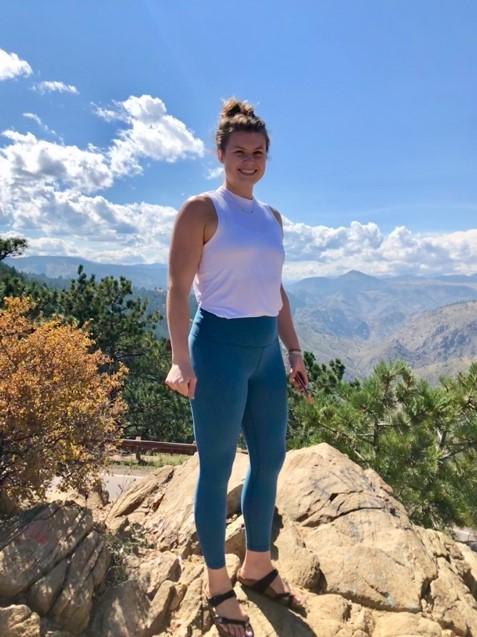 How do you start your day?
First things first of course, coffee. Most mornings I will go to hot yoga before making my way to school for the day. If not, I do some sort of workout to set the tone for the day!
How do you balance your academics and your personal life and how has that changed as you transition to studying remotely and taking classes online?
Academics and my personal life both ebb and flow a bit. In the MD program, we have an exam every 3 weeks. During week 1, I make sure to take some extra time for myself and hang out with my friends and family. As week 2 comes around it's longer days of studying and less downtime. Week 3 is mostly focused on academics.
After transitioning to remote classes, I had extra time because I wasn't spending 1.5 hours round trip commuting to school. Though I was sad to miss out on the social aspect of being on campus, I now have time to cook myself fancy dinners, go on morning/evening walks, and even watch some Netflix! The extra time in my day has definitely been one of the silver linings of the pandemic.
What do you do for fun and how challenging has it been during the pandemic and this period of social/physical distancing?
I love going out to eat at various restaurants in Boston. Of course, with the pandemic, that has not been an option. Though, my sister and I start thinking about what we will cook for dinner almost as soon as we wake up in the morning! It's been fun, delicious, and a great way to have something to look forward to as a reward after a long day of class/studying.
What is your favorite healthy snack?
Since we have been studying at home and I have access to my whole kitchen for snack making, I have been making sourdough toast covered with hummus, sliced cucumber, and "Everything but the Bagel Sesame Seasoning" from Trader Joe's! It's so good, I have it almost every day! If I'm feeling fancy (and have time to steal herbs from my sister's garden), I will also make tabbouleh to go with it!
Pre-pandemic, I spent a fair share of dollars at the MedEd vending machine getting sweet potato chips. After a long day of studying, those definitely count as healthy!
How do you de-stress, and have you done anything differently during this pandemic?
My main way to de-stress is by exercising. I was an athlete in college so this has always been my go-to, though now instead of basketball my main form of exercise is yoga. I try to take an hour every day to practice, regardless of what is going on at school. It keeps me grounded and a lot more pleasant than if I wasn't practicing.
During the pandemic, my yoga studio shut down but luckily, they were quick to switch their classes to Facebook live and podcasts. At first, it was hard developing a home practice but these classes have become my lifesaver. I have also tried to go on a run a few days a week to mix it up, and would gladly welcome any tips on how to make that more fun.
What surprised you about the medical school program and living in Boston?
I grew up right outside of Boston and had lived here before starting school at Tufts, so I am familiar with the city. That being said, I have been pleasantly surprised at how cool my classmates are. Everyone has such a unique background and brings a different perspective to studying medicine.
What advice would you give to your future self?
Eat the dessert and don't take life too seriously!