2023 Graduate Programs Commencement Speakers
Meet this year's guest and student speakers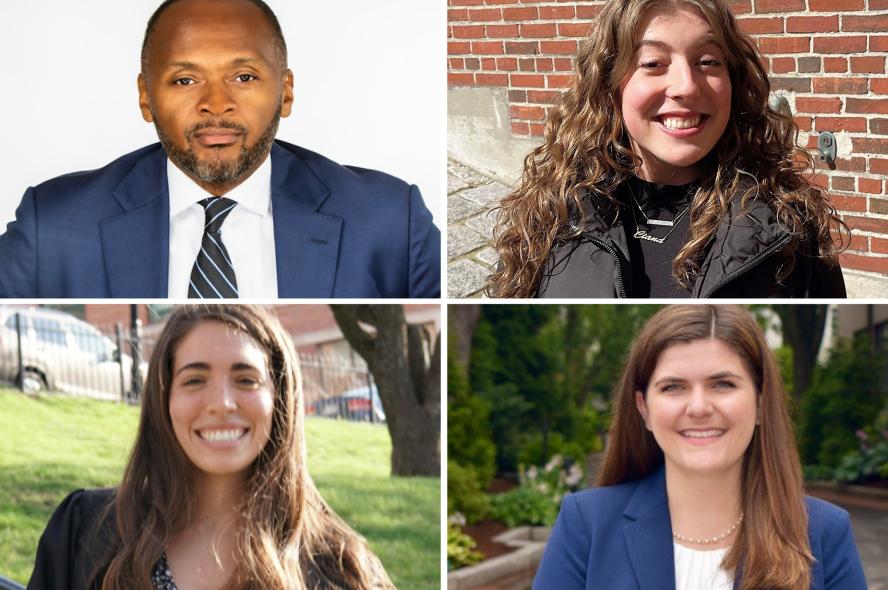 Guest Speaker
Michael Curry, Esq, serves as President & CEO of the Massachusetts League of Community Health Centers, which represents 52 health centers, serving over one million patients out of over 300 practice sites. He was named a Bostonian of the Year in 2021 (along with his member health centers) by The Boston Globe and Boston Magazine, one of the Boston Business Journal's Power 50 Movement Makers for 2022, one of Boston's Most Influential Men of Color by Get Konnected! for 2023, and one of this year's Boston Magazine 150 Most Influential Bostonians.
During the early battle with the COVID-19 pandemic, Curry was appointed by the Massachusetts Senate to the legislatively created Health Equity Task Force, which he co-chaired, aimed at addressing the health disparities that have been realized and magnified by COVID-19. He was also appointed by then Governor Charlie Baker to the COVID-19 Vaccine Working Group, and served on the Department of Public Health's Health Equity Advisory Group, the City of Boston's Health Inequity Task Force, and the City of Brockton's Social Justice Task Force. He gained a reputation for always being the equity voice in the room. 
He brings over 30 years of experience and results in civil rights advocacy, health reform and health equity. He is also the Immediate Past President of the Boston Branch of the NAACP (2011-2016), and has over 25 years of dedicated service to the NAACP on the city, state-area conference and national levels. He was elected to the NAACP Board of Directors in 2014, 2017, 2020, and was recently reelected in 2023 by members from across the country.  He serves on the National NAACP's Executive Committee, and as the appointed Chair of the National Board's Advocacy & Policy Committee since 2019, Chair of the Constitution and Bylaws Sub-Committee, and Vice-Chair the Political Action and Legislation Committee.  On May 15, 2021, the National Board appointed him as Administrator for the New England Area Conference of the NAACP, overseeing the state-area conference and all branches in Maine, Vermont, New Hampshire, Massachusetts and Vermont. He is leading the reorganization and strengthening of the NAACP throughout the region. 
Attorney Curry is also an Adjunct Professor at both New England Law Boston teaching "Diversity and Inclusion in the Legal Profession" and Suffolk University's Moakley Center and Sawyer School of Management teaching a health care management and policy course. 
Curry has received numerous local and national awards for leadership and advocacy, and is frequently requested as a keynote speaker and panelist on a wide range of civil rights and health policy issues. In 2022, he received the Trailblazer Award from the Massachusetts Black Lawyers Association (MBLA), a Community Leadership Award from the Jewish Alliance for Law and Social Action (JALSA), and a Lifetime Achievement Award from the Massachusetts Non-profit Network (MNN). In May, he will receive the 2023 SCI Idealist Award and Roxbury Community College's Community Service Award during commencement. 
Curry is a regular commentator on the local Public Radio Broadcast/WBUR Boston, WGBH Radio, as well as on television with WHDH, WGBH, WBZ and New England Cable News/NBC Boston, on a wide range of political, cultural and social issues. He earned a Bachelor of Arts from Macalester College in St. Paul, Minnesota and a Doctorate of Jurisprudence from New England School of Law, and later graduated from the inaugural class of the Executive Leadership Council's Pipeline to Leadership Program. In the spring of 2022 Curry delivered three college commencement speeches and received two honorary degrees: a Doctorate in Business Administration from Curry College and Healthcare Administration from Labouré College. In June, he will receive his third honorary degree from William James College. 
Student Speakers
Ciana Hartman is receiving her Master of Public Health with a concentration in Epidemiology and Biostatistics. Born and raised in California, her interest in healthcare began while shadowing at UCSF Benioff Children's Hospital in high school. Her passion for Public Health was sparked in 2018 when she read "Stories from the Shadows" by Dr. James O'Connel, a book written by the lead doctor of the Boston Health Care Center for the Homeless that outlines unhoused individuals' experiences in Boston. While at Tufts, she has completed a project assessing contraception access for birthing persons in the Greater Boston area. Outside of Tufts, she is a research assistant at Boston Medical Center in the Department of Anesthesiology. Upon graduation, she hopes to use her passion for health equity and skills in data analytics to improve health outcomes within vulnerable populations.
Samantha Menino is a Boston native who is receiving her Master of Public Health, specializing in Behavioral Science and Health Communication. Her initial interest in public health began during her undergraduate degree at the College of the Holy Cross where she combined her passion for the Chinese language and culture with environmental and social studies. While at Tufts University, she has had the opportunity to work with the Boston Police Department and their Street Outreach Unit to assess and mitigate the opioid and mental health epidemic in Boston. Outside of her program, she acts as a Senior Project Manager for a small event firm. Upon graduation, she hopes to continue working with the Boston community and help establish systemic public health frameworks to better the city that raised her.
Monica Morgan is a dual degree recipient from Northeastern University School of Law (Juris Doctor) and Tufts University School of Medicine (Master of Public Health). Originally from the Finger Lakes region of New York, she studied bioethics, history, and legal studies at the University of Rochester. Her interest in public health was sparked by the growing need to address health care disparities present in upstate New York. During her Tufts tenure, she has focused on combining her legal and public health interests to address drug equity. Monica has worked to further cannabis compliance, developed a novel prescription drug cost reduction program, and provided direct legal services to individuals with substance use disorder through a medical-legal partnership. Following her graduation from her joint programs, she intends to use her passion for public health law to serve vulnerable populations at both an individual and a policy level.