Four Things to Know about Alison Moky, MPH'21
As an advocate for women and people of color, she looks forward to beginning her career—and eventually becoming a physician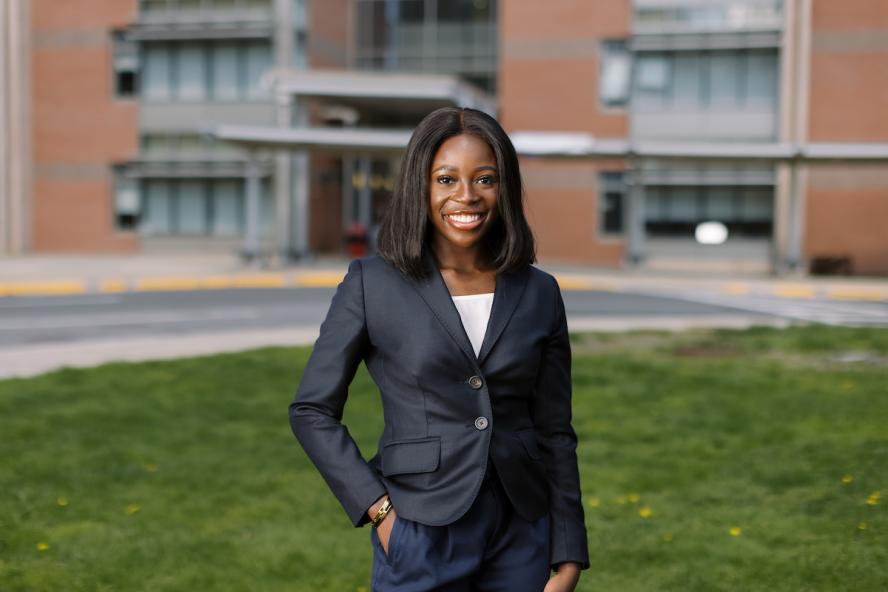 Health management and policy is Alison Moky's passion. She hopes her career will continue what she has begun at Tufts: informing policy change, educating people about the importance of access to medical resources, and advocating for mothers.
This spring, Moky receives a master of public health from Tufts University School of Medicine, in addition to a bachelor's in biology from the School of Arts and Sciences. One of Moky's top concerns as a researcher, and eventually, she hopes, as a health care provider is to "eradicate structural racism in reproductive health and provide marginalized women the childbirth experience they deserve." Her research has found that it's imperative that providers take a holistic approach to their patients and try to understand each woman individually.
"You can't treat everyone the same way," explained Moky, who has spent the last year researching maternal health disparities.
She said practitioners need competency training to acknowledge the implicit biases they bring from their own lives and from the medical community as a whole when it comes to treating people of color. "It has to be about how to treat every patient fairly," Moky said.
To play her part in positive outcomes for pregnant women of color, Moky wants to become an obstetrician-gynecologist who also continues research to help influence policy. She plans to apply to medical schools in Fall 2022.
"I'm trying to be that center of care and use my lived experience as a Black woman to help create that amazing birth that I believe every single mother deserves to have," she said. "I'm about making this a happy experience and one of the best moments of their life."
Moky will move to Houston, Texas, in July for a position as a health care benefits analyst in the insurance industry. There, she will research the social determinants of health to create holistic and cost-effective health plans. "This will help me learn about different treatment costs, to inform the care I offer as a future physician," she said, pointing out that the cost of care is a huge factor in whether patients decide to go through with procedures.
Here are four more things to know about Moky:
1. At the Maternal Outcomes for Translational Health Equity Research (MOTHER) Lab, she studies health disparities among African American women.
Moky works as a research assistant with one of her mentors, Ndidi Amutah-Onukagha, principal investigator of the MOTHER Lab. (Amutah-Onukagha is also an associate professor of public health and community medicine at the School of Medicine and assistant dean for diversity and inclusion for the Department of Public Health and Community Medicine and the Public Health and Professional Degree Programs.) "We research maternal health disparities by investigating the access to doula care, including racial discrimination, mental health, family planning, and reproductive justice," Moky said.
One of her fondest memories working in the lab is spearheading an eight-person team to write testimony for the U.S. Commission on Civil Rights about maternal mortality, how to reduce that rate, and how to overcome racial and ethnic discrimination in maternal care. Amutah-Onukagha presented these findings to Congress in November 2020.
After graduation, Moky will continue as remote research assistant for the lab, contributing to papers and helping with grant applications.
2. Since middle school, Moky and her family have run a nonprofit called Benevolence Outreach Incorporation.
In 2010, instead of birthday gifts, the then-middle schooler and her sister decided to ask for charitable donations to build tables and chairs for classrooms in Cameroon, where their extended family is originally from. The sisters ultimately turned that effort into a nonprofit called Benevolence Outreach Incorporation in 2012.
Since its establishment, the nonprofit has provided $6,000 in scholarships for women to attend school; launched a computer lab for high school students; and provided children with health care and other resources such as pens, pencils, textbooks, toothbrushes, and first-aid equipment.
This year, in recognition of her work with the nonprofit, Moky received the H. Jack Geiger Public Health Advocacy Award from the School of Medicine's Public Health Program.
3. By learning to lean on others, Moky got where she wanted to be.
As a first-year student, Moky said she got involved in so many different activities and groups that she soon realized she had spread herself a bit too thin.
"That's when it really hit me that I can't do all this by myself and that I should use the resources that Tufts has to offer," she said. She went to a time-management tutor and office hours with her professors to keep up with her academics. "I learned that they don't care how many questions you ask them. They want their students to succeed."
She also embraced going to tutoring sessions as a way to learn new material. That's also how she figured out that "once you can teach it to your friends, that's when you know you've learned the material."
In addition to support from family and friends, Moky cited Fernando Ona, clinical associate professor of public health and community medicine at Tufts Public Health, Janice Gilkes, assistant dean of student services, her mentor Anna Kheyfet, M24, and her church family as instrumental in her ability to succeed at Tufts.
4. She's an athlete who uses that platform to help bring awareness to racial disparities.
Moky was initially recruited to Tufts to play lacrosse, which she did for two years until she tore her anterior cruciate ligament (ACL), lateral meniscus (LCL), and medial meniscus (MCL). She later was a mid-distance runner on the track team for two years, became part of COCOA, an African dance team, joined the African Student Organization Student Athlete Advisory Committee (SAAC), and co-founded Athletes of Color at Tufts University.
As part of that group, Moky helped organize diversity and inclusion training for coaches to help them better understand discrimination.
"This is a time when we can't be silent. We have to address these issues and talk about them, so there is no longer ignorance but people who can spread their understanding about what racism is, what microaggressions are," she said. "It starts from you, as a leader of your sports team, educating those around you."
At Tufts Public Health, she is a student representative on the PHPD Diversity, Equity and Anti-Racist (DEAR) Council. As a council is a safe space, she said. "I can talk to faculty members as a peer and not feel like someone is just looking down on me and that my voice doesn't matter."