"Everyone wants each other to succeed because that is what is going to make our profession even better."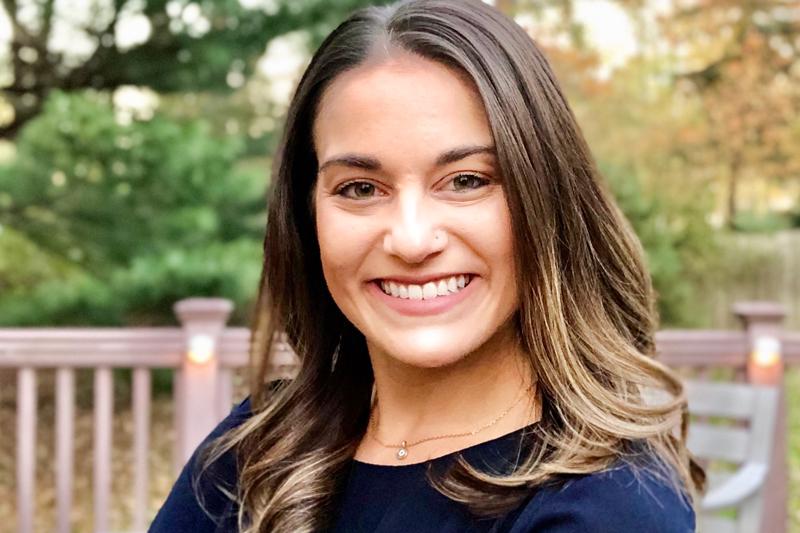 Tufts DPT is developing high-performing healthcare professionals with the skills and perspectives necessary to meet team-oriented healthcare demands in the 21st century. Get a glimpse of the student experience from current student, Lauren Moroch, DPT22.
Why did you choose to pursue this degree?
"Before pursuing this degree, I spent several years working in intercollegiate athletics in operations and the fitness industry before deciding to make a career change. My love for exercise and movement started at a very young age. I spent my entire childhood and young adult life in sports, so I knew I would have a career aligned with these interests. Physical therapy became something I was passionate about after I volunteered at a local outpatient clinic and realized I was having way more fun than at my day job. Pursuing this degree will allow me to help others in a more meaningful way and make a difference in my community. This field also has so many growth opportunities and is something I can see myself enjoying for the rest of my working life."
Why did you choose Tufts?
"I chose Tufts for many reasons. Not only does Tufts have a fantastic reputation, but the DPT faculty are world-renowned leaders in our profession. More importantly, the faculty truly care about their students, which has been evident from my first interaction at an open house. Another reason I chose Tufts is due to the hybrid and accelerated nature of the program. With this being a career change for me, I can mostly stay at home and complete my degree faster than in a standard program. I feel really blessed that I get to complete my degree at Tufts."
What has your experience it the DPT-Boston program been like so far?
"My experience in the program has been incredible so far. I have the unique experience of being in the first cohort. With anything new, there are uncertainties but that is also what makes it so exciting. Being in a hybrid/accelerated program can be challenging, but I feel incredibly lucky to have such supportive classmates and faculty. Everyone wants each other to succeed because that is what is going to make our profession even better."
What is your favorite aspect about the program?
"My favorite aspect of the program is that I can complete my degree while remaining mostly at home while still getting the perks of coming to campus to see my faculty and classmates in person for our hands-on skills. Our lab immersions are intensive but very rewarding; I look forward to them each time we go and I'm amazed at how much we learn during that time. In addition, I've been able to make meaningful relationships and network with people from all over the country, both at lab immersion and even while on Zoom."
What has been your proudest accomplishment while being in the program?
"My proudest personal accomplishment is becoming a leader within my cohort. I would have never stepped out of my comfort zone to take on a leadership role ten years ago, but my passion for the profession, the Tufts DPT program, and the support from my faculty and peers gave me the confidence to do so. I've grown so much over the last year, and I couldn't be more thankful for that."
What do you wish to accomplish upon graduation?
"Upon graduation, I hope to work either in an orthopedic or pediatric setting (or maybe even both!). I'd like to pursue a residency, eventually become a board-certified specialist, and one day come back to teach as an adjunct at Tufts!"
What do you want a prospective student to know about Tufts?
"If you feel that this model is a good fit for you, I can tell you that it is 100% worth it. Tufts is an excellent program with outstanding faculty and the ability to get your DPT faster from a reputable school. The faculty are here for you every step of the way; it truly feels like my family away from home."