From the Military to Medicine—A Natural Pathway for Physician Assistants
Two students in Tufts' Physician Assistant program at the School of Medicine discuss their time in the service and how it connects to their current training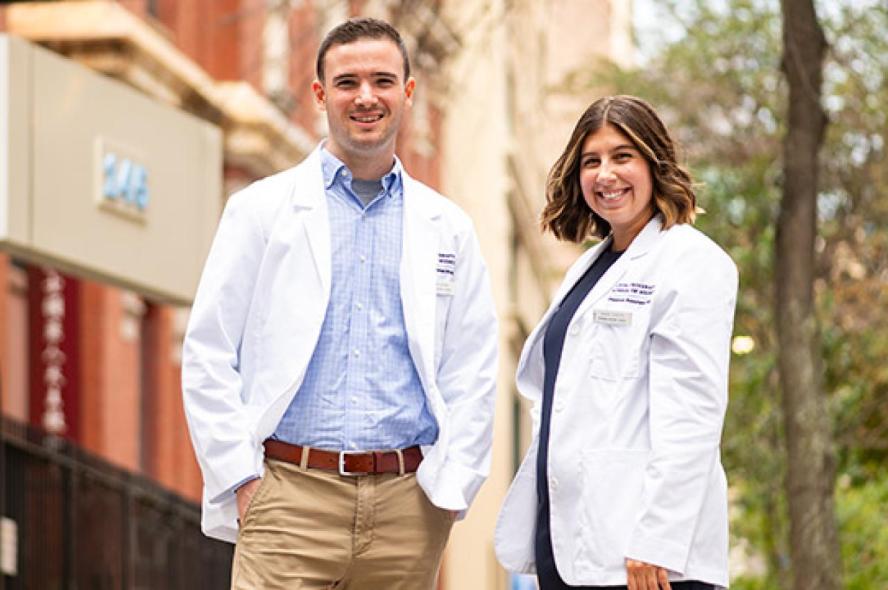 In 2019, Andie Cuiffo was traveling through Mississippi on her way to the Oregon II, the ship where she was stationed as a uniformed officer of the National Oceanic and Atmospheric Administration (NOAA). 
Suddenly, two cars ahead of hers, a devastating collision between an SUV and a semi-trailer truck occurred. 
"I had a full first-aid kit in my car," Cuiffo recalls. "I hopped out and worked with an emergency medical technician who also happened to be on the highway. We treated the two trauma patients in the SUV and were able to stabilize them with tourniquets and cervical collars before an ambulance arrived." 
Both patients survived. And for her skill and quick action, Cuiffo, MG25 (PA), was awarded a gold medal from the Department of Commerce, the highest honor given by the cabinet department.
Cuiffo's experiences aboard the Oregon II and more recently as an operations officer for NOAA had generally prepared her to respond to emergencies. And, at the time of the accident, she was already certified as an advanced emergency medical technician. But, driven by a passion for health care, she wanted to delve deeper into the profession. 
When her time with NOAA Corps ended, Cuiffo enrolled in the Physician Assistant (PA) program at Tufts University School of Medicine to sharpen her ability to provide emergency medical care to individuals in need. 
"Becoming a PA was a no-brainer for me," says Cuiffo. "I love that PAs have the opportunity to treat a diverse population of patients while making health care more accessible to those who need it." 
She also values the significant difference that PAs can make in their communities. "That's true for all health care providers," notes Cuiffo, "But for PAs there's a special emphasis on community medicine." 
A Profession's Origins—in the Service
The overlap in Cuiffo's personal experience between military service and PA training is far from unique. In fact, the PA profession developed in the mid-1960s, when veterans returning from Vietnam with medical care skills they'd acquired during the war needed an avenue for employing those skills. In 1971, the PA concept received federal support through the passage of the Comprehensive Health Manpower Training Act. 
For Brian Quinn, MG24 (PA), the School of Medicine's PA program has offered the perfect pathway to pursuing an interest that he discovered as an undergraduate when he worked as a student EMT firefighter. In that role, Quinn received emergency-medicine training from paramedics with whom he worked. "They were passionate about providing patients with the best care possible," Quinn says. "That passion rubbed off on me."
Quinn was no stranger to the idea of helping people. "My parents modeled for me the importance of serving others," he said. "They were always volunteering their time. For me, now, that translates into helping people in a medical capacity." 
The same impulse to help others led Quinn to join the Army National Guard. Though he went directly to college from high school, he had always considered joining the military—inspired in part, again, by family members who had served. It was the same student-EMT experience that started him down the PA path that also led him to enlist. 
"As a firefighter, I did some training exercises with a military aviation unit, and I was impressed by how the flight crews worked together and I wanted that experience of being part of a team," says Quinn. Because he knew he wanted to go into health care, with guidance from veterans with whom he worked in the fire department, once in the National Guard, he chose to become a medic, gaining valuable skills that have helped him at TUSM.
"I love that in emergency medicine you get to help someone who is probably having the worst day of their life. Maybe you make that day a little easier," says Quinn.
Applying Skills to Civilian Opportunity
For both Quinn and Cuiffo, the insights gained from their time in the military have enhanced their PA training. 
"In the service, you learn about teamwork," says Cuiffo. "You're working with people who have diverse backgrounds, and you come to appreciate that everyone brings something different to the table." Similarly, in her PA classes, Cuiffo explains, her fellow students all have spent some time in health care, but each student brings a distinct perspective. 
Another factor: adaptability. "In the service, you have to go where they tell you when they tell you—you have to be able to handle any situation that gets thrown at you," notes Cuiffo. "That's a useful skill in terms of being able to respond to patients' needs moment by moment."
Quinn agrees. "The military has provided me with great perspective going into school," he says. "That background taught me how to cope with the sometimes stressful environment of school. I know how to deal with changes, how to be adaptive, and how to adjust on the fly."
The connection between the service and PA work is always in the back of Quinn's mind. "Our profession was founded and grounded in helping military medical personnel expand their careers and giving them a civilian credential," he says. "I'm always grateful to the people who came before me and carved out this PA path. For a lot of us, it's exactly the right thing.