Helping Communities in Need While Training Doctors to Treat the Whole Patient
The Community Service Learning program through Tisch College and the School of Medicine offers medical students opportunities for hands-on practice in aspects of health care outside clinics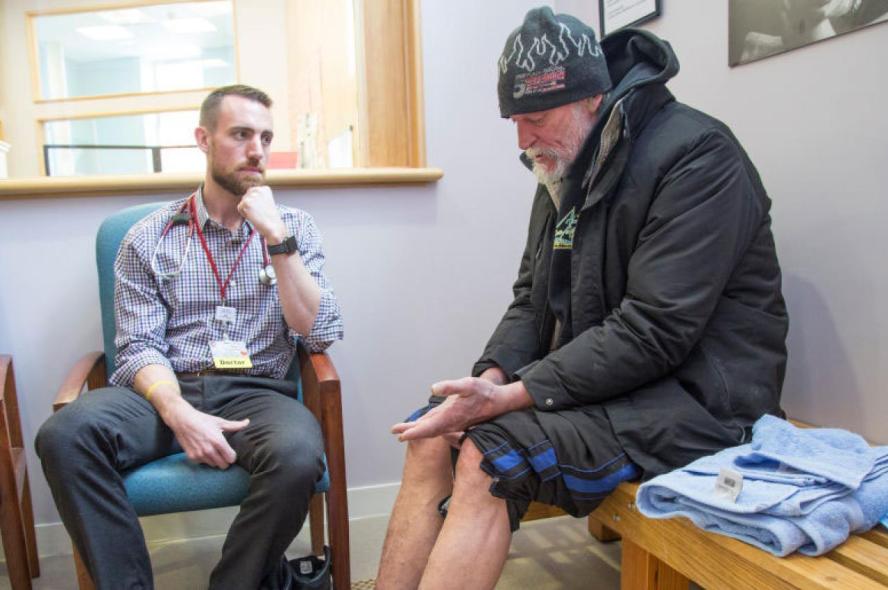 While access to good, affordable medical care is an important part of keeping people healthy, research suggests that clinical care accounts for only about 20% of health outcomes. The rest is determined by a combination of social and structural factors, such as access to food, housing, and transportation; the impacts of chronic stress; and health-related behaviors. To provide the best care possible, doctors need to consider all aspects of patient health.
"Civic engagement really is the base of it all," says physician Adam Normandin, MG11 (MBS), M15. "If you're only thinking about the medicine and not thinking about all of the real-life factors that influence people's lives outside of the office or the hospital, then I think you're missing a lot of opportunity to really help care for people in a meaningful way."
Community engagement and public service have always been important parts of the Tufts curriculum. The Community Service Learning (CSL) program, which requires medical students to spend at least 50 hours working in the local community as collaborators, mentors, and educators, helps future doctors get hands-on experience in aspects of care outside the clinic. The program is run by the Jonathan M. Tisch College of Civic Life as part of a partnership with the School of Medicine and gives Tufts students an opportunity to better understand health disparities and the needs of different communities.
As a medical student at Tufts, Normandin did his Community Service Learning with the Sharewood Project, a free program providing basic care and medical information for underserved communities. In addition to conducting school physicals, confidential testing for sexually transmitted infections, and other basic screenings, Normandin and his fellow students helped patients get access to health insurance and connect with other social services.
"The real lessons in Community Service Learning are intentionally nonclinical," Normandin says. "You have plenty of time to learn clinical medicine throughout med school. CSL is an important part of the curriculum that solidifies philosophies of caring for those in our community who need it most and promotes the impact physicians can have outside of the clinic walls."
Like many Tufts students, Normandin continued volunteering long after he had completed his 50 hours of community service. He became the director of Sharewood for a year and, when he moved on to his residency at Maine Medical Center (MMC), looked for opportunities to continue doing this kind of work.
During his residency, Normandin worked with colleagues at MMC and Preble Street, a nonprofit organization dedicated to serving vulnerable communities in Portland, to found the MMC-Preble Street Learning Collaborative to provide care for people experiencing homelessness. He also volunteered at Preble Street during his third and fourth year of medical school doing food rescue and meal preparation.
"It has grown into a critically important program to serve the homeless community in greater Portland," says Jo Linder, assistant dean for students at the School of Medicine and director of student affairs at Maine Medical Center. "And Adam has been the glue there. He really focuses on how to best take care of the patients and clients and how to connect with student learners who are interested in participating."
The free clinic, staffed with medical practitioners and social workers, provides much-needed care for the community and a place for doctors-in-training to learn how to better serve those needs. Many Tufts students in the Maine Track volunteer some of their time with Preble Street. Normandin's journey with the CSL program has come full circle, as he's now the Course Co-Director for the program and facilitates continued opportunities for student engagement with Preble Street.
The Student Experience
Zachary Duperry, M24, started helping out at Preble Street as part of a Tisch summer fellowship. He proposed to build a system to help collect information on the care the clinic delivers, much of which goes beyond the scope of a typical doctor's office. The project extended past the duration of the fellowship and ended up being a large portion of his Community Service Learning as well.
"Whatever you need on that day, whether it's food, clothes, to charge your phone, or get something checked by a doctor or nurse practitioner, you can do that all at once at the Learning Collaborative," Duperry says. "But they didn't have a lot of infrastructure to collect and report on the services they were providing and the community need that was there."
Duperry worked in health care analytics before starting medical school, so he already had some of the necessary skills. He spent the better part of a year working with various partners within the organization to figure out what data would be most useful and how to collect it. The reports from his work will help the Learning Collaborative understand the evolving needs of their community and support bids for additional funding.
Duperry is also a Sam W. Ho Health Justice Scholar, a program within the School of Medicine through which students complete clinical apprenticeships and core clerkships at facilities that focus on underserved populations. (Normandin is the Maine-based faculty lead for the Health Justice Scholar program.) Duperry says the work he and other students are able to do during their Community Service Learning provides an important perspective during their training.
"I think that it helps tether me to reality and to the work that I came to medical school to eventually do," Duperry says. "Medical school can be a long, grueling process that feels really isolating sometimes, especially with the pandemic, and so having that connection to a topic or a place that is meaningful to you and being able to do tangible work that can help right now is really valuable."
The projects that students can get involved in for their Community Service Learning vary widely. Some students choose to run youth programs at local schools and community centers, while others support and advocate for patients in hospitals or provide educational programming in multiple languages for underserved populations. This work may not fit into the conventional idea of a doctor's role, but it prepares students to consider many of the crucial aspects of health care that take place outside the clinic.
"If we're not thinking about those social determinants of health; if we're not thinking about health care access; if we're not thinking about systems of care and structures around how care is financed and delivered; and we're not thinking about justice within the health care sphere, then we're going to be systematically under-caring for our patients," says Keith Nokes, faculty director of the Health Justice Scholars program and assistant professor of family medicine at the School of Medicine. "If I'm not thinking about those things, I'm not doing my job as a doctor."
Through Tisch College's Community Service Learning program, Tufts medical students acquire the skills they will need to better serve the communities they work with in the future and ensure that they are able to provide health care for those who need it most.