Profiles in Inspiration: Commencement 2022 Spotlights
Meet a few of this year's graduates!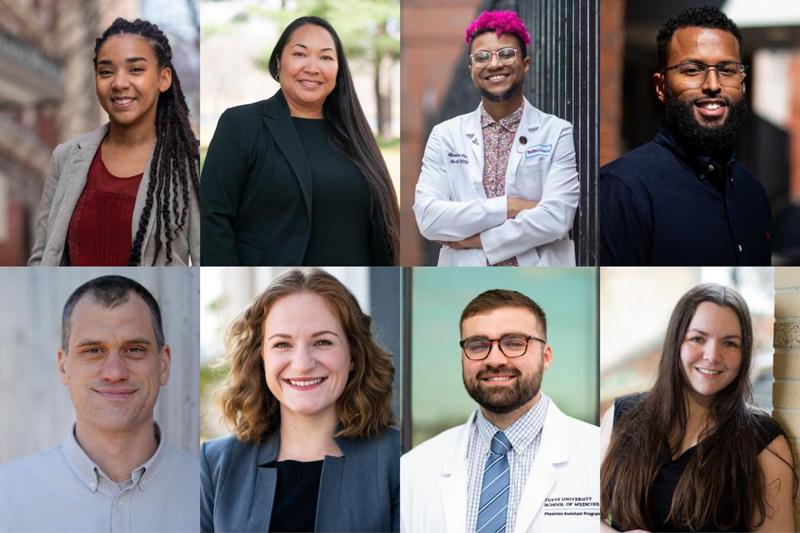 Tufts Now invited all the university's schools to share the names of members of the Class of 2022 to convey to readers the creativity, intelligence, and drive of some of Tufts' newest (soon-to-be) alumni. Enjoy meeting some of this year's graduates—prepare to be surprised, delighted...and inspired.
For full Commencement 2022 coverage, visit now.tufts.edu/commencement-2022.
Kathrine Mansfield, MPH22
"After graduation, I'll be starting a job with the same organization for which I've been working on my capstone, as the group's first on-staff epidemiologist."
Meghan Murphy, M22, MPH22
"My interest was inspired in part by my origin story: growing up with family members who struggled with substance use disorder and mental health challenges definitely directed me toward a career in medicine and gave me a deep interest specifically in the field of addiction medicine."
Abdimajid Mohamed, M22
"I'm training to be a doctor with the goal of one day becoming a pediatric surgeon. I like surgery because of the way you can impact care."
Shawn McCoy, PA22
"I used to work as an EMT, and often we would take patients to Tufts, and it was always a smooth experience. So, when I was considering physician assistant (PA) programs and I saw that Tufts offers one, it felt natural for me to apply."
Ric Bayly, N22, MPH22
"The thing that really struck me, coming into it in this phase of my life, was the support and acceptance from everybody: every faculty member, from the deans, from the staff, and from a great group of peers, many of whom have become good friends."
Vanak Huot, HIA22
"Combining my degree and my day job has given me the ability to imagine how I can help improve the quality of care at Tufts, and that's really important to me."
Alex Coston, M22
"At Tufts, being surrounded by people who are equally passionate and who are trying to make changes on a community level and an institutional level has been really great for me."
Christina Kelly, MBS22
"The classes were rigorous, but the support from professors was incredibly impactful."
Benjamin Davison, M22
"The Maine Track program made all the difference for me. I'm an older student, I have a couple little kids and a wife, and I'm from Maine. I have a deep connection to the town where we live...So, I really wanted to go to a school that would allow me to focus on this place."
Ramesh Govindan, M22, GSBS22
"My Ph.D. centered on understanding how viral spike proteins function and how antibodies bind them, in order to inform vaccine design. Today, with the emergence of COVID-19 variants like omicron, understanding how spike proteins evade immunization is more important than ever."