An "Aha moment" leads to the creation of the Dean of Students Fund for Student Equity
Loring Conant M65 and the Rev. Louise Conant are support for essential—yet often overlooked—financial needs.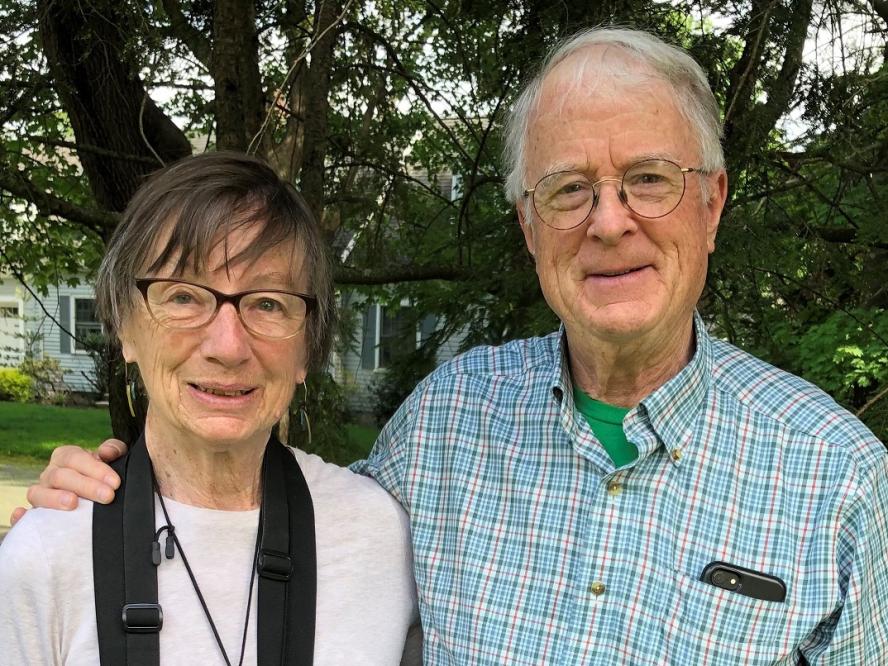 "I feel incredibly fortunate to have gone to Tufts," says Loring Conant M65. "I vividly remember my interview with Sam Magruder, an anatomy professor. We talked about medical and non-medical issues, about meaning and relationships and family. He got down to the human element of being a physician, and when I got that acceptance from Tufts, I grabbed it and have remained grateful ever since." 
In December 2021, Loring and Louise Conant, his wife of 57 years and a retired Episcopal priest, made a gift to the medical school to create the Dean of Students Fund for Student Equity, which will provide individual support for essential—yet often overlooked—financial needs, such as assistance with test preparation courses and materials, or other unanticipated expenses to those students who most need it. Resources from the fund will be distributed by Dean of Students Amy Kuhlik and the Office of Student Affairs. All Tufts alumni and friends are warmly invited to contribute and build a school that is more inclusive and equitable for all.
"During my 20 years as Dean of Students, the challenges faced by our students have increased significantly," says Dean Kuhlik, "particularly as we have diversified each class to include more students from low-income backgrounds. Many are "first generation" and are from populations under-represented in medicine." While Tufts has some sources of support available for them, "there are needs we haven't been able to meet for economically disadvantaged students. The Fund for Student Equity "gives us the tools to help those who need just a bit more support to become the incredible physicians they are destined to be."
Throughout his career in primary care, Loring's Tufts training guided him in the clinical and the social-emotional aspects of medicine. His 4th year community medicine rotation helped form his interest in palliative care; decades later, he was proud to help establish the first residential hospice program in Massachusetts.
While medical education has changed dramatically since 1965, Tufts continues to instill what Loring calls "a humanistic foundation" and a profound respect for patients in the unique contexts of their lives. He feels a particular connection to students for whom the cost of medical school can present barriers. "I came from very modest means," he says, "and it was a great source of pride for my father to help me get through medical school and emerge without debt." Today's students face a very different financial picture: "Tuition and living expenses are one thing, but there's also the costs of taking tests, exploring different places where they might work and pursue the next part of their training. If students can't do that, for economic reasons, that's a serious limitation in how they can shape their vocational trajectory."
"The medical world is very close to our hearts," says Louise," along with caring for the planet and promoting peace. Both are drawn to opportunities to create solid infrastructure to support long-term change, and to identify needs that "aren't front and center," but are nevertheless important. As they reviewed the school's current priorities, Loring says the idea of a Dean of Students Fund for Student Equity "really jumped off the page for both of us." He hopes other Tufts alumni and friends may experience a similar "aha moment," and be inspired to contribute, too. For Louise, the fund is a chance to help Tufts make real gains in equity and inclusion, and convey an important message to aspiring doctors: "We see you, we hear you, and we care about you."
Loring is gratified to know that fund that will grow with the gifts from many people, including—perhaps—the students who benefit from it, today. "I hope they'll pass it on. We're all part of an extended family of caregivers, and I think we have an obligation to make sure that caring continues."
Make a gift to the Dean of Students Fund for Student Equity or to learn more about the fund contact Erin Morgan at erin.morgan@tufts.edu  or 617-636-2968.