"As someone who didn't major in a science in college, these classes exposed me to so much I didn't know. After taking them, I feel much more prepared to tackle them in dental school. Something else that stood out was the emphasis of collaboration."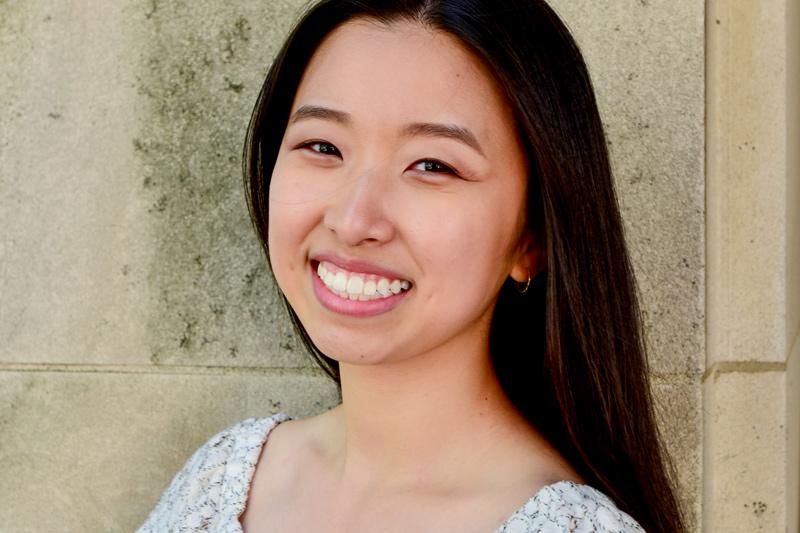 Students in the MBS program come from different backgrounds and are in the program to enhance their academic record when applying to medical or dental schools. Pre-health can be a very competitive world, but Tufts has built the MBS program to be collaborative. Hear from Betty Wang, MBS23, about her experience in the program.
Why did you choose to pursue this degree?
"In undergrad, I majored in business while on the pre-dental track. I learned so much by taking a less traditional path, but in doing so my science background wasn't as strong, and I felt like I wasn't ready to enter dental school yet. This program is geared toward people looking to improve their applications for medical or dental school, and I thought it was a perfect fit for was I was looking to achieve."
Why did you choose Tufts to pursue your degree?
"Having attended college in Boston, I was always aware of Tufts Dental and the prestige they have. I had been to Tuft's Pre-Dental Days in the past and always had a positive experience with their community. When I found out about MBS and learned it was geared specifically for pre-med and pre-dental students, I thought it was a no brainer. The classes offered are actual first year medical school classes, which help prepare us for what's ahead. As someone who didn't major in a science in college, these classes exposed me to so much I didn't know. After taking them, I feel much more prepared to tackle them in dental school. Something else that stood out was the emphasis of collaboration and not competition. The pre-health world is very competitive in college, so seeing MBS have such a focus on the opposite was definitely reassuring. After learning about all the resources available, and individual attention provided, it became clear that the program has our best interest in mind and would be able to help me accomplish my goals."
What has your experience been like for far in the MBS program?
"My experience in MBS has been nothing short of amazing. I came in with a very minimal science background and didn't know what to expect. I started off pretty rocky, but Team MBS was always there with additional resources and support. Tutoring is available after every exam by the second year MBS students, and the professors are extremely approachable for additional one-on-one help. I formed study groups with friends, where we worked together to better understand the material. With these resources and tweaking my study habits after every exam, I was finally able to find what works for me and have improved immensely from when I started the program. I have grown both academically and personally and feel much more confident in applying to dental schools now than in the past."
What is your favorite aspect about the program?
"This program is unique in that we're all in the same boat wanting to improve parts of our applications for medical or dental school. Students may be career changers, out of school for a few years, or looking to improve their grades. Whatever it may be, we're all working towards a common goal. I found the MBS community to have a very supportive and non-competitive environment amongst the class, professors, and administration. Anytime I was struggling, there was always someone I could reach out to, or someone who reached out to me, for support. There were also plenty of ways to get involved in the Tufts and Boston communities during the program. I was fortunate enough to be able to volunteer at the Boston Marathon, where I was surrounded by medical professionals in an intense setting. It was a great opportunity to learn, give back, and be part of something so important to the Boston community. I have made some great friends through this program, and I'm glad we were able to support each other toward our academic goals, while also having fun and taking advantage of all that Boston has to offer."
What is your proudest personal accomplishment while at Tufts?
"My proudest accomplishment during this program is the growth I've made in my academic journey. For most of my academic career I felt like I was always trailing behind my peers. I would put in the hours but simply didn't know how to study effectively. This program really tests your abilities, but in the best way possible. In order to succeed you have to fail too, and though lots of trial and error, I've found what works for me and it's evident in my growth through this program. I finally feel like I am capable of reaching my goals, and MBS has a lot to do with this success."
What do you wish to accomplish this year?
"In the coming year, I will be applying to dental schools and writing my thesis. I hope to gain more experience in dentistry to prepare me for what's ahead in my career. I will cherish the progress I made during MBS and apply it to my continued studies in dental school and beyond."
What do you want a prospective student to know about Tufts?
"Don't let your past experiences scare you away from going after your goals. Everyone in the program has had some sort of setback, but we don't let that define us. This program will be hard, but all the hard work you put in will pay dividends for your future. Tufts is truly one of the most supportive communities I have ever been a part of. Tufts embraces everyone's diverse backgrounds and are there to lift you up during hard times. Come in with an open mind and use the many resources available. Your professors, classmates, and advisors are all here to help you succeed."
View MBS Admissions Information