"When you have a team behind you, like the faculty at Tufts DPT-Phoenix, success is not even a question."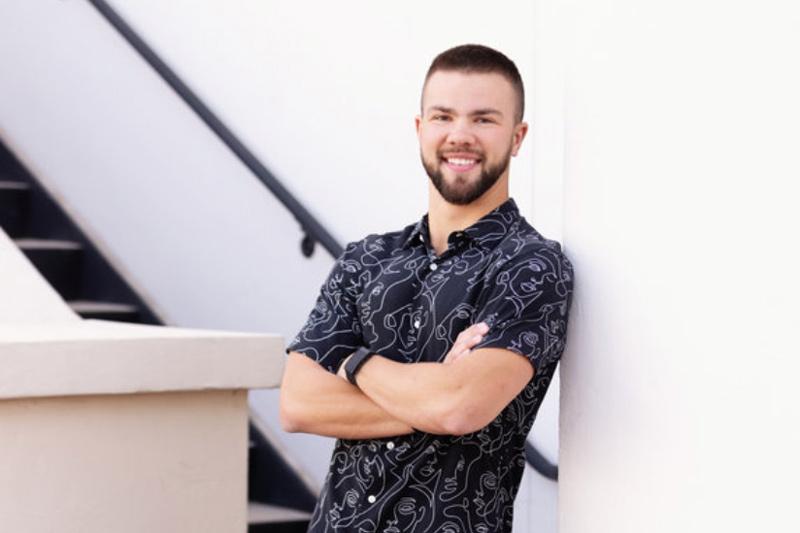 At Tufts, we value student-centered learning with a commitment to quality education. Tufts DPT faculty are readily accessible to meet with students to assist in course work and career planning. They are focused on student growth and serve as an added pillar of support. Hear from Luke Labate, DPT24, about his experience in the Tufts DPT-Phoenix program.
Why did you choose to pursue a DPT degree?
"I chose to pursue this degree to help those in pain. I have been a fixer and someone that is obsessed with finding solutions to problems or situations. Physical therapy allows me to help people through movement and make a difference in their lives."
Why did you choose Tufts to pursue your DPT degree?
"I chose Tufts because the hybrid program allowed me to save money while getting into the workplace a year earlier than my peers in normal programs. Once I learned more about the program and met the faculty, it solidified my decision to choose Tufts over other hybrid programs."
What has your experience in the DPT-Phoenix program been like so far?
"My experience in the program has been fantastic, and I cannot say enough good things about this program. The overwhelming support and help that has been given is unmatched. This program is accelerated and difficult, as expected, but the faculty and support make it manageable. The expectations were clear from the beginning and there was no unexpected surprises. As a student you want to feel valued in a program, and this program gives you more value than you could ask for!"
What is your favorite aspect about the DPT-Phoenix program?
"My favorite aspect of the program is the flexibility and that I am able to get my work done from anywhere I need. This allows me to prioritize quality time with my loved ones, pursue my cycling, and manage my schedule accordingly."
What do you want a prospective student to know about Tufts?
"'If you travel alone, you can probably go faster. But the journey will never be as rewarding, and you probably won't be able to go as far' — John C. Maxwell.

The DPT-Phoenix faculty are incredible and make this journey of getting through an accelerated program so rewarding. If you reach out and ask for anything, you will get a team behind you that makes you feel unstoppable. They challenge you and encourage you to grow in so many ways. To me, that is something I cannot put value on. When you have a team behind you, like the faculty at Tufts DPT-Phoenix, success is not even a question."
Learn More About Tufts DPT