Different health disciplines at Tufts come together for the yearly Comparative Anatomy Exchange Day
Students participate in the Comparative Anatomy Exchange Day, also known as CadEx Day.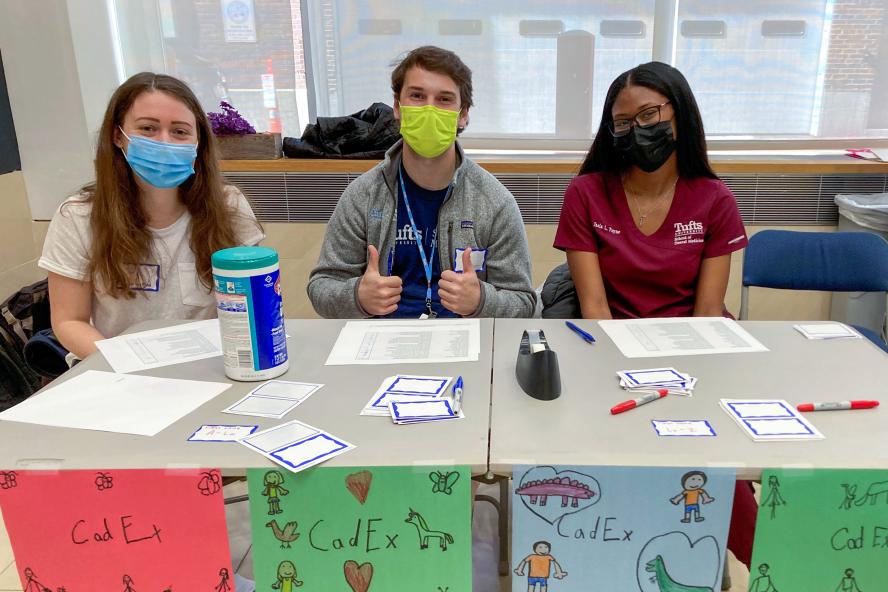 Every year, over a hundred students in the Tufts Health Sciences Campus participate in the Comparative Anatomy Exchange Day, also known as CadEx Day. This interprofessional event, which began in 2016, brings together students and faculty representing the medical (MD), dental (DMD), veterinary (DVM), biomedical sciences, public health, and physician assistant programs to study a body system across species.
The event was developed by the One Health Committee which brings together professionals from different fields that study human, veterinary, and ecosystem health to shed light on the similarities among human and animal research and healthcare to solve complex problems.  
"The One Health effort attempts to breakdown the silos between these groups and encourage interdisciplinary collaborations that will be mutually beneficial for human and animal healthcare," said Rebecca Lufler, PhD, associate professor of medical education in the School of Medicine. "The CadEx event is meant to start these conversations and collaborations by bringing students from different disciplines together to discuss a common interest—anatomy and health care."
This year, the event took place on April 23 and covered the anatomy and pathophysiology of the cardiovascular and respiratory systems from the perspective of the MD, DMD, and DVM programs, respectively.  
The event consisted of student lecture presentations in the morning, and in the afternoon, students visited the Anatomy Lab, where they taught one another all aspects of the cardiovascular and respiratory systems across species, including heart, lungs, larynx, trachea, great vessels, and the associated pathologies.
"As a student of veterinary medicine, our patients are non-human animals, but our communication is always with people," explained Alex Dibrindisi, DVM24. "Having a basic understanding of how human anatomy and physiology differs from companion animals can go a long way when you are explaining disease processes to owners. Moreover, health care decisions for any species rely on factors such as, treatment availability, cost, and environment, which are all influenced by people of different medical backgrounds."
"Being able to participate in CadEx was such a privilege—in particular being able to have interdisciplinary conversations with our Tufts colleagues," said Adriana Iturbide, D25. "The whole event was powered by student dialogue, and it was a morning of shared and collaborative knowledge. In particular, the conversations that were had regarding the cardiovascular and respiratory system are important when it comes to interdisciplinary care—bridging the gap in a patient's dental and medical care is of particular importance. Conversation and recognition of the connection between oral and systemic health will improve the lives of our communities and our nation's health as a whole. It is my hope that CadEx is a glimpse of a trend towards interdisciplinary care when it comes to the care of our future patients."
CadEx is one of several interprofessional development events hosted or co-hosted by the School of Medicine throughout the year aimed at highlighting the importance of interprofessional communication, coordination, and collaboration when making health care decisions. 
Lufler believes it is important to have interprofessional education opportunities like CadEx because students will work in interprofessional teams in their future careers, and interprofessional development events provide a forum for students to begin to understand the scope of other professions, work on communicating effectively, share ideas and information, and work collaboratively toward a common goal.   
"Hopefully, the takeaway of events like CadEx is that we endeavor to recreate such rich and meaningful shared engagement moving forward, so as to better serve all our patients, while working together towards a more sustainable future," shared Emma Louise Mitchell-Sparke, M25.