How We Have Incorporated Mentoring in Our Student-Centered Approach
January is National Mentoring Month—Learn About Mentoring Initiatives at Tufts University School of Medicine.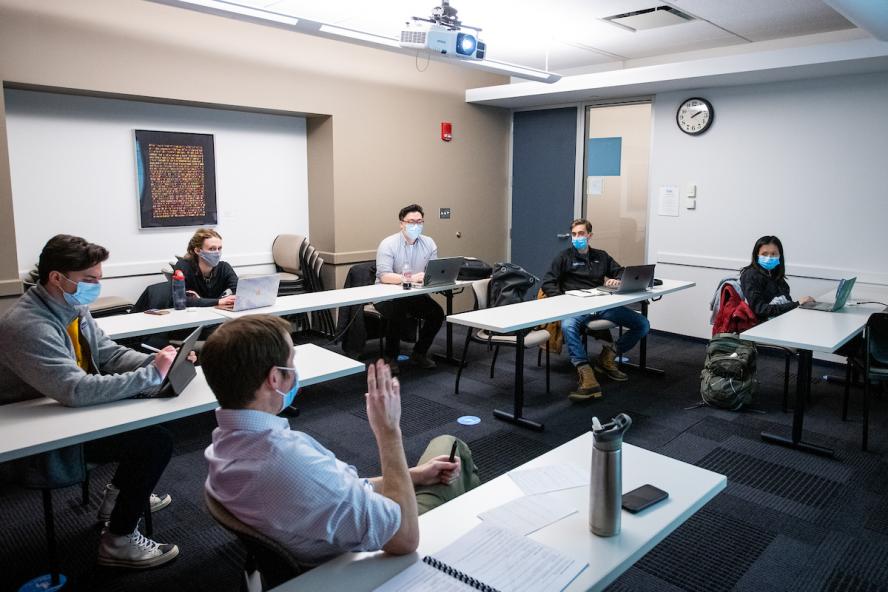 January is National Mentoring Month—Learn About Mentoring Initiatives at Tufts University School of Medicine.
Focusing on students is part of the Tufts mission, which is why each and every program in the School of Medicine has intentionally created support systems aimed at mentoring, guiding, and encouraging students.
Doctor of Medicine
The MD program has built Learning Communities that consist of a small group of students and a faculty coach, who helps students with their professional identity development, assists in teaching clinical skills, and facilitates self-reflection during the students' four years. The Learning Communities are designed to provide a structure for assisting in the acquisition of and role modeling of professional and humanistic behavior that is essential for the practice of medicine.
Public Health
To help ease the transition of incoming Public Health programs students and to strengthen the sense of community, Public Health programs created a Peer Guide network. Peer Guides are students who are uniquely qualified to help other students succeed; by guiding, advising, and encouraging. Peer Guides enhance the learning experience for incoming students during the most important time of their educational careers.
Doctor of Physical Therapy
Tufts DPT has been intentional about building a diverse community of learners and providing services to support our students. Our programs, located in Boston and Phoenix, follow two approaches to create a student support network that is integral to the success of the educational process. These student-centered approaches take on greater significance in the DPT programs given the accelerated curriculum and distance learning.
The academic coaching model of the Boston program includes the intentional pairing of students and faculty to promote personal and professional goal achievement. In the Phoenix program, students are placed in intimate learning communities led by faculty who will serve as mentors.
Physician Assistant
Incoming PA students are assigned mentors as pat of the PA Mentor-Mentee Program, which aims to guide new PA students through their exciting and challenging transition into PA school and their didactic year. All incoming students are assigned a mentor from the second-year class. Mentors share their knowledge, experience, and expertise on navigating through the first year of the Tufts PA program.
MS in Biomedical Sciences
Faculty members in the MBS program serve as academic partners to help students plan their program, discuss their progress, and assist if students are experiencing any difficulty. The MBS Pre-Professional Advising is a key component to ensuring the academic and professional success of students in the Tufts MBS program.